King_Shane
Location:

Fresno, California

Join Date:

8/28/2011

Posts:

309

Member Details

This deck only recognizes the OFFICIAL ban list found on mtgcommander.net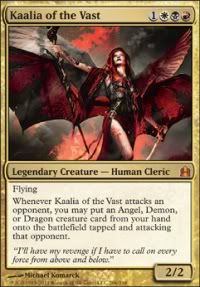 "I have brought raging fires to the heavens and illuminated the depths of the underworld with divine light so that I may loose judgment upon this land. Through me Heaven and Hell have been emptied, and their combined might shall purge this world."
-
Kaalia of the Vast
About the Deck:
Kaalia of the Vast
is a noteworthy card to any EDH player, but has been shunned due to her "weakness." What I've tried to do is create a deck that specializes in heavily controlling an opponent's hand and battlefield to remove any responses they may have to your general so that you can combo your way to victory.
This deck has no direct path to which it must follow. Instead, many paths to victory have been implemented that all compliment and combine with one another to create efficiency and power. Most often you will win by simply overwhelming your opponent with raw power very early on, other times you may play defensive with heavy control and then combo to victory. You can change the entire battlefield in a single turn easily with this deck, and rise from nothing but crumbling ash into an immediate threat with ease.
There is no single strategy or card that completely shuts down this deck, because it boasts so many methods of destruction and win conditions that it is very hard to stop.
If one label had to be chosen I would say this is an aggro deck because it almost always has you pressing your foot on the gas, but it is so much more than that. It can remove permanents just like a control deck, and hosts ridiculous plays just like a combo deck. It takes ages to get bored of playing when you have so many different options to choose from when piloting this powerhouse.

How it plays:
I will write a summary of recommended early, middle, and late gameplay consisting of general strategies and ideal cards to play. The most desirable one's will be listed, of course there are many card's with similar effects that can work in place of them, allowing for much more consistency. I'm not going to list every card that you should be playing at that time, just some of the generally more desirable selections.
Early Game:
Your opening hand will depict what type of game your deck has chosen to play this match. If you have a lot of control/removal spells, that means you will be playing defensive until the time for chaos presents itself. If you drew a few ramp spells, then you know that this match is going to be fast paced and edgy. Either way, your entire early game is geared towards setting up a safe environment for
Kaalia
to step foot upon. Ramp your mana with artifacts and drop as many of the low cost protection creatures as you can while picking out all of the counters or bounces in your opponent's hand that would stop you from casting Kaalia, thus setting up the field for your trump card. Use the cheap spot removal on serious threats if necessary. Unless you know that it's completely risk free, do not bother declaring any attacks whatsoever.
Early game all-stars:
Protection:
Removal:
Ramp:
Discard/Hand Controll:
Castigate
Duress
Gerrard's Verdict
Hymn to Tourach
Inquisition of Kozilek
Thoughtsieze
Mesmeric Fiend
Tidehollow Sculler
Mid Game:
Mid game, once you're satisfied that your arsenal of protection is well stocked or your opponent has exhausted the majority of their threatening resources to your removal spells, it's time to start taking control. Tutor up a vicious creature (if you haven't drawn one already) and cast
Kaalia of the Vast
. All of the creatures in this deck have amazing abilities that can turn the tides of a match just by entering the battlefield, so choose one that best suits the circumstances you're under. With one swing, odds are you just completely changed the tempo of the game. You should have
Kaalia of the Vast
out, reasonably protected with Hexproof and Haste, and another fat beater to back her up. Now would be a good time to cast a card like
Armageddon
, to prevent your opponent from responding next turn and placing you in a very advantageous position.
Mid game all-stars:
Every creature in your deck just became a possible game changer.
Removal Spells:
Board Wipes:
Discard:
Card Draw:
Recursion:
Gaining Advantage:
Late Game:
Late game is not a common time for this deck, because Kaalia makes all of your would be late game cards playable in mid/early game. If you haven't gained control of the board and are soon to win, then you have probably been stomped on pretty hard. It's time to get cheap, and blow everything up. There are cards in this deck geared towards recovering from complete annihilation quickly, and this lets you gain much advantage over your opponents.
Late Game All-Stars:
Destruction:
Recovery/Advantage:
See the combos section for additional tricks up this deck's sleeves.

Changelog:
09-01-2011- Removed
Oblivion Ring
,
Identity Crisis
, and
Night Dealings
.
Oblivion Ring
has a mean backlash because it's easily destroyed,
Identity Crisis
is a lot of mana and not as effective in multiplayer, and
Night Dealings
isn't as valuable because when it gets to the point where it is receiving counters I already have a big advantage and don't really need to tutor. Three spots newly available, added in
Promise of Power
,
Boros Signet
, and
Orzhov Signet
for additional ramp/ card draw.
09-02-2011- Removed
Hoard Smelter Dragon
,
Beseech the Queen
, and
Price of Glory
. Will be adding in
Grand Abolisher
,
Insidious Dreams
, and
Divine Reckoning
.
Windbrisk Heights
and
Spinerock Knoll
were removed because their effects weren't as effective as anticipated, only triggering when board advantage was already had. Added in a
Plains
and a
Mountain
in their places to speed the deck up a bit
09-02-2011- Remade the "How this deck works" section.
09-03-2011- HUGE overhaul. Removed
Aegis Angel
,
Deathless Angel
,
Admonition Angel
,
Basandra, Battle Seraph
,
Steel Hellkite
,
Reaper from the Abyss
,
Reya Dawnbringer
,
Mother of Runes
,
Eight-and-a-Half-Tails
,
Apostle's Blessing
, and
Razor Barrier
.
Added in
Land Tax
,
Phyrexian Reclamation
,
Imperial Recruiter
,
Monk Idealist
,
Aura of Silence
,
Aggravated Assault
,
Savage Beating
,
No Mercy
,
Sneak Attack
,
High Market
, and
Phyrexian Tower
.
09-03-2011 Added the Special Thanks spoiler.
09-06-2011 Removed
Monk Idealist
for
Karmic Guide
, removed
Aura of Silence
for
Necropotence
, and removed
Whispersilk Cloak
for
Weathered Wayfarer
09-06-2011 Removed
Orzhov Basilica
,
Boros Garrison
, and
Rakdos Carnarium
for three basic lands.
09-06-2011 Removed
Insidious Dreams
to add
Crucible of Worlds
. Modified lands slightly to add possible combos and versatility.
09-13-2011 Removed
Twilight Shepherd
and added
Reanimate
. Removed
Cruel Tutor
and added
Admonition Angel
.
09-20-2011 Removed
Stonehewer Giant
,
Champion's Helm
,
Shield of Kaldra
, and
Sword of Light and Shadow
, and
No Mercy
. Added
Steel Hellkite
.
09-21-2011 Deck had a major overhaul.
09-22-2011 Removed Imperial Recruiter, Go for the Throat, Goblin Welder.
Combos/Tips:
Kaalia of the Vast
cheats in
Rakdos the Defiler
, his penalty is avoided and your opponent watches half of his or her permanents vanish.
Sword of Feast and Famine
plus
Hellkite Charger
or
Aggravated Assault
equals infinite battle phases, and an instant win. Really easy to pull off in this deck.
Mimic Vat
equals insane recursion for your ETB effects. Bounce
Angel of Despair
,
Rune-Scarred Demon
,
Imperial Recruiter
,
Stoneforge Mystic
, or hard lock your opponent down with
Yosei, the Morning Star
. You can use
Sneak Attack
to cheat a high CMC creature in and imprint it onto
Mimic Vat
in a useful combo to gain advantage quickly.
Having
Weathered Wayfarer
out can generate large advantage on it's own, but especially after having just cast an
Armageddon
or
Cataclysm
. Adding the
Crucible of Worlds
combo to this mix makes for excellent field control and heavily cripples your opponents, usually so much that they are unable to recover at all.
Combine
Crucible of Worlds
with cards like
Strip Mine
to soft lock an opponent and destroy their lands, or you can ensure a fresh land drop every turn by using lands like
Marsh Flats
.
Use
Boseiju, Who Shelters All
to cast your really important instants and sorceries like
Cataclysm
or
Mind Twist
. Your opponents will grimace at their counterspells that they've been sandbagging while you generate advantage.
Deck weaknesses (that I'm aware of):
Lack of graveyard hate.
My sideboard actually has a lot of cards with this in it, I'll post that up too when I stop being lazy.
Lack of non-awesomeness
. This deck is fun to play and to play against. The combos in the deck aren't usually the type that make the game unfun for the other players, and most are excited to see what you can do next.
If you can point out any more, please do!

Card Choices:
Creatures:
Akroma, Angel of Fury
- A straight powerhouse that boasts excellent defenses and amazing art. Easy to pump up for that final little push of damage and can be morphed for faster play.
Angel of Despair
- Excellent removal and combos very well with the many spammable recursion strategies used in the deck.
Baneslayer Angel
- Easy to cast from hand, has great stats/abilities, and the lifelink can become your savior in a tight pinch. Some defenses.
Devoted Caretaker
- Amazing early game. Once your opponents realize how your deck is played, they will become more vigilant at destroying not only KotV, but your other permanents as well. For one mana, this card offers a strong line of defense for your permanents.
Grand Abolisher
- The single card in the deck that leaves a completely safe environment to cast your Kaalia without fear.
Hellkite Charger
- Use his ability to curb stomp your opponents, and gain overwhelming advantage as Kaalia's ability flood the field. Can be looped into infinite combat phases with ease, a definite win condition in this deck.
Iona, Shield of Emeria
- This card can single handedly shut down an opponent completely. Amazing art and flavor for the deck.
Karmic Guide
- One of the best creatures in this deck. She combos not only with Kaalia, but with so many other cards that seeing her cast usually ends in a game-changing play.
Linvala, Keeper of Silence
- Excellent board control for the deck and is easily cast from hand.
Rakdos the Defiler
- Possibly my favorite card in the deck. He can completely obliterate opponents in a single swing, and declaring second attacks with him is not as penalizing in this deck due to the mass land recursion available.
Rune-Scarred Demon
- Another ETB effect that becomes priceless when combo'd with. Sets up fantastic plays and boasts solid stats.
Steel Hellkite
is an alternative sweeper, and combos well with SoFaF.
Stoneforge Mystic
- One of the best early game drops not only in this deck, but in it's color in my opinion.
Weathered Wayfarer
- Generates good land advantage at any point in the game, compliments many combos very well to overwhelm your opponent. Used to fetch the more important lands you may need.
Yosei, the Morning Star
- Used to lock down an opponent, he can be combo'd into rendering someone unable to cast anything.
Instants:
Enlightened Tutor
- Fast and cheap retrieval for any artifact or enchantment.
Mortify
- Orzhov was done a solid when this was printed. Very cheap and versatile card.
Path to Exile
- Amazingly cheap removal for an immediate threat.
Swords to Plowshares
- Cheap removal spell
Terminate
- The best black two mana removal spell, amazing art.
Unmake
- Permanently eliminate whatever creature threat is in your way.
Vampiric Tutor
- One of the best tutor cards in the game.
Sorceries:
Armageddon
- Drop this if the tempo of the game is not in your favor, combo's well with the land recursion strategies.
Cataclysm
- Usually used just for good measure after Kaalia is cast. Generates stupendous advantage.
Demonic Tutor
- One of the best tutor cards in the game.
Divine Reckoning
- Usually used just for good measure after Kaalia is cast. Can generate a lot of advantage, and the FB forces opponents to play conservatively until it is removed.
Grim Tutor
- Because I already added all of the cheaper CMC tutors.
Reanimate
- Single best recursion spell in the game.
Steelshaper's Gift
- Great for fetching a WOMD.
Vindicate
- The best single target removal spell in the game.
Artifacts:
Boros Signet
- Mana fixing and ramp.
Coalition Relic
- Mana fixing and ramp.
Coldsteel Heart
- Mana fixing and ramp.
Crucible of Worlds
- Compliments the mass land destruction in the deck oh so well.
Darksteel Ingot
- Mana fixing and ramp, excellent defenses.
Lightning Greaves
- Great defense for creatures, and allows instant plays.
Mimic Vat
- Amazing combo piece, steal opponents creatures for defense or spam your own ETB effects.
Orzhov Signet
- Mana fixing and ramp.
Sensei's Divining Top
- Great deck control/draw engine.
Sol Ring
- The best single mana ramp in the game.
Swiftfoot Boots
- Upgraded version of greaves.
Sword of Feast and Famine
- One of the best equipments in the game. Generates card advantage and replenishes mana for stupid combos.
Enchantments:
Aggravated Assault
- A flat out game ender in most cases. Best mana dump in the deck for crushing opponents.
Necropotence
- One of the best draw engines in the game. Fear Mindslavers when this is in play.
Phyrexian Arena
- Draw engine.
Sneak Attack
- One of the best cards in the deck, allows you to cheat in heavy beaters or ETB effects.
Cards I'm considering:
Stuff I've already seen:
Special thanks to:
Prince Tristan
, for providing his experienced insight on this format and KotV decks, he was a lot of help and made me rethink the cards that I knew weren't as effective as I wanted them to be, despite my favoritism.
ISBPathfinder
, for making several card suggestions, discussing various possible strategies and combos, and answering many questions I had.
Rayschoot
, for introducing me to cards and combos I hadn't seen.
Galspanic
, for recommending some now must have cards in my deck and clarifying rulings and queries I had.
Blackjack68
, For writing an amazing guide for those new to EDH which I studied before choosing any commanders. It provided so much information about the format and saved many people from a long slew of questions that I had. Also for discussing different strategies with me, recommending cards, and using his deck list to discover more effective/versatile cards I could use in place of some others I was running.
I recommend
Blackjack68's guide
to all new players, and hope it is as useful to you as it was (and still is) to me. If you would like to see his punisher style KotV deck, click
here
That1guy34
, for recommending a couple of amazing cards that I immediately added and answering some questions I had.
Sanity's Eclipse
, for having several discussions with me across various KotV threads and providing game tested information on various plays I had read about, saving me from having to perform them all myself. His Kaalia deck is a variation of the punisher style, and can be found
here
.
Gaka
, for letting me know that I still have a lot to learn about KotV and the 1v1 meta in general. He was responsible for the most recent overhaul to this list and has offered a lot of constructive criticism.
Thank you all so much for your insight, recommendations, and discussions. Being new to the format, I learned a lot not just about this deck but how EDH plays in a general context, and became a better player from it all.
If you have any questions, or want to know why I do or don't run some cards, feel free! I love discussing new ideas and strategies pertaining to KotV =)
Standard:
Sorin's Army
RDW
Werewolves
EDH/Commander:
Kaalia of the Vast
(Multiplayer Competitive Primer and Beginner's Guide)
Kaalia of the Vast
(1v1 Competitive Primer)
Skithiryx, the Blight Dragon
(1v1 Shotgun Venom)
"Common sense is not as common as one would believe."
"These kids today with their collector numbers and their newfangled tap symbol. Twenty Black Lotuses and twenty Plague Rats. Now that's real Magic."-

Old Fogey