Skittles_The_Blight_Dragon
Join Date:

7/13/2010

Posts:

816

Member Details
Competitive Tempo Edric
"Edric.Good_Stuff.deck"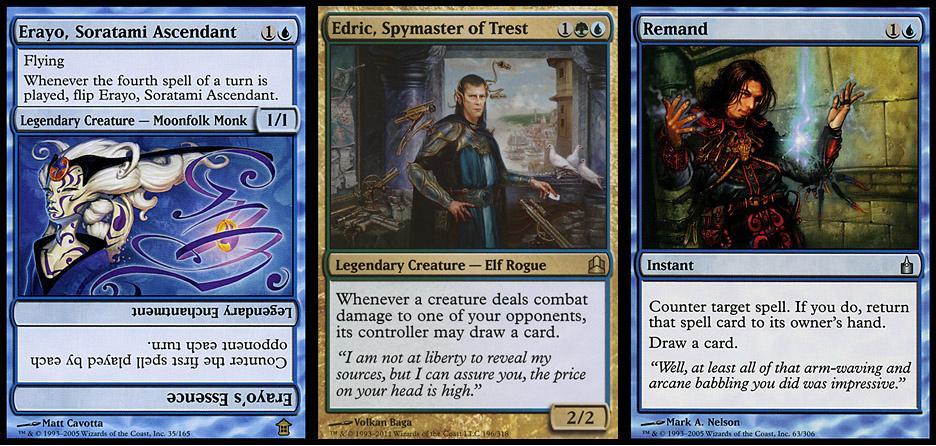 Introduction

To Start off with, this is my first primer so please forgive me if it's not particularly awesome. That said, I've been playing Edric since he was spoiled and this is easily my favorite deck.

Edric is AWESOME, one of the top EDH generals ever printed. He creates a MASSIVE amount of CA (EVERY creature you connect with EVERY turn draws you a card), he's blue, and very inexpensive to cast (and re-cast when necessary).

My friend referred to this deck as essentially a 100 card singleton legacy deck, and with only a few exceptions, every card in the deck saw some level of tournament play in some format.

The idea for this deck actually started off as a result of me reading and enjoying a Sygg Tempo deck primer. After Edric was spoiled I realized he could function in a similar fashion, only trading (the superior) black for better CA (Sygg can draw you 2 extra max per a round).


Why Play Edric?
If you like playing blue but still like turning creatures sideways, this may be the deck for you. I love playing blue, it is far and away my favorite color in magic as it's the color that you do the most thinking in and have to respond to situations differently. However, straight control (I used to play Erayo pre-banning) strategies can make for fairly boring (and slow) EDH games. With Edric, you get to play an army of different utility dudes and win by actually attacking, instead of doing something dumb (but awesome) like looping
Mindslaver
or
beacon of tomorrows
infinitely.
If you're huge into combos, this might not be the deck for you. While there is great synergy between numerous cards, it's on a much smaller scale (we're talking
Aether Vial
+
Dryad Arbor
level interactions)
Basic Game Plan
The deck's goal is to drop a few creatures in the first turn or two, play Edric, then proceed to draw like 3-5 cards per turn while countering (or otherwise dealing with) every spell your opponent plays for the rest of the (very quick) game.
In general, I only follows only the
main banned list
, but seeing as most 1v1 stuff uses the French banned list, I have a separate list if you're forced to follow that.
Current Decklist
:
The List I play:
In Case You're French:
- Sol Ring (banned)
- Mana Drain (banned)
- Hinder (No longer effective)
- Mana Crypt (banned)
- Strip Mine (banned)
+ Deprive
+ Foil
+ Sword of Feast and Famine (Want to spend some more time testing with this)
+ Boreal Druid
+ Island
Deck Philosophy:
There are two types of Edric Decklists "Good_Stuff.deck" and "****ty_1CC_Creatures.deck"
I play the former, and the latter revolves around dudes like
Scryb Sprites
whom I'll discuss (mostly b/c I love me my flying green dudes).
Scryb Sprites
is a bad card, it's hard to argue against this. With Edric in play, suddenly though the Sprites power level jumps enormously. HOWEVER, when Edric isn't on the board, suddenly your deck just sucks terribly. Trading
Scryb Sprites
for a more versitile creature like
Vendillion Clique
allows your deck to still be powerful when Edric is sitting on the board.
Additionally, the deck's curve only goes up by the smallest amount. I run barely a half-dozen 3+CC creatures, but my creature quality goes up enormously.
Card Choices:
Sorry, but I'm fairly lazy and haven't updated this in a while
Mana Excelleration (5):
Exploration
- This card has been an amazing T1, and is never a bad draw later on, as you often find yourself drawing multiple land per turn throughout the game. Being able to pull ahead so far so fast is really nice. The only thing better would be Fastbond, but seeing as it's super banned, this is the next best thing!
Sol Ring
,
Chrome Mox
,
Mox Diamond
,
Mana Crypt
- These are some of the best cards for EDH. Each of them is basically a 0-1cc timewalk. Their disadvantages are almost completely moot as we're drawing so many cards throughout the game. I almost can't imagine a competitive deck without these in them.
------------------------------------
Land (36):
Tropical Island
,
Command Tower
,
Breeding Pool
,
Yavimaya Coast
,
Flooded Grove
,
City of Brass
- Fix both colors and no real drawbacks.
Polluted Delta, Wooded Foothills, Windswepth Heath, Flooded Strand, Scalding Tarn, Verdant Catacombs, Misty Rainforest - Full suite of fetchlands, they grab tropical island then breeding pool.
Blinkmoth Nexus
,
Inkmoth Nexus
,
Mishra's Factory
- Manlands are great, the fact that the nexuses fly is icing on the cake. Inkmoth Nexus + Jitte also is a 2 turn clock, and even if it's not really swinging for damage (if you can't possibly get to 10 poison). As a note, Mishra's Factory should be a
mutavault
(to trigger Notorous Throng), but I don't own one...
Strip Mine
,
Wasteland
- I think playing EDH without these two in your deck is a mistake.
Dryad Arbor
- It's in here as another Llanowar Elves (via GSZ or AEther Vial), though I've never been completely sold on the card though as it sets you back an entire turn if it's your only land drop for a turn.
------------------------------------
Counterspells (13)
The backbone of the decks game-plan. Choosing what to counter and when often determines whether or not you're going to win as the deck tries to play basically draw-go starting ~turn 4.
Mana Drain
,
Counterspell
- 2cc card counter, can't go wrong here. If you can't use Mana Drain's mana the next, it's not a big deal, I usually just think of it as a really really expensive counterspell.
Memory Lapse
,
Remand
,
Delay
- Tempo counterspells, as this is a tempo deck, these seem to fit just perfectly. You draw enough cards that just
delay
ing (lol lol lol...) stuff from coming out is often enough to win.
Force of Will
,
Daze
- free counters are good counterspells.
Mana Leak
,
Hinder
,
Cryptic Command
,
Voidslime
,
Arcane Denial
- all solid counters and don't really need any explanation. Arcane Denial, while giving your opponent 2 cards, isn't really that bad for you as it's still stopping their threat for the turn.
Forbid
- Awesome card, and against a lot of decks forbid (along with edric's draw) will be a hard lock all by itself
------------------------------------
Removal (2)
Snap
- Boomerang, but it doesn't cost a mana, which is HUGE. You're tapping out almost every turn early in the game and being able to remove a blocker and still curve out is great.
Into the Roil
- More bounce, this time with a CC, but is has a cantrip built in and you can never have too much draw. Once you settle into draw-go, this card is great and makes sure you're not wasting any mana.
------------------------------------
Equipment (3)
Skullclamp
- None of the equipment really need explanation, least of all skullclamp. It's also worth pointing out that if Edric gets tucked into your library, skullclamp can pick up the slack in terms of CA.
Lightning Greaves
- ...
Umezawa's Jitte
- Best equipment ever, it does everything. Most importantly, it removes blockers (without costing you any additional mana).
------------------------------------
Utility Stuff (8)
AEther Vial
- one of the strongest t1 drops you can make. With such a low curve, it basically doubles your mana every turn, and lets you leave counter mana open and still cast threats. Also, it combo's with
dryad arbor
as you can cast it right away!
Winter Orb
/
Tangle Wire
- These are both really unfair cards, and have been the heart of many a prison decks throughout magic. Your opponents threats (usually) cost more mana than yours, thus by simply playing this, you're giving yourself a huge edge (and often timewalking yourself several times over the course of a game). Also, CC of counterspell < CC of spell it's countering, just adding to the awesomeness of the deck. Make sure you stack the Tangle Wire triggers so that you remove the counter first (and tap tangle wire itself - along with any PWers or artifacts / enchantments).
Garruk Wildspeaker
- the perfect planeswalker. All his abilities are custom tailored for this deck. His + lets you play him AND leave counter mana open. His - throws out a dude. His ultimate ends the game. What more could you ask for.
Jace TMS
- What more could you ask for... Well JTMS. Fine Jace > Garruk.
Brainstorm
got a nod in this deck, so brainstorm on a stick = good. Also snap (which also found it's way into the deck) on a stick = good, also his + is super powerful for this deck. Your opponent will have few actual threats to this deck, and you can just make sure he never finds any of them. Oh and his ultimate wins also.
Notorious Throng
- Timewalk + like 5 flying dudes + draw 8, that's good, right? Oh and did I mention that our general... is a rogue, awesome.
Standstill
- This card is stupid dumb good. And usually locks up a game once you have any kind of a board presence.
Equilibrium
- A recent addition, equilibrium has been fantastic. It turns ALL your dudes into
man-o-war
's and is just straight stupid on dudes with flash.
------------------------------------
Draw / Tutor (3)
Brainstorm
- Solid cantrip and massively (and incorrectly) underplayed in EDH. With all the shuffling effects in this deck, it's often is just as good as ancestral recall.
Survival of the Fittest
- Need that eternal witness to start looping notorous throng? Need to find Edric after a condemn? Need to find a counter (mystic snake / snapcaster mage)? Need to... Survival finds them all and lets you always have the card you need. It turns your whole deck into one giant toolbox, and it doesn't get much better than that.
Sylvan Library
- This is a green Spinny Top, but better, as it lets you draw multiple cards a turn for some life (which is effectively halved - as you have 2x as much life in EDH). With a full 7 fetchlands, survival, and several other tutor effects, you can shuffle your library very consistently, making this all the more powerful.
-------------------------------------
La Dudes
CC = 1
Sylvan Safekeeper
- Invitational dudes are awesome, and this guy is no exception. He seems to be tailor made for Edric (and just about every other format :-)). He comes down the first turn AND lets you counter targeted removal spells without having to tap any mana to activate (letting you still cast other stuff). Probably the toughest turn for this deck is the turn you play Edric because it's the only turn in the game that your opponents removal spells will actually have a shot at killing Edric, losing a tapped land is WAY better than losing Edric, so this guy is champ.
Cursecatcher
- Counterspell on a body is great, even better when you don't have to tap mana to activate it. The cool thing about these cards is that your opponent will almost never tap out to play a spell cursecatcher could counter, so it ends up making your opponent wait an entire turn to cast some spells, creating some nice tempo advantage.
Llanowar Elves
,
Fyndhorn Elves
,
Green Sun's Zenith
(for
Dryad Arbor
),
Arbor Elf
- The 1cc mana dorks, Arbor Elf is the best as he can tap for a blue (because of tropical island and breeding pool), though they're all great at powering out a t2 Edric.
Martyr of Frost
- A 1cc walking counterspell, this guy is awesome (and a new addition as I just discovered him). You should always have some cards in hand to reveal thanks to Edric, so this should stay basically a hard counter for the entire game. It's also surprisingly funny to counter their spell by revealing 3-4 counterspells in your hand (I had a friend concede after doing this)
CC = 2
looter il-kor
-
Merfolk Looter
never looked so good. He's unblockable, lets you 'draw' an additional card each turn, AND prowls
notorious throng
. I am always happy to draw this guy.
Cloud of Faeries
- Essentially a free evasive dude, combined with an AEther Vial at 2, lets you do so very fancy tricks.
Spiketail Hatching
- I think I'm running almost every (4>cc) dude that has a built in counterspell, they're just awesome. Hatchling curves well with Edric, helps protect him the turn he comes out, and flies, an overall great guy.
Plaxmanta
- just awesome, this is a dude that EtB and counters a removal spell, not sure how it can get much better (I guess if he flew, but that's like saying "
Snapcaster Mage
/
dark confident
would have been so much better if they had flying"). The EtB counterspell dudes are so much better because they leave a guy behind, I can't imagine a good Edric list not running him.
Voidmage Prodogy
- Invitational dude numero dos, counterspell on a body = good. Occasionally you just can't draw the counterspells later in the game, and this guy can save your life when that happens. You can often get 2-3 activations out of him, as the deck is chalked full of wizards, but at worst he's a hard version of a lot of the guys in the deck.
Eladamri, Lord of Leaves 
- 2cc dude that gives Edric shroud, I'm not going elf themed so he doesn't do a whole lot else, but he's amazing at what he does do.
Fauna Shaman
- Survival of the Fittest on a body. Most importantly, he finds Edric after he's been tucked away in your library. Also, in the late game, he makes sure you can counter opponents threats each turn (searching up Mystic Snake, Venser, Snapcaster, etc...)
scryb ranger
- Lol, this card is stupid. I suppose here is as good a spot as any to discuss my feelings towards creatures with Flash. After the first few turns, you're not going to want to play spells on your turn any more because you instead want to leave mana open for counterspells (this btw is the reason why
AEther Vial
is so amazing in this deck). If your opponent doesn't play a threat though, you've just wasted all that potential mana. In comes flash creatures, now you aren't wasting any tempo. On to Scryb Ranger itself, it singlehandedly beats V. Clique, which is enough in and of itself is awesome. But it also has flying and a cool ability. (And being a faerie is a nice benefit for Spellstutter Sprite)
Spellstutter Sprite
- A 2cc flying, flash, dude that counters stuff when he EtB!
Erayo, Soratami Ascendant
- Likely the best "dude" in the deck (and maybe the best card). With a curve so low, it's super easy to flip him, and once that happens, you've won the game (I can't think of a game where I've flipped Erayo and not won). He's also really good at slowing down an opponents turn and can work kind of like pseudo
arcane laboratory
. Lets say you have 4 mana open on your opponents turn and they play that
Serra Ascendant
they just top decked and you
remand
it back to their hand. If they recast it, and you play ANYTHING else, Erayo flips and they (almost certainly) lose the game, meaning many opponents will just pass the turn, gaining you a huge tempo advantage. Plus, he's got evasion to boot.
Waterfront Bouncer
- Repeatable (and dirt cheap) bounce effect on a stick, the "discard a card" clause is basically negligible as you draw SO MANY cards.
Phyrexian Revolker
- This deck doesn't sport a lot of artifact / enchantment removal, so that's where revolker comes in, he neutralizes most useful artifacts / enchantments. Additionally, he neutralizes planeswalkers which is super important. You don't draw cards off of Edric when you attack an Elspeth, but you still have to deal with it, that's where Revolker can come in and shine.
Snapcaster Mage
- He's essentially a slightly more versatile
Mystic Snake
, a very good investment.
Invisible Stalker
- Maybe the worst dude of the bunch, but he's still unblockable, untargetable, and a rogue. He also holds a Jitte extremely well.
CC = 3
Kira, Great Glass-Spinner
- Flies and makes ALL your dudes basically untargetable, very very strong.
AEther Adept
,
Man-o-war
- They bounce a dude on EtB and leave behind a body to draw some cards. These are the very definition of tempo advantage creatures
Trygon Predator
- This card is great, everyone who's anyone uses artifacts and this guy just eats them up. He's a tutor target for GSZ and a really important card to find at various points.
Eternal Witness - Like a not as surprising snapcaster, Eternal Witness usually grabs you counterspell and lets you replay it; unlike snapcaster, it can get other stuff that's hit the gy like
winter orb
or
erayo
.
Vendilion Clique
- Flying, flash, a faerie AND a wizard (for voidmage), AND lets you get rid of your opponents most important card. It also lets you play another general tuck effect (we have oh so many bounce spells)
Spiketail Drakeling
- Spiketail hatchling's big bro, same card, different name. I wonder if they'll ever do a spiketail drake / dragon.
CC = 4
Mystic Snake
- Counterspell on a stick, oh so very nice.
Venser Shape Servant
- Counterspell on a stick, oh so very nice. He's also a wizard (for voidmage) and can bounce troublesome permanents when he has too.
Recent Changes
Cuts:
Notorious Throng
- Too often would sit in my hand when edric either wasn't in play or couldn't get through for damage (if they had a chump blocker for instance)
Invisible Stalker
- With Throng cut, stalker seemed a little too weak, so he got the axe, if I end up bringing in SoFaF, I may bring stalker back because he wears the swords so well
Man-o-war
- I've been not so happy with Man-o-war / Aether adept, as sad as it seems, 3CC is a lot to spend on a dude (usually after edric hits the board, I try to just sit back and counter stuff), and not having flash makes them not reactive enough (Venser is a champ though). Anyway, I'm keeping Aether adept for now and I'm going to see how it feels (occasionally I survival for these guys), Adept gets the nod despite the due to the awesomeness with voidmage prodigy.
Additions:
Martyr of Frost
- 1cc creature counterspell
Gitaxian Probe
- Free information is really good
Stifle
- against any multi-color deck (i.e. decks with 7+ fetchlands), this basically reads " , Stone Rain", also there's tons of other stuff I would like to counter