Ertai Planeswalker
Location:

Apeldoorn, The Netherlands

Join Date:

1/14/2009

Posts:

1,156

Member Details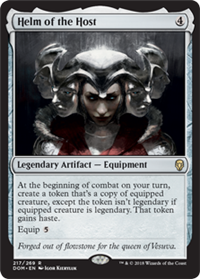 This card seems like a lot of potential (if overcosted) fun.
Godo, Bandit Warlord
infinity aside, what are some cool commanders that really benefit from wearing this helm?
Some first observbations:
Azor, the Lawbringer locks your opponents out from playing sorceries permanently with this.
Lavinia of the Tenth will keep everything detained permanently.
Any of the Theros block gods for doubling up their effects seems powerfull though you need to get enough devotion to activate them first. (If you think facing 1 Purphoros is bad...)
Saskia the Unyielding for quadrupling (or more) damage dealt around the table)
The secret to enjoyable Commander games is not winning first, but losing last.