fzian
Join Date:

11/1/2009

Posts:

3,045

Member Details
The Card on Trial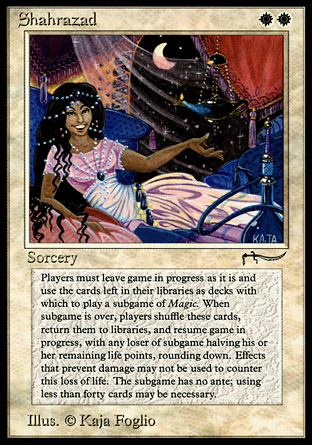 Shahrazad

Sorcery,

Players play a MAGIC subgame, using their libraries as their decks. Each player who doesn't win the subgame loses half his or her life, rounded up.
* 10/4/2004: At the start of the sub-game both players draw their initial hand (usually 7 cards). If one player has fewer cards than required, that player loses. If both have fewer than required, both players lose.
* 10/4/2004: Events in a Shahrazad sub-game do not normally trigger abilities in the main game. And continuous effects in the main game do not carry over into the sub-game.
* 10/4/2004: You randomly chose which player chooses to go first or draw first.
* 7/15/2007: At the end of a subgame, each player puts all cards he or she owns that are in the subgame into his or her library in the main game, then shuffles them. This includes cards in the subgame's Exile zone (this is a change from previous rulings).
Introduction
My first brush with Shahrazad came a long, long time ago when a friend of mine decided to try out Shahrazad. It resolved in exactly one game, of which the user was subsequently met with the coldest of carebear stares. The card was subsequently condemned to his trade / collection binder.
Fortunately for me, since then, I was fortunate enough to either meet EDH players who fell in some of the following categories: -
Players who had no intention of playing subgames
Players who knew not the existence of Shahrazad
Players who could not afford Shahrazad
Players who were socially intimidated into not playing Shahrazad
Players who did not play and/or purchase Shahrazad for a combination of the above reasons
Changelog: -
EDIT: Since I first posted this, I have received some feedback, especially with regards to why it SHOULDN'T be banned. As the OP, I admit that I am inherently biased towards the proposition (i.e. Ban
Shahrazad
!). I have since decided to include some of the arguments of the opposition (courtesy of d0su) though I'll have to say that there is no way that I could make the OP any less biased due to my human nature to support my side of the story
I'd argue that any threads of this nature will naturally have a biased OP. I have also included added an arguments for the proposition (and this will again, probably be influenced by my bias).
The Case for Banning Shahrazad
1. It unnecessarily prolongs the game
This was probably one of the main reason why it was banned in Vintage (i.e. one of the only non-manual dexterity, non-ante card
banned
in Vintage). Note that this is especially relevant at a time where EDH (or what the boorish barbarians would term as "Commander" ;)) is becoming a more recognised format for organised EDH play.
Never mind the fact that a multiplayer EDH game of 3-4 players would (on its own) take about an hour or so (mind you, the RC have been emphasising that the EDH ban list is geared towards multiplayer). Forcing players to play another game with only half life at stake is definitely going to prolong the game unnecessarily, even without player's mischief of copying the said Shahrazad. Mind you, rejoining the main game after a subgame can take some time, especially with regards to setting back the board position, remembering the current board state, etc. To a certain extent, this can be as disorienting as playing a game of Chess after playing a game of Russian Chess (or suicide chess).
This brings me to the next point that players who abuse Shahrazad often (though not always) tend to be those who intends to abuse Shahrazad by creating multiple copies of Shahrazad.
Mind you, the Dragonhighlander.net rules even goes to note that: -
Quote from

Locally players often play with house rules (check the forum for inspiration), but this consensus version exists so that players know what to expect if they join a game outside their local play area. In particular,

after-hours games at Pro Tours and Grand Prix use these rules

.
Bolded
for emphasis. While the issue of time may not be existent in certain casual settings (it is existent in many casual settings but lets leave that argument behind for a while), the issue of time is certainly a factor in sanctioned play in this respect and/or in organised play LGS.
True,
Sensei's Divining Top
has be subject to similar criticism but lets be honest with ourselves here. Sensei's Divining Top does not, on its own, prolong or delay the game. It is oftentimes a player's indecisiveness and slow play that prolongs the game, a fact that would remain unchanged regardless of the Top. Mind you, should the Top be an issue in organised play, it is a very infarctable offence under the Infarction Procedure Guidelines.
2. It creates unnecessary confusion (be it in restoring the game state, space restrictions, etc.)
Never mind the fact that Shahrazad can be a rules nightmare.

Some time ago, the Rules Committee ("RC") decided that the logistical problems inherent in Shahrazad were not applicable for EDH, hence unbanning it from the Vintage list. The RC went on to suggest that play space would scarcely be an issue as games can neatly be "zipped" and "unzipped" (by stacking cards from the main game on top of each other in a consistent order for the different zones and setting them aside).

While this is probably a neat way of solving this problem, sometimes (indeed, oftentimes), "unzipping" this game state can be problematic (due to the sheer information inherent in the board position, especially with regards to the status of the cards).

This does not even account for the fact that sometimes, even with the best of "zipping and unzipping", play spaces can be too limited even for the most careful of zipping and unzipping, never mind the fact that multiplayer games are especially packed for more space.

At the same time, there are very real risks that the storage of main game cards during subgames can often result in the misplacement (and ultimately the loss) of pricey EDH cards. At the very least, this may even translate into confusion when cards from the main game enters the subgames. This is admittedly a more far-fetched concern but to be fair, it is certainly not unthinkable given the limited space.
3. Players who play with Shahrazad tend to be those who want to abuse it
This has been hinted in my earlier point. A simple look in the multiplayer forum will reveal a whole bunch of decks who play Shahrazad with the full intent of copying it, be it by
Fork
,
Twincast
,
Reverberate
or even
Eye of the Storm
. One deck even notes that it is "for sociopaths only". In fact, I'd argue that there really is no "fair" usage for Shahrazad to begin with; a single resolution is enough to bring a table of groans.
If
Painter's Servant
was banned a while ago for its unfairness with
Grindstone
, among others, I think it is justified that Shahrazad should likewise be banned. Mind you,
Painter's Servant
on its own is really quite harmless while the same cannot be said of Shahrazad.
4. Its power level in multiplayer EDH is signficantly higher than both what's expected for its mana cost AND it's power level in other formats (due to different rules or game sizes).
Lets face it, in multiplayer, games are correspondingly larger (than say, a 1v1 game). In fact, I would argue that Shahrazad might actually be more acceptable in 1v1 casual EDH games. However, in multiplayer games, games are longer, board sizes are larger and interactions become more complicating. The worst part is, the power level of the card is significantly higher but achieves nothing "real" besides arguably "griefing" purposes.
5. Shahrazad allows a filibuster by the way-too-much-time-at-hand.
I confess that this may be a difficult argument to follow but bear with me. Assume a multiplayer game with at least two players interested in playing subgames. In a three player game, even if the remaining player concedes in the subgame and the other two player doesn't, the odd player will have to sit out for the entire duration of the subgame.

Now, add the number of players in the multiplayer games. If there are 4 players in the multiplayer game, even if the other two players concedes to the subgame, they will be obliged to sit out on the subgame, just because the other two players insist on playing out the subgame. With more players, it theoretically doesn't matter if the "scoopers" are in the majority; all it takes are two players insisting on subgames, hence a democratic problem. Note that if the "scoopers" have only one EDH deck, they can't even play a duel while waiting for the subgame to end because their deck is "stuck" in the main game. Short of rage-quitting, nothing can be done in this situation and to be honest, I know of many players who are simply too nice to rage-quit. Yet, if they rage quit, can we really blame them?
The Case Against Banning Shahrazad
This is where I build various straw men (or strawperson) and subsequently demolish them without prejudice
1. Some playgroups enjoy playing with it
To be fair, some players are happy to play multiple subgames. To those players though, I'd encourage them to play with
Shahrazad
,
Twincast
,
Eye of the Storm
, etc. In fact, feel free to unban
Panoptic Mirror
while you are at it.
On the other hand, again, we are speaking of a ban list that is going to be used in organised play and "after-hours games at Pro Tours and Grand Prix", of which we can probably agree that the logistical issue may not accomodate Shahrazad easily. There is nothing wrong about playing Shahrazad in a casual playgroup where your opponents are cool with it but when you're talking about a list that will be used as a guide in organised play, there should be a Great War of China built between what a subset of players believe is "fun" and what is decidedly annoying in terms of logistics.
2. Shahrazad speeds up the game
This was ostensibly one of the reasons why Shahrazad was unbanned. To elaborate on the argument, I can probably do no better than to quote Genomancer of the EDH rules committee: -
Quote from

Time: Turns out that Shaharazad speeds up the parent game in a big way... much moreso than in a normal game of magic. There's usually betweeen 50-80 life lost when the subgame finishes, which puts everyone but the winner into endgame state. Both times it was used by (separate) "aggro" decks who basically said "My early game is better than your early games"... in one instance they were right. The additional time used for the subgame more or less came off the parent game... it was just a neat strategic ploy.
Lets call a spade a "spade" here. Players do not play Shahrazad to speed up the game -- they play it to slow down the game. Aggro decks do not run Shahrazad and even if they did, by the nature of the format, it probably wouldn't make a material difference on their ability to aggro their way in a format of 40 life; more often than not, they will probably be on the losing end (with players being pissed at them for playing Shahrazad). Even if that player wins the subgame, that player would only be able to take down half of his/her opponent's life and will have to spend some time in a protracted war to get rid of the other half (again, most players would just gang up against him/her).
Lets be honest with ourselves. Players do not play Shahrazad to speed up game. If anything, they play Shahrazad to stall the game to mythic proportions.
3. Shahrazad opens new deck design space
...so does Pokemon and WoW cards.
In drawing the line between practicality (e.g. accepting Un-cards) and design space (e.g. unbanning
Grindstone
), there should be a careful balance between its impact towards the game before looking up at the supposed design space it opens up. Remember, even with Shahrazad banned, it is not unthinkable for Shahrazad decks to exist inside casual playgroups.
Fair assertions by d0su: -
1. Shahrazad should be banned if we're going for consistency, but the banlist is anything but consistent. I would be sad to see it go, but it would ultimately be more understandable than some of the things that got banned. 2. Shahrazad should not be banned for power reasons or logistical concerns. Some personal opinion here, but even Chaos Orb isn't really that confusing/difficult to use, is it? Yes, the card sleeves count. Just fling the stupid card. 3. Griefers will grief you with whatever they have available, and most griefers don't even own a Shahrazad. If your playgroup gets on your every nerve, are these really the people you want to play Magic with? And if it's not your playgroup and instead some random guy trolling the local 5k, then is adding a card to a worldwide banlist really the best way to approach the issue?
Poll?
I'd like to end this long, long tirade with a poll (technically, the poll is at the beginning of the post but never mind that), which is why I didn't post this in the General Ban List discussion.
Feel free to post your arguments on this matter
Last edited by
fzian
: Jan 4, 2011