zeromd
Maverick Hunter Special Class
Location:

Sao Paulo

Join Date:

7/10/2007

Posts:

2,737

Member Details
DECK BUILDING PRIMER
At the heart of the joy of playing Magic the Gathering is deck construction. Both beginning and experienced players enjoy finding new and fiendish ways to put abilities together. Here we show the basics at deck building (most of the info you can find over the web) used here as an easy way to find all the information. All the info that comes from other sites has its link at the end of the Primer. Enjoy !!
THE CHAPTERS
HAVE FOCUS
Set a focus to your deck, like "I want to drop
Broodstar
".
In order to fulfill your goal, you need to be entirely focused. If the goal of the deck is to get a
Broodstar
into play quickly, focus on that theme – add in more cards that can ensure you draw a
Broodstar
(such as
Ponder
, or
Brainstorm
); add in more acceleration, don't try to splash in other colors, and cut cards that don't help you achieve your goals (
Bladed Pinions
won't matter in that deck since
Broodstar
already has fly and with her fat body why we need first strike). Try running four-of the best cards in your deck, when possible. If
Vapor Snag
is important to your deck, run four of them. If you need better options for searching and renewing your hand, run a higher count on
Ponder
, and cut out cards like
Crown of Ascension
. Your
Broodstar
has fly and your deck possibly doesn't have Beast as the most common creature type.
Remember, once you decide a deck's goal, focus your deck on achieving that goal. The more focused your deck becomes, the more likely you are to have your deck perform as intended.
On the flip side, don't be a slave to your theme. Just because you're focusing on a certain theme does not mean that you have to include suboptimal cards to meet that theme.
A
Chromescale Drake
is a worse version of
Broodstar
; you don't need to run it in the deck, even if he has the theme of Affinity. A cheaper and earlier
Frogmite
will help more, since he helps
Broodstar
to come into play or can help with early defense.
ARCHETYPE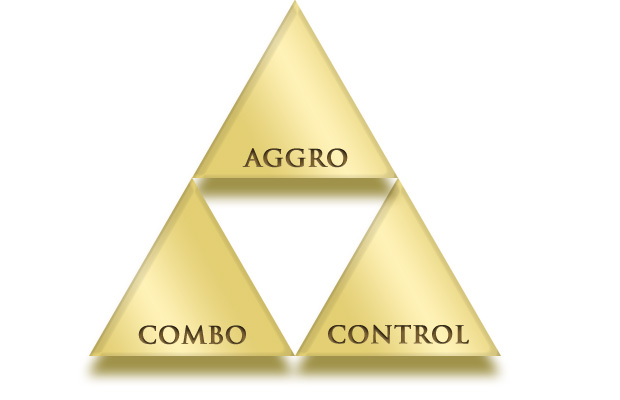 First, there are three main types of strategies: aggro, combo, and control. The idea was that, very generally speaking, aggro lost to combo, which lost to control, which lost to aggro. That is basic.
Nowadays, our "Aggro → Control → Combo" chart looks a lot more like this: Aggro → Midrange → Ramp/Combo → Control/Disruptive Aggro
Aggro
is your traditional "kill your opponent as quickly as possible using efficient creatures" kind of deck. It usually features potent attacking-based one-drops (
Champion of the Parish
and
Jungle Lion
) and a mana curve heavily weighted to the first several turns. Frequently, it will supplement its primary strategy with "range," or ways to end the game after its initial assault has been blunted.
Tips and builds for Aggro Decks
- Aggro decks plan to deal damage to an opponent until that opponent dies, generally ignoring their own life total completely.
- The majority of cards in an aggro deck should be able to kill the opponent.
- An aggro deck usually needs 8 to 12 one-drops and 8 to 12 two-drops.
- An aggro deck usually plays 23 or fewer lands or non-attacking mana sources.
- Cheap creatures played early will usually deal at least as much damage as your best burn spells.
- Aggro deck spells are damage/removal (
Lightning Bolt
), pump spells (
Rancor
/
Brute Force
) or Aggressive CA (
Call of the Herd
,
Strangleroot Geist
).
Midrange
(sometimes called Aggro-Control or Midrange Beatdown) tends to feature one-drops with abilities (
Llanowar Elf
) and early threats that are more defined by their resilience than by their raw size, speed, or power. These decks tend to be a turn slower than the aggro decks—although still reasonably fast—and oftentimes use Planeswalkers to generate advantage on the battlefield. They will sometimes use a few reactive cards to deal with key threats, but tend to be at a disadvantage if they draw too many of this type of card (and thus are unable to develop their board). Some midrange decks tend toward the aggressive end of the spectrum, and others toward control. What they hold in common is their focus on accumulating advantage on the battlefield itself, as opposed to gaining an advantage in raw resources (having a 4/4 versus a 2/1, as opposed to having two cards in hand versus a single card, for example).
Tips and builds for Midrange Decks
- Midrange decks plan to deal damage to an opponent until that opponent dies, but using more mana intensive cards.
- More 'fatties', less 'weenies'; you can't play a midrange deck without excellent fatties! Classic midrange creatures are
Ravenous Baloth
and
Exalted Angel
.
- Midrange decks sport relatively high mana curves. They contain spells for the early game that lead into cards included for the midgame. There's also relatively good incentive to play 'scaling' cards like
Fireball
that get better and better as the game progresses.
- Less than "Ramp", more than "Aggro", because of their high curves, midrange decks must reserve a healthy amount of deck slots to mana to effectively play their spells. You'll often find mana acceleration and mana sinks that somehow make effective use of all the spare mana midrange decks have lying around. These cards usually are 8 spots; they use 22-24 spots for lands.
- Midrange decks normally find one way or another to defend themselves, especially against aggro decks. Here you'll often find dedicated board control elements not unlike what you'd expect in a control deck, like
Wall of Blossoms
and
Windborn Muse
, and sometimes they run reset buttons like mass removal.
- Just remember the immortal words of one of midrange's biggest fans:
"It's the last fatty that kills you." – Jamie Wakefield
Ramp
decks tend to spend their early turns developing their mana advantage instead of deploying threats to the board. Because we've made a concerted effort to push more expensive spells, which requires us to expand the space of mana-costs that would ordinarily be considered playable—the return on a six-mana card tends to be better than that of two three-mana cards, three two-mana cards, etc. Moreover, it's typically easier to kill creatures than it is to disrupt mana-advantage spells. Taken together, what this means is that if a Ramp deck successfully ramps and an aggro deck successfully curves out, usually the Ramp deck will be at an advantage when the dust settles. The drawbacks, however, are twofold: First, Ramp decks are usually a little less consistent because the mana-acceleration can be disrupted. Second, they rely upon one or two threats to do a lot of work for them, so if those are countered or stripped out of their hand, they usually run out of gas.
Tips and builds for Ramp Decks
- The ramp decks abuses the mana advantage from ramping cards such as
Birds of Paradise
,
Solemn Simulacrum
,
Fertile Ground
,
Rampant Growth
and
Wayfarer's Bauble
in place of early threats. These cards usually are 12 spots, also they use 23-24 spot for lands.
- The utilities, spot and mass removal are beteween 8-12 slots. Some spells used here are
Terminate
,
Mana Leak
and
Primal Command
. You can find one or two bombs too like
Banefire
and
Violent Ultimatum
.
- The creatures, in general, stay in 12-16 slots, here you can find some creatures that can survive from spot or mass removal like
Kitchen Finks
,
Chameleon Colossus
and
Troll Ascetic
. The other creatures are our bombs too, like
Craterhoof Behemoth
or
Primeval Titan
.
Combo
are most of time powerful engines that end the game quickly and consistently. We also can use this term to refer to decks that attack your meta at odd angles. For classic combos you can see the
Dragonstorm
decks. Good examples from the "odd angles" would be the
Open the Vaults
deck from a few years back, or Team StarCity Black's
Invisible Stalker
deck at Pro Tour Avacyn Restored. Ideally, we aim for strategies that have severe weaknesses, assuming everyone is gunning for them, but can take advantages of holes in the metagame to really storm a particular tournament or meta.
Tips and builds for Combo Decks
- Firstly, you must find the combination of the cards that will be a "combo." Suppose you are building a racing car. This process is likened to the assembly of an engine. No car will move without an engine. Some samples are
Tinker
+
Blightsteel Colossus
or
Stuffy Doll
+
Guilty Conscience
.
- You need fuel for your engine, like mana ramp to combo faster. The
Dragonstorm
combo works with that, casting spells like
Lotus Bloom
and
Rite of Flame
.
- Another point is how you protect your combo, its like the "body" of your racing car, if body is weak, your engine falls. Cards that help to defend your combo are used in control decks or disruptive decks like
Gigadrowse
or
Duress
.
- Now you need a key to turn on the car, the draw and tutor cards are that, these cards search your deck for the combo piece.
Idyllic Tutor
,
Ponder
,
Fabricate
are some cards for that job.
Control
means more or less exactly what it sounds like. These decks attempt to accumulate resource advantage, contain threats, and run opponents out of options. Typically—though not always—they end the game with the very same threats midrange or ramp decks use. The difference is that they're not focused on getting those threats out as soon as they possibly can. Instead, they use them to mop up a game they've already secured and stabilized. Alternatively, the large threat itself can be used as a tool to stabilize, either by virtue of its size or its ability to remove threats.
Tips and builds for Control Decks
- Erases them at a reduced cost. Whether this means killing a multitude of creatures with one spell like a
Wrath of God
or
Earthquake
, using a relatively cheap
Cancel
to stop an expensive spell like
Akroma, Angel of Wrath
.
- Doesn't play threats to be answered. The control deck is so robustly dedicated to reactive spells that it can go without playing early creatures and other proactive spells.
- Disrupts synergies. Even if they don't deal with every spell you play directly, they can leave out whichever ones don't stand well on their own and still be in good shape. The most extreme example of this is a creature enchantment that might never need attention if you can't make a creature stick.
- Drags the game out past your preparations. A
Savannah Lions
is a fine spell in the first few turns of a game, but on turn ten, when you have more than just a few lands, it will be a disappointing draw.
Finally, we use the term
Disruptive Aggro
to describe decks that either (Control-Combo or Midrange Control) deploy a powerful threat and protect it long enough to end the game, or (Aggro-Control) couple pressure from resilient threats with removal, discard, and countermagic such that the opponent can never really get his or her game plan off the ground. These differ from Midrange Beatdown decks in that they usually contain far fewer threats, focusing on those that either hit the hardest or are the most difficult to remove. They usually goldfish slower than Midrange, too, but tend to be less vulnerable to the strategies that attack the battlefield (mass removal, for example).
Tips and builds for Disruptive Decks
- The Disruptive decks exploit the other decks' focus on one particular threat by targeting that threat and leaving those decks unable to function, with that we can disable the decks. Here we can see the classic counters, disrupt and spot removals, sometimes we can find a mass removal.
Duress
,
Mana Leak
and
Pernicious Deed
are some cards we can find in these decks.
- Efficient at all costs !! Doesn't play threats to be answered. Your creatures should be a pain in the field or at least give to you enough advantage, disruptive decks runs more creatures that do something when they hit the battlefield, and less "Aggro" creatures than Beatdown. Here we can include
Eternal Witness
,
Gaterkeeper of Malakir
,
Phyrexian Metamorph
or
Vendilion Clique
.
- Disruptive decks normally find one way or another to defend themselves, but most of your creatures try to give a disavantage for the other decks. Here you'll often find dedicated board control elements not unlike what you'd expect in a control deck, but a more aggressive kind of control. Like
Phyrexian Obliterator
and
Vampire Nighthawk
,
Wurmcoil Engine
and
Inferno Titan
.
MAKE A B.R.E.A.D.
We can find other definitions for BREAD, since the term is used for Draft, but we can use that term for our help, lets see:
-
B
ombs
-
R
emoval
-
E
fficiency/
E
vasion
-
A
dvantage
-
D
regs/
D
udes
-
Bombs
Bombs are our Finishers,
"Deal with me or lose"
cards, our win conditions, most of decks should use at least two finishers and one alternate win condition, think about a aggro deck, the bomb is our best creature, a
Troll Ascetic
, if you put a single
Banefire
on that deck, your chance of draw is reduced and when your deck was running out of gas you have a alternative bomb. The Three Cornerstones of a "Bomb" card: Effect on Gameplay, Cost, and Efficiency.
Here are some other examples of a bomb:
Sword of Fire and Ice
,
Meloku the Clouded Mirror
,
Angel of Despair
,
Simic Sky Swallower
,
Pernicious Deed
.
-
Removal
Removal is anything that can disable or remove permanents in play (such as
Doom Blade
,
Faith's Fetters
and/or
Man-O'-War
). While you may not think of something like
Man-O'-War
as removal, they clear the path for your creatures and buy you time to find an answer to whatever creatures your opponent is threatening you with.
-
Efficiency/Evasion
Efficient Spells are those that work in conjunction to help you win the game. The combo of
Peel From Reality
and
Izzet Chronarch
is great - but
Peel from Reality
is still a great card without the Chronarch hanging around.
Drake Familiar
had an interesting aura-based archetype, think about
Reality Acid
or
Oblivion Ring
- cards that are great/fun on their own merit, but amazing with the Familiar. For aggro decks we can say that about the aggro creatures like
Jungle Lion
, also we can find the evasion creatures too, evasion is an ability of a creature that improves its chances of damaging the defending player by restricting which creatures can block it like
Silhana Ledgewalker
. Trample, fly, protection and others are good evasion ability.
-
Advantage
Advantage (most of times Card Advantage or CA) is one of the most misunderstood terms in Magic, so let's start with a simple definition:
"
If a sequence of plays (or decisions) ends with a player up one or more cards, that player has gained card advantage
."
Simple enough, right? Now let's take a look at some real-life examples of card advantage. The basic draw cards are pure advantage like
Ponder
,
Brainstorm
or
Sign in Blood
. Some cards are in that category and also on above items:
Something like
Slice in Twain
is an obvious source of card advantage and removal. You get to destroy one of your opponent's cards and draw a card.
Similarly,
Phyrexian Rager
allows you to impact the board and replace itself. Once again, we've identified a source of card advantage.
-
Dudes/Dregs
The D stands for Dudes which is Magic Slang for creatures. Basically it means if you have nothing of the former categories anymore than fill up your slots with creatures - because those ususally still can attack or block and have some use.
So it means, its better to put that
Hill Giant
into your deck if you still need cards because it can A: help you get to your other cards by being some kind of obstacle or B: even win you a game as its the only thing you have at hand to beat down somebody skrewed or to push in the final 2 damage. From the other side there are Dregs what is slang for bad cards.
Check
Street Savvy
, dont replace himself, if the enchanted creature dies its 2-1, have only defensive bonus and conditional defensive ability. You dont need that kind of cards, even if the focus of your deck is Auras !! Like said in the first part, you should run a "dude" over a "dreg" card.
MANA CURVE
The "mana curve" is the application of mana optimization theory to deck construction. By organizing the cards that are to go into a deck by their casting cost, a player can see how likely a player is to optimally utilize each turn's mana (i.e., to play a card or cards with a casting cost or costs with a total equal to the mana available on that turn).
As a general rule of thumb, the higher the mana-cost, the more powerful the effect. You're going to get more out of
Decree of Pain
or
Plague Wind
than you are out of
Terror
or
Rend Flesh
. However, if your deck runs too many high-cost cards, you run the risk of being unable to cast any spells before you get run over. You need to make sure that your deck is capable of either casting spells all throughout the game, or surviving until late enough to cast your business spells.
-
Bigger versus Better
Every new set has in it some cards that are incredibly powerful but not necessarily useful.
Decree of Pain
or
Plague Wind
are a great example of this. They grabbed the attention of many players... but only until they saw the casting costs.
While these cards definitely have some awesome effects, having more than one or two of them in your deck spells an almost certain loss. While you're sitting there waiting for enough mana to play your killer spells, your opponent is beating you down with a
Grizzly Bears
. That's where the idea of a mana curve comes in. It is sometimes better to play with less-powerful spells just so you will be able to play something early in the game.
-
How It Looks
The rule for the mana curve is to be able to play a spell every turn, rather than waiting for several turns before you really begin the game. For most deck types, it is desirable to have a few one casting cost spells, a few more two casting cost spells, several spells that cost three to five mana, and then only a few that cost more than that. If you do that it would look something like this sample:
00
01 *******
02 **********
03 *********
04 ******
05 ****
06 **
07
08
09
9+
The numbers at left show the mana costs of spells in the deck, and the * on the right show how many spells of each cost are in the deck. For example, in this sample there are ten spells that cost 2 and two spells that cost 6. The avg cost is 2,7 and show us that we are in the "several spells that cost three to five".
-
But that is the Good Mana Curve ?
There is no hard and fast rule for what a mana curve should look like. While the one shown above may be good for many decks, there are some decks that will have a totally different mana curve and will still work just fine. In some decks, it may actually be good to have four
Broodstar
(like Affinity, since the deck has a theme to reduce the cost of the high mana cards). But, regardless of what type of deck it is, the mana curve is a very important part of deck-building that should not be forgotten.
In general we can think of there being three typical mana curves: low, medium, and high. In practice there's a huge amount of variation but at minimum we can categorize any mana curve into these ranges.
Example of a low mana curve:
CMC 1: 8-12
CMC 2: 8-12
CMC 3: 4-6
CMC 4: 2-4
CMC 5+: probably none, maybe 1-3
Example of a medium mana curve:
CMC 1: 0-4
CMC 2: 8-12
CMC 3: 6-8
CMC 4: 4-6
CMC 5 or 6: 4-6
CMC 7+: probably none, maybe 1 or 2
Example of a high mana curve:
CMC 1: 0-4
CMC 2: 6-10
CMC 3: 4-6
CMC 4: 4-6
CMC 5: 3-5
CMC 6 or 7: 3-5
CMC 8+: probably none
Most aggro decks have low mana curves, most control decks have high mana curves, most ramp decks have high mana curves. alot of decks end up with medium mana curves just because its fairly consistent. some decks are called midrange for no reason other then they have a medium mana curve. Here's a very basic rule of thumb for assigning land count to your deck. 24 lands is the default number for medium mana curve decks. If your deck has a low mana curve you can justify playing fewer then 24 lands. 22 works for most aggro decks. A very slim one (with lots of 1 drops) can get away with 20 or 21. If your deck plays fewer then 20 lands it has to have a curve that is lower than low. Lots of free spells, maybe a mana cheating mechanic. If your deck has a high mana curve you definitely need more then 24 lands. 26 is the most typical number for control decks. Ramp decks often play as many as 27.
MANA FIX / COLOR BALANCE
The mana base in your deck serves a very important purpose – it enables you to cast your spells for the game. Without a good mana base, your deck will not perform and you will be locked with your spells.
-
Mana Screw (Not Enough Mana)
Make sure you deck has enough lands and mana sources to support the spells you want to cast. There is a huge temptation to try to cut lands to get more spells into your deck, but this makes the deck prone to getting mana screwed. Imagine running a deck with sixty good spells and no lands – you'd lose every game! Sure, your draw would look amazing each game – but without the ability to cast any cards in your hand, it'd be over for you.
-
Mana Flood
The flip side of not enough mana sources is too many mana sources.
Too much mana will limit your options in the deck, and will subject you to mana glutting later in the game. There's a real temptation to stuff your deck with too much mana, especially if you're paranoid about not being able to cast your spells each game. However, just like in the deck with too little mana, having too much mana will seriously impact your chances to win the game. If you're going to run twenty-eight lands in a sixty-ish card deck, have a good reason for it – such as running a Genju deck and expect the lands to die, or playing a control deck where you can reasonably expect to win if you hit your land drop each and every turn. If you're running an aggressive deck with a low curve and no use for excess lands, cut down the lands in your deck until you reach a more comfortable number – usually 21-23. In this deck's case, I'd add in more creatures and/or burn spells in place of the extra 5-7 lands.
-
Where Is My Color
The last case involves having too few colored lands in your deck. Imagine a control deck.
Make sure that the colored mana in your deck can support the spells you have in your deck. This can be helped through mana-fixing, as well as diversifying your mana base. Divide your colored lands equally to the proportion of mana symbols in your deck. What I mean by this is that if your deck has more blue symbols than other color, you should run more
island
s (or blue mana sources). We also know that we will want to cast our removal/support spells early, so we will need to have one black mana on the board to do this. Therefore, instead of playing 17
Island
s and 5
Swamp
s, I would actually run 15
Island
s and 7
Swamp
s, thus erring towards the middle and playing slightly more of the underrepresented color. One additional note on this specific build is that we might be playing one or two more land than is actually required by the deck. This is something you would typically discover by playing this deck against others and learning what minor tweaks should be made in the deck's design. If you can get some lands or mana sources that can produce more than one color like
Dimir Aqueduct
. Another hint is to find easy splash cards like
Doom Blade
over a heavy color
Geth's Verdict
.
60 CARDS BODY - DECK TWEAK
Ok now we have all the cards we need. That part works like the Focus item. It's tempting to try to cram as many cards as possible into your deck. However, the further you go past sixty cards, the less chance you have of drawing any one particular card in your deck. You can only have four of any given non-basic land card in your deck (please, no talk of
Relentless Rats
), and the further you get from sixty cards, the less chance you have of seeing these cards.
Let's say you're running four
Shock
s in a deck.
In a sixty-card deck,
Shock
will be one out of every fifteen cards.
In an eighty-card deck,
Shock
will be one out of every twenty cards.
In a one-hundred-card deck,
Shock
will be one out of every twenty-five cards.
In a sixty-card deck, you have pretty decent odds of seeing
Shock
before the game is over. It's not guaranteed that you'll see a
Shock
, but your odds are much better than if you're packing one-hundred cards.
-
And how we cut cards until we get 60 ?
Remember the Mana Screw tip ?? You're doomed if you don't get your lands or other mana-cards, but you're not better if you only get mana and no Creatures or other Spells. It has to be balanced. You should have a little more than 1/3 of your deck as mana.
The balance between the number of Creatures and other spells varies from deck to deck. BUT you always need creatures and enough. You need Sorceries, Instants and others to destroy opponent's life and creatures, getting card control, enhancing you creatures and more. But Creatures are there to defend you from your opponent's creatures, attack your opponent and can be sacrificed for other spells. Keep them balanced. Most people have more creatures then Spells in their deck.
The basic is to walk again to all of the topics in that thread, but, with more focus !!
Think about the 1/3 or 20/20/20 body (20 lands, 20 creatures, 20 spells/others), we know that the mana, most of the time, should be 22-24, so now we have ~36 cards for creatures and spells, you can choose 18/18 (now the body is 24/18/18), check what archetype you choose, increase the spells if you are control, increase the creatures if you are aggro. If you choose a mono-color deck or/and have low mana curve, you can change the lands to 22 too.
-
What about "4of" ?
Increase your best spells to 4, drop the weak ones, keep in mind that isnt a rule, think like that:
Shock
vs
Lightning Bolt
- in that case,
Lightning Bolt
is better in anycase.
Doom Blade
vs
Terror
vs
Grasp of Darkness
- here, we know the worst one is
Terror
, and what about Blade and Grasp ? If you are a control deck, you can mix both, just care about the that Grasp needs, if you run more than one color, Blade can be better since has easy splash.
I hope that primer help the new players and give some tips for the old ones, also if you guys have other topics to include here please post and i will include.
Help Links
http://www.onlinewebpage.com/simplelandcalc/
- Simple Basic Land Calculator
http://deckstats.net/
- Simple Deck Analisys
Links with the original text/information used for that primer
:
http://wiki.mtgsalvation.com/
http://www.wizards.com/magic/magazine/article.aspx?x=mtgcom/academy/3
http://www.wizards.com/magic/magazine/article.aspx?x=mtgcom/daily/bb62
http://www.wizards.com/Magic/Magazine/Article.aspx?x=mtg/daily/ld/207
http://www.wizards.com/magic/magazine/article.aspx?x=mtg/daily/li/174
http://forums.mtgsalvation.com/showthread.php?t=346315
http://www.ugcs.caltech.edu/~kel/MTG/
http://www.starcitygames.com/magic/fundamentals/12549_Learning_How_To_Draft.html
http://www.starcitygames.com/magic/fundamentals/3692_Whos_The_Beatdown.html
http://manabasecrafter.com/
http://www.firebrandcreations.net/Papercraft/Deck%20Box/DeckBox.htm
Last edited by
zeromd
: Feb 5, 2013
...ʇsod ʎɯ ǝǝs noʎ buıɥɔʇɐʍ ɯɐ ı
Deck Building Primer - Casual
Sliver Primer - Casual
Share your tips with us !!
Want To Buy List
Please Check !!
Now Playing:
Excaliboros
/
Maverick
Bant Pro Excalibur
/
Merfolk