RedDwarfian
Join Date:

4/4/2008

Posts:

7,019

Member Details
The following people have permission to post here: Myself, any other WPL, the players on this quest (defined below), and anyone else that I give permission to.
This is a continuation of
[Hellfire] Incursion
, and
[Hellfire] Resistance
.
Anyone who posts in here who doesn't have permission will be disparaged, disrespected, discombobulated, disarmed, disenfranchised, discredited, diseased, disfigured, disemboweled, dismembered, dissolved, and defenestrated. And if I'm in a bad mood, it'll be in that order. Whatever remains will be given to Lou to do with as he pleases.
Cyouni/Cyouni
Gully/Qfx
Aggron/Nevinz
"Cyouni, for services rendered here today, I hereby release you from your pact with me. Your debt has been repaid."
He grabs Cyouni by the shirt, pulls him up so that he is nearly nose to nose with the demon, and says,
"You should have taken my offer. You might even have lived."
He chuckles, blasting Cyouni with his fetid breath.
"May whatever god you believe in,"
he says, carrying him suspended by his wrist and shirt as he walks forwards,
"have mercy on your soul."
He lets go.
Cyouni drops, his feet finding uneven purchase, and falls backwards down the ziggurat. In his weakened condition, he doesn't have enough control over his body to slow himself down, until he crashes back-first into the first obelisk he charged. Yellow and purple lights flash in Cyouni's eyes at the impact.
The demon then turns around to the figures that have appeared behind him. He looks almost shocked, but nothing can hide the joy on his face.
"My friends. It has been too long."
His 'friends' are a trio of ragged, nearly shambling figures. Two things can be easily determined from their looks:
One, they are very clearly dead.
Two, they are very, very hungry.
"You look as though you haven't tasted fresh meat in centuries,"
he says, pining over them as if they were his lost children.
"Well, above you lies a massive city! Thousands of beings, ripe for the harvest!"
The zombies almost cheer with delight. The two smaller ones start drooling, while the other one grips its mage's staff and hisses.
"There lies your first meal in ages, my friends!"
he says, pointing at the crumpled form of Cyouni at the base of the Ziggurat.
"FEAST!"
One thing becomes quickly apparent with these zombies. They must come from a place where only the fast and the clever are able to actually catch food. These zombies are a lot quicker than the shambling wrecks that most Dominarian mages are used to.
With a roar of delight, they charge down the ziggurat towards Cyouni. The demon starts to draw mana to himself, and smiles at Cyouni's peril.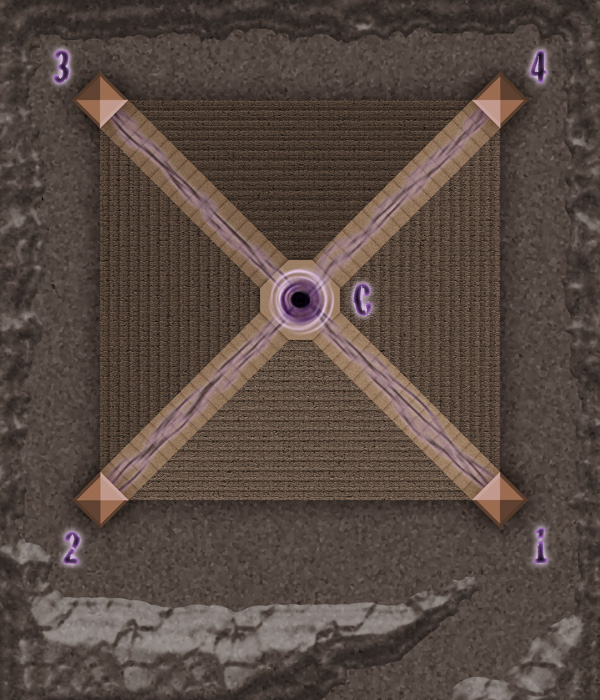 Cyouni takes 2 damage from losing the final tattoo, and subsequent fall damage.

The encounter is split up into five zones. The zones are labeled 1, 2, 3, 4, and C, referring to the obelisks in the order Cyouni charged them, and the Center pedestal. Each turn, during your pre-combat main phase, you may use up a spell to move yourself and up to all your permanents to an adjacent zone. Alternatively, you may move any of your untapped creatures who are unaffected by summoning sickness to an adjacent zone without you, at a cost of one spell per obelisk the creatures are moving to. This taps them, unless the creatures have vigilance. Creatures with trample may remain untapped after they move, but they must attack that turn. Example: Gully is at Obelisk 1 with 3 drakes and a ranger. She can move 2 drakes to Obelisk 2 for 1 spell, and herself with the remaining drake to the Center for 1 spell, keeping the ranger at Obelisk 1. This costs 2 spells, and the two drakes at Obelisk 2 are tapped. The ranger remains untapped.

You can only give commands to creatures of yours in adjacent zones. Players can only have their creatures block for other players if the player is in the same zone as the creatures.

Sorcery and instant spells may only affect your current and adjacent zones. If you are in the center zone then you my affect any zone with your sorcery and instant spells. A corner zone can only affect the center zone and the two other obelisk zones at its flanks.

Aggron and Gully are on the path down to Obelisk 1. They can reach it and only that one on their turn.