PurpleD
is a miner for a heart of gold.
Location:

Edmonton, Alberta

Join Date:

8/9/2005

Posts:

14,607

Member Details
n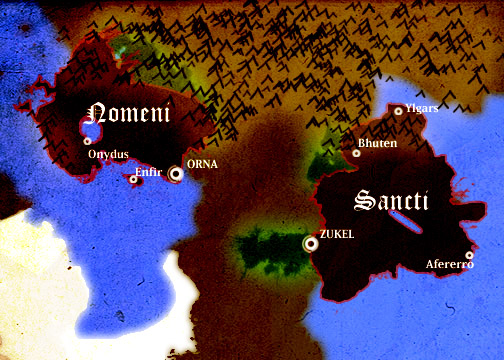 Disegreth has 3 distinct landmasses, the Nomeni's area, the Sancti's area and the uncharted iceland to the south. Attached is a rough map of the area so that you can understand your surrounding and other things a little bit better.
All characters will start in the capital cites (denoted by CAPITAL letters).
City profiles
:

Nomeni:
ORNA- Home to Nomeni's Immortalis, Orna is a city filled with limitless power and insatiable greed. The municipal government is run by the advisers of the Immortalis and is bordered by a long lake to the south and high mountains to the north. Orna is the hub of all economic activity and disparity is apparent in nearly every part of the vast capital.
Enfir- The most gifted water adepts moved to Enfir just a few years after the Nomeni had settled the land. Now it acted like its own sovereign state the powerful Agregio bloodline rules the island.
Onydus- The smallest major city in the Nomeni's domain, Onydus is crucial to the food supply of the Nomeni. Abundant in both agriculture and fishing, ONydus is a city of merchants and a hub for commerce.
Last edited by
PurpleD
: Aug 16, 2008
[Left Play Designs]
[Coffeehouse][
DeviantArt
]
Winner MTGS Weekly Sig/Banner Contest
Weeks:
37
/
85
/
87
/
94
/
135
/
159
/
160
/
226