VestDan
MTGS Writer
Journeyman Wordsmith
Location:

Tucson

Join Date:

1/4/2005

Posts:

3,405

Member Details

Quote from

There is a place where the land and sky have murderous intentions and the shadows hide in fear. It is a world conceived by evil and designed as the ultimate lie…

It is Rath.
Weatherlight
's journey across Dominaria in the set bearing its name saw the ship in several small skirmishes, more or less of the sidequest variety. Though there was rarely a time during that set that any of the crew seemed in real danger, there was a sense of general foreboding as they planeshifted to Rath after Sisay. We knew this had to be building up to something, but had no idea what. This feeling of unease was reinforced when Pete Venters revealed in the "Dominia FAQ" of that issue that the sets had been occurring in roughly chronological order—not only that, but it was a manner of phrasing. He didn't
Mysterious Selenia was always a fan
favorite, but never was fully developed.
say that
Antiquities
took place roughly around 0 AR (you know something is important when the calendar is based on it)—he said
Antiquities
took place roughly 4200 years
ago
. This may not seem important, until you realize what that tensing choice does—it places
The
Weatherlight
Saga
in the
now
, creating a sense of immediacy—this wasn't history, not even recent history. This was taking place in the present—and we had no reason to truly expect things to all work out well. And, considering the tone of the art and flavor text in
Tempest
, which portrayed the darkest
Magic
setting since, well,
The Dark
, it seemed doubtful the crew would escape Rath unscathed. Rath was a world where living was barely possible; for some species, like the
Armodons
, it
wasn't
.
The December 1997 issue of
The Duelist
cited above also included a Tempest storyboard usuing bits of art from the set—similar to (but much nicer than) the ones on
phyrexia.com
. The ability to do this was intentional—WotC wanted players to be able to piece together the story through the cards. When the sets were new and the story was actively developing, this worked rather well; now the effect is different, but positive, in its own way. Whenever new players happen upon cards from these olds sets depicting some moment in the story, it piques their curiosity—making interest in
The
Weatherlight
Saga
perhaps more enduring than WotC expected when it concluded.
Now, when I said the story was "actively developing," I don't mean like the stories do these days. Modern storylines are there only for the players who want to read the books—you can't even figure them out from the flavor text anymore. Looking at the flavor for
Mirrodin
block, for example, you would be hard pressed to say there even WAS a story—that is how WotC apparently wants things now. I've accepted it, and
Kamigawa
block has been very well done, flavorwise—perhaps the best setting-style flavor since
Fallen Empires
. But still, part of me is saddened—there is no longer any buildup between sets. During
The
Weatherlight
Saga
, especially during
The Rath Cycle
, people were just as interested as what was happening in the story as they were in the new cards (generally, generally—don't any of you old-timer spikes complain. Of course, they probably wouldn't be reading this article). Back then, even the
Magic
humorists got in on the action—Phil Foglio's "What's New?" comic in
The Duelist
took several jabs at
The
Weatherlight
Saga
, from "additional crewmembers" to the "villains of Rath"—the latter was especially amusing, including "The Happy Crew of the Weatherbright" who considered the
Weatherlight
's crew to be their evil twins, and "Muskatel the Doom Oyster," the single most evil creature in existence. Later, spoofing
Stronghold
, Foglio had Gerrard and Co. sneak in to the villain's fortress by "pretending to be 'Mox cleaners.'" WotC even went so far at the time to create a gaming supplement, Vanguard, made up of oversized cards meant to allow you to play AS the characters (though some of the abilities for the first series weren't very well linked to the characters they appeared on, but I digress).
Back then, the storyline was a big deal. These days, we don't even know what some of the characters look like.
So it goes. [/LAMENT]
The
Weatherlight
appears in the skies over Rath as
Tempest
begins—and what they see is the stuff of nightmares. The sickly-colored ground below is shaped into tormented claws that actually seem to move, while the sky writhes angrily as unknown energies battle above them.
Weatherlight
drifts for a time, its crew distressed by the world it has found itself in and with no idea where to go next besides.
Already having lured
Weatherlight
to his realm, Volrath is one step ahead. Selenia—the angel Crovax loves, and is bonded to—leads Volrath's flagship straight for
Weatherlight
. The revelation that his beloved angel serves Volrath
renders Crovax useless
,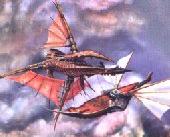 Volrath's flagship, about to
unload a salvo of whoopass.
even as the Rathi warship approaches. The aptly-named
Predator
is a monstrous ship nearly twice the size of
Weatherlight
—not as maneuverable, but certainly better armed.
Weatherlight
is best described as a pleasure-craft, while
Predator
is, in all ways, a warship, as jagged and cruel as the landscape of Rath itself. Its commander,
Greven
il
-Vec, launches an immediate assault on
Weatherlight
, firing guns to disable the ship, then boarding with a large crew of
Moggs
, a particularly nasty breed of goblin. Squee, the
Weatherlight
's own goblin, runs quickly to one of his hiding places, huddled around a piece of the
Legacy
he considers his own.
While Squee hides below, a
battle rages above
. Greven and his Moggs storm the ship. The goblins, bred with an amazing scent of smell, are ordered to
sniff out
every bit of the Legacy—including
Karn
. The golem, unwilling to take a life even to defend himself, is easily captured. One bit of the Legacy they do not capture, however, is the warm little ball Squee is huddled around—apparently, his own stench overpowers that of the artifact (and that isn't even a joke). Greven and Gerrard, meanwhile,
seek each other out
. While Gerrard may have bravado, he must have left his
wisdom
back on Dominaria, because Greven has about two feet on him. The commander of the
Predator
easily scores
first blood
, and is about to kill Gerrard when
Weatherlight
takes a heavy hit
. Gerrard, in all his heroic splendor,
falls off
the ship, Hanna
reaching vainly after him
. She cannot stop his fall—but
Selenia
can. She catches Gerrard on his way down, but he struggles from her grasp, and falls the rest of the way into the
forest below
.
His quarry lost, and the Moggs having completely ransacked the disabled ship, Greven orders a withdrawal. Tahngarth, still in his Klingon… I mean, minotaur battle rage,
leaps after
Predator
. Greven, however, is dispensing with justice--
Vhati
il
-Dal, his second in command, had ordered the cannon barrage on
Weatherlight
while Greven was aboard, in an attempt to kill the commander and claim
Predator
as his own ship. Vhati
apologizes
, and in true Darth Vader fashion, Greven
accepts
. Tahngarth, bashing his way through
Predator
's goblin crew, has found Karn and
tries to escape
, but Greven comes and shows Tahngarth
what's what
.
Having successfully fallen off his own ship, Gerrard somehow manages to
survive his landing
. Though he escaped death at Greven's and Selenia's hands on the way down, the surface of Rath is no friendly place either—Gerrard is quickly attacked by some
ugly-ass merfolk
that live in the lake the forest floats on. He runs like a pansy-man, and while they
give chase
, Gerrard is again miraculously saved by
compound dangers
. He runs blindly into some members of the human Vec tribe, on a pilgrimage with their spiritual leader, the
Oracle
en
Vec, who believes this
bloodied, cowering man
is the Korvecdal,
Another popular character, Eladamri
continued WotC's tradition of anagram
names: In this case, "Irma Dale."
the person prophesized to unite the three human tribes (Kor, Vec, and Dal… who'd have thought?) and overthrow the Evincar. Gerrard decides to go with the Vec to their meeting with the Skyshroud elves.
(Cultural aside—Kor, Vec, and Dal are all enemies of the Evincar, Volrath, by default, but a good number have betrayed their own kind and joined him. Those traitors are the
il
, while those who remain loyal are
en
.)
The
Weatherlight
itself is having its own problems. Though now
clear of enemies
, the ship was too heavily damaged to stay aloft, and soon crashed into the Skyshroud—naturally
gaining the attention
of the elves.
Times Weatherlight has crashed: 1
Orim and Crovax
tend to the survivors
, while Hanna and Mirri go off in search of Gerrard, though the Cat Warrior (that's the name of the species, what can I tell ya?) is skeptical of Hanna's usefulness. The elves
give chase
, and Mirri is so intent on escaping them that she doesn't notice the
weird monster thing
until it is too late. The shapeshifter knocks Mirri back, but Hanna
saves her life
, earning her respect. The encounter wit the shapeshifter makes them
drop their guard
, however, and the elves
catch up
, not too happy to have intruders so deep in their domain. They are captured, and taken to the elven lord,
Eladamri
(a character who was unexpectedly popular, due to his card's apparent status as the long-awaited
elven lord
; his part in what was to come may have been increased because of it, as he is really more of a plot device here). Luckily for the two women, the Vec and Gerrard had just arrived in Eladamri's court, and Gerrard
explains the situation
. Eladamri calls off his warriors from the
Weatherlight
, and helps Gerrard
plan his next move
. Starke is
wary of the Oracle
, but the arrival of her
bodyguard
keeps her safe (and that is why you must suffer to open them in packs of 8th and 9th. Starke is truly the cause of all bad things). Eladamri and the Oracle agree to lead an attack on the Stronghold's main entrance, while
Weatherlight
sneaks in the rear entrance—somewhat cliché for evil castles to have a back door, but as you'll see, this one is not exactly unguarded.
In the Stronghold itself,
Volrath
awaits the reunion with his long-lost blood brother. Despite the defeat of the
Weatherlight
and capture of nearly all the Legacy artifacts, Volrath
is incensed
, and uses Greven's
spinal implant
to make him
suffer for his failure
. Volrath is certain Gerrard survived, however, and now has
two more prisoners
to act as bait… and to
amuse
himself
with
.
While Gerrard and the others plan the raid on the Stronghold, Hanna tells Gerrard some bad news: the Thran powerstone that allowed
Weatherlight
to planeshift is cracked, either from the battle or the crash. Either way, she cannot repair it. Eladamri reveals the existence of a interplanar portal, not far from the Stronghold. Orim
studies it
, and concludes that the large magical device requires a magic user to use. (Cut her some slack, she's a Samite Healer trying to cast a blue spell.) Only one crewmember fits the bill in this case: Ertai. He volunteers to stay behind and figure out how the Stargate… I mean, planar portal works. They don't actually know where the portal leads, but the only important fact is that it goes
somewhere else
. The crew agrees, as he'd proven pretty
useless
in battle. The
Weatherlight
sails away to the Stronghold.
Ertai immediately realizes he
isn't alone
. Lyna, emissary of the shadowy Soltari and one of the few that can enter the material realm, offers to help him with the portal if he'll help her people. The
Lyna, Soltari supermodel
Soltari, along with the
Thalakos
and the
Dauthi
, originally came from Dominaria—in fact, all life on Rath did. She reveals that random interactions between the two planes have drawn random bits of Dominaria into Rath. Anyone unfortunate enough to be caught in one of these overlays is usually either quickly killed by the living flowstone that makes up the ground of the entire plane, or forced to adapt to the harsh environment. And that's 'forced' in more way than one—many of the races of Rath had been subject to experimentation in by Volrath and previous Evincars, who were always trying to find ways to improve on living flesh.
The Soltari, Thalakos, and Dauthi were transposed onto Rath like many other unfortunate races, but in their case, the transfer was incomplete, and they were stuck between worlds, able to interact neither with Rath nor Dominaria. The overlay that had caught them happened during a pitched battle between the Soltari and Dauthi with the Thalakos caught by chance in between—now, only the
Dauthi
still exist on Dominaria. Those races trapped between worlds found themselves unable even to die—the Dauthi and Thalakos have gone mad from this eternal purgatorial existence. Ertai agrees to help—if the portal is open, the Soltari should be able to go through and, hopefully, come out normal on the other side.
While Ertai and Lyna have their long talk,
Weatherlight
makes its way through the
Cinder Marsh
, where exhaust from the Stronghold spews out. Protected from the fumes by
Weatherlight
's weak environment shield, they quickly meet more
dangerous opposition
. The slivers swarm around the ship—in fact, just about all of
Tempest
's slivers gang up to attack
Weatherlight
at once—go ahead, look at their flavor texts. Hanna proves her mettle in this battle—first, she notices that some of the slivers are
artificial
, and guesses that they are the vehicle for Volrath's control of the creatures. She destroys them
the way only a white mage can
(or could, at the time), but they keep coming. Then, she notices that they share abilities only with nearby slivers, and tells the crew to separate them.
(I have no idea how this picture demonstrates that realization, but that's what we got.)
.
The danger didn't end with the slivers—in fact, they weren't so much guards, as just nesting somewhere warm.
Weatherlight
moves on past the hive, into the
Furnace of Rath
, which should be fairly self-explanatory. The ship started to smolder, people began bursting into flame… it was
worse than Phoenix
. Orim saves the day this time, with a lightning rod and… well long story short, she's a
White
Mage
.
The ship sails on toward the Stronghold, leaving the Furnace to the even more forebodingly-named
Death Pits of Rath
. Though the crew doesn't know what the hell the black goo on the walls is, articles explained that it was either something akin to 'cancer for flowstone' or simply a byproduct of flowstone production—either way, it's not able to imitate the solid rock its meant to, but it displays some of the other properties of the stuff. Apparently, as this was already where they dump the waste flowstone, the Evincars have also dumped some of their enemies into the Death Pits as well—human skeletons are scattered everywhere. These skeletons
become animate
through the pit-goo's influence, and attack the ship from tendrils of the stuff. Most of the crew is still smoldering from the Furnace, so
Gerrard
and
Orim
hold the deck while everyone else escapes below. Squee doesn't make it down with the others, but it ends up being for the best, as he manages to accidentally activate
his toy
—just in time for it to save Gerrard from an attacking Carrionette. Gerrard and the rest of the crew escape below decks, and the ship continues on, finally sailing out of the Death Pits, and into the Stronghold itself—and this is where
Tempest
ends.
For several months, we had nothing else to go on. Rath was a really nasty place, that much was obvious. The name of the next set,
Stronghold
, only confirmed the setting, which really was pretty obvious. We were no closer to knowing who was really behind all of this though—who gave Volrath his power, who built the Stronghold? There was one detail of interest, however, that some of us caught on to—the use of the word "Phyrexian," a proper adjective that we had first seen way back in
Antiquities
Now, this wasn't as big a tip-off as you might think—there had been "
Phyrexian
" cards in Mirage block as well, before this huge arc had even started, and there was little information on what "Phyrexia" was. Some older information described it as a sort of "artifact hell," where bad artifact creatures went after being
shattered
(and you thought the Tin Man was a nice guy). Rumor had it that Mishra, the brother that lost the Brothers' War, had ended up there as punishment, but details were extraordinarily sketchy.
There wasn't as much hype going into
Stronghold
as there had been for
Tempest
, much less
Weatherlight
, but then WotC had players into the swing of this new storyline. Issues of
The Duelist
from this period included some prequel stories about Sisay and Tahngarth, both to illustrate how they met and to give her some screen time so we knew who was getting rescued. One of these stories recounted the fight that won Sisay the
Juju Bubble
, which is not only part of the Legacy, but fits into
Weatherlight
's engine somehow. This is but the beginning of a pattern… in fact, let's keep track of it.
Random bits of junk attached to Weatherlight's engine: 1
The story continued with
Stronghold
, and we got our first look inside the massive structure.
Outside
, it is a tall volcano constantly extruding flowstone, which pushes the rest of the world away from it and slowly, but surely, enlarges Rath toward some unknown end. The peak reaches into the furious sky, and indeed seems to draw energy from it. Inside the volcano,
Volrath's Stronghold
is a vast fortress, built around the flowstone generator and suspended high in the air. As quietly and discreetly as a flying boat can,
Weatherlight
approaches the gigantic structure, and docks. Gerrard, Mirri, Crovax, and Starke form an Away Team… that is, a rescue mission, while Orim and Hanna repair the crew and the ship, respectively, while Squee, well,
hides
.
Gerrard and the others slink through the Stronghold, with Starke leading the way. They happen upon a shapeshifter, and Crovax goes
amok
on it, chasing it into a darkened room and tearing it to bits. His mind reels once his opponent is dead—his curse is starting to
take its toll
.
But Crovax had stumbled upon something important—in the center of the room, a large machine projects a
blue globe
, which the aerial mariners recognize as Dominaria. Looking closely, they can make out the signs of troop movements and battle plans—even of the
Predator
destroying targets. They came to rescue their comrade, and now they—and we—realize that the entire
world
is in danger. As if they hadn't wanted to kill Volrath enough already.
Outside, Eladamri and the Oracle
rally the troops
and
begin their assault
(Make sure to look at the flavor text of those two cards). As the attack begins, Volrath puts the Stronghold
on alert
, which gets Gerrard and the others moving again to avoid detection—not realizing that they have become Rath's highest-rated
reality show
. Volrath toys with them as they try to navigate through the Stronghold—the entire structure is made of flowstone, and the substance is programmed to
obey the Evincar's command
, making things considerably more time-consuming.
They finally do reach the cells, finding Karn and Tahngarth, but not Sisay or Starke's daughter, Takara. Both of the freed prisoners are in anguish—Karn had been put into a cell with a shifting floor and a constant supply of moggs, so any move he tried to make would topple him onto some of the goblins, crushing them and violating his vow not to hurt another. Tahngarth's torture has been far more sinister—he has been mutated and deformed, destroying his hansome minotaur façade—and fashioning him into a new first mate for Greven, to replace Vhati. But for Tahngarth, the mutilation is
shame enough
.
Now six people strong, the group finds
Volrath's laboratory
(not to be confused with Dexter's), where Sisay is trapped in a
glass tube
. They free their captain, only to find that she, too, was one of
Volrath's shapeshifter
s. They continue.
Suddenly, they meet with resistance—Selenia leaps from nowhere to attack Crovax. Mirri
leaps in the way
, and is cut down by the first-ever
Legendary Artifact
. Crovax duels with Selenia, but she puts up little resistance—indeed, she
wants to die
. The moment she is slain, she shatters, and her broken bits swirl around and fly into a screaming
Crovax
. He collapses next to the wounded Mirri.
The team splits up—Karn and Tahngarth
carry the wounded
back to
Weatherlight
(though it begs to wonder, how they know how to get to it), while Gerrard and Starke press on. They make it to
Volrath's gardens
, pausing as the
Predator
passes overhead
. The attempt to avoid Greven only gives
other
dangers
a chance to attack—as far as evil citadel goes, Volrath's Stronghold has to be up there as one of the most annoying. Once free of the plants, Gerrard and Starke continue their dungeon crawl.
Karn, at least, has a stroke of luck. On the way back to the
Weatherlight
, he and Tahngarth come across the
Sliver Queen
, who had been entrusted with protecting the Legacy artifacts. Tahngarth goes on with Mirri and Crovax, while Karn reasons with the giant bug… lizard… thing. He somehow communicates to her that, like the slivers are part of her that she needs to be complete, so, too, are the Legacy artifacts part of him. The Sliver Queen
relents
, and Karn returns to the
Weatherlight
with the Legacy restored.
Gerrard and Starke, meanwhile,
took a shortcut
to Volrath's inner sanctum, and found themselves in his
Dream Halls
, where the Evincar is waiting. The large chamber—hell when you have a building this big, even bathrooms and closets are 'large chambers'—houses scores of large, spidery devices, that show Volrath's thoughts—his dreams, his hopes, his memories. Volrath usually uses them to plan, but now, he uses them to show Gerrard a private screening of "Why I'm going to eat your spleen." Gerrard finally realizes that Volrath is, in fact, his blood brother Vuel, and is quite deservedly
pissed off
. His mood doesn't improve when Sisay and Takara show up, under
Volrath's control
.
Starke does the rogue thing and
backstabs Volrath
, but the Evincar ignores the knife and bats Starke away. Takara
attacks Starke
, blinding her father as he pleads to be recognized. Gerrard knocks Sisay out, and pursues Volrath, joined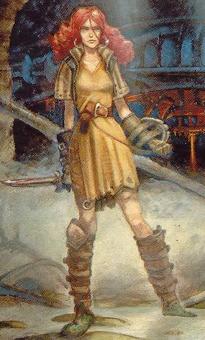 Takara, Starke's reason for
betraying everybody all the
time, never saw much airtime.
unexpectedly by a
slightly miffed minotaur
. Gerrard has to settle the score himself, however, and
does so
.
Or so he thinks.
The Volrath he killed was but a shapeshifter, the real Evincar is nowhere to be found, and they've long overstayed their welcome. With the shapeshifter's death, Takara snapped out of her thrall and
tends to her father
. At last, Gerrard has rescued Sisay—assuming he can get them all back out of the Stronghold alive, that is.
And so
Stronghold
drew to a close, and things were getting complex. Crovax had fulfilled his curse, but what that fully meant was unknown. He had become a vampire, the
Magic
antithesis of angels, but did that make him evil? Would we have a black (I refer to the card color, not ethnicity, even if that's true too) hero character? And what of the Stronghold itself? Who built such an insane place?
Well, we didn't know the architect's name, but
Stronghold Taskmaster
offered us this interesting tidbit:
"With the completion of each joyous task, we are closer to Yawgmoth's divine vision."
– Stronghold architect, journal
Yawgmoth! Not only was this a name we hadn't heard since
Antiquities
(well,
Chronicles
), the flavor text said it all: whoever Yawgmoth was the guy—or god—behind the Stronghold, behind Rath… and Yawgmoth had some sort of 'divine vision'. Whether the plan to invade Dominaria was Yawgmoth's and Volrath was a pawn, or Volrath was attacking Dominaria on his own initiative, was unknown—heck, lots of things were. But the fact that the roots of Rath led so far into Dominaria's past—
Antiquities
took place 4200 years ago, remember—meant that something major wasn't just starting to build up, but had been doing so for millennia.
The next few issues of
The Duelist
(now monthly) provided very little in regards to what was next for the
Weatherlight
crew, but did offer a few tidbits. One, in the joke section called "Extra Pulled," was a card called "Squee Triumphant," with a badly photoshopped image of Squee killing Volrath instead of Gerrard on the card
Smite
, that let you tap a goblin to destroy all black Legends in play. Card courtesy of the Unofficial Squee Fanclub. A far more RELEVANT bit of information came in the form of an advertisement—for
The Brothers' War
novel by Jeff Grubb. Finally, a book officially tied to the storyline! Plus, maybe we would get to find out a little about Yawgmoth and Phyrexia, since it was about
Antiquities
.
What we didn't know at the time, not right away at least, was that this definitive telling of the Brothers' War storyline would involve overwriting some of the previous continuity, from the comics and even, occasionally, from the cards themselves. Wizards realized this, and declared that novel, and those that followed it, would be canon to the storyline. Anything from beforehand was still going to be true, unless it was directly contradicted in the novels. This event has been called the great 'revision'—everything beforehand was 'prerevisionist.' Some older sets have almost NO postrevisionist material associated with them, so anything said about, say,
Homelands
or
Fallen Empires
is based on technically questionable information. But that problem was a minor concern—
The
Weatherlight
Saga
was going strong, and now the earliest, most influential part of Dominaria's history was going to be recounted in detail.
Then, the July 1998 issue (
The Duelist
#27), dropped a few major hints—for one, they were still messing with the number of pieces of art in a set depicting plot events, and would probably tone that element down a little, though they also said that Rath's bleak landscape made sightseeing a little unenjoyable. But the real news was this:
Quote from

…and a certain powerful figure whose name has been around since the beginning of

Magic: the Gathering

makes a brief appearance in blue, setting the stage for future stories.
I'm sure all of you can guess who THAT ended up being, and speculation came to the same conclusion—the only names that were that old (and powerful) were Urza, Mishra, and Nevinyrral, and nobody really saw how a Lich could get in on things. So, it was supposedly down to two… and by then,
The Brothers' War
had come out and surpassed everyone's expectations. Wonderful book, truly, and with the unexpected twist of one of the brothers, Urza, becoming a planeswalker at the end—not to mention that we learned that Yawgmoth was the ruler of the dread mechanical plane, Phyrexia. But what could Urza
possibly
have to do with the Rath cycle? We would have to wait and see… and the
Weatherlight
still had some escaping to do.
Outside the Stronghold, the elves and Vec are
joined by the Kor and Dal
, but the mogg armies are still numerically superior.
The battle rages on.
On the
Weatherlight
, Orim
cares for Mirri and Crovax
—the cat warrior will heal, but Crovax is beyond even Orim's power to treat. Hanna and Karn, meanwhile,
survey the Legacy
. They notice the
Skyshaper
fits perfectly on the Thran engine—
Random bits of junk attached to Weatherlight's engine: 2
—only to be discovered by Greven in the
Predator
. He again attacks
Weatherlight
, harpooning the smaller ship, but with the added power of the Skyshaper, Weatherlight is able to turn this
against Greven
. Greven cuts the lines attaching the two ships, but sends some moggs in
thopters
after them. Tahngarth manages to destroy one of them by
killing its pilot
, but the thing plows into the
Weatherlight
, dealing severe damage. Smooth move, cow man. The ship makes it to Volrath's gardens and waits for Gerrard and company to come out of the dream halls. As it circles, Crovax awakens, and stalks dubiously toward the
Weatherlight
's engine. Mirri, though wounded,
follows him
, and rushes to stop him when he tries to sabotage the ship. The two begin a fight, that takes them off the ship and into Volrath's gardens.
Back in Volrath's dream halls, Sisay wakes up, but
isn't happy about it
. Starke, blind now, is guided out by Takara as the group makes their way toward
Weatherlight
. Everything is coming to a head now—
Predator
has arrived, and Greven is on the ground,
eager to face
Gerrard. Gerrard, leading his friends to the safety of the
Weatherlight
, notices Mirri and Crovax
fighting to the death
as well. He must choose: somehow deal with Greven long enough to get to the ship, or help Mirri against Crovax. Moreover, Lyna has arrived on
Weatherlight
—citing Barrin's name so Hanna will believe her message from Ertai, she reveals that 'the portal is open—but not for long.'
Gerrard is not happy about having to take responsibility, but finally realizes that he must do so. He chooses to abandon Mirri and get his ship to safety. He
engages Greven
long enough to get to the ship, and orders a high-speed retreat as soon as everyone—but Mirri—is aboard. Mirri accepts her fate, glad to have saved the ship and Gerrard from Crovax's sabotage before she dies. (And yes, if you didn't catch it, curiosity killed the cat. It's awful.)
Weatherlight
races away—Hanna activates the Skyshaper and the ship rockets off so fast, even Sisay is barely able to control her. Predator follows right in her wake. Ertai waits at the
open portal
, dangling precariously from a rope, so
Weatherlight
can pause oh-so briefly to pick him up. Below him, the Soltari make their
exodus from Rath
, filing through quickly for the short period the gate is open.
Weatherlight
arrives, but because of the Skyshaper, it can't stop for Ertai—instead, it just plows right through the portal, leaving Ertai behind.
Predator
is following right behind
Weatherlight
though, and is about to go through the portal as well before it is
suddenly shut
—causing Greven's ship to crash and sustain massive damage. Lyna asks Urza, who shut the portal, what they will do now. Urza's answer is simple: Wait.
Audience response was tremendous. URZA? He is still alive? Why is he involved? How did he get there? The appearance of this character—his first on a card, actually—opened far more questions than it closed. And for tournament players, Urza's first appearance on such an abusable card foreshadowed dark times ahead (
The Duelist
foreshadowed this card in another way, saying it's cost became when it was found to be 'too broken' at . How little they knew… how little we all knew.)
By the time Exodus came out, we all knew what the next set was going to be: Unglued. But besides that, we knew the next REAL set was going to be called "
Urza's Saga
," and we quickly found out the entire block was going to be a prequel.
All our questions would be answered. All the answers would be questioned. And as Combo Winter dawned, the interest in storylines was about to become overshadowed by what is still the most powerful Type 2 environment in the history of the game.
As we were to discover, when it comes to anything related to Urza, all bets are off.
Click Here to Continue to Part 3...
VestDan is an aspiring author who is not above shameless self promotion: you can view the half-finished draft of his ridiculously long scifi/fantasy saga, here.
Edited by Goblinboy
Banner by iloveatogs
Last edited by
VestDan
: Aug 29, 2005