jake556
Location:

Arizona

Join Date:

1/22/2011

Posts:

1,783

Member Details
NEW Seller on Ebay BEWARE !! He is producing Fake "older" foils. His name is Ryan O'koren and here is his info :
"I am the owner, and chief operator of HoloPrints, a medium scale holographic printing company. I like to take a hands-on approach to every aspect of my business, so I participate in sales, digital editing, company management, and outreach on a daily basis." Source Linkedin
http://www.linkedin.com/pub/ryan-o-koren/5b/3a9/253
http://www.holoprints.org/
https://www.facebook.com/Holoprints
Known Locations: Boise, Idaho, Detroit, MI & Manitou Springs, Colorado
These are the 2 different Ebay sellers he operates under that I know about.

Magic-Player
http://myworld.ebay.com/magic-player?_trksid=p2047675.l2559
Email: [email]magicplayermtg@yahoo.com[/email]
Foilz
http://myworld.ebay.com/foil-z?_trksid=p2047675.l2559
Email on Purchase: [email]foilz@yahoo.com[/email] Email for refund: [email]mrfranswa@yahoo.com[/email]
Return Address for Foilz:
John Smith
S Summerset Way
Boise ID 83709
United States
UPDATE:
Both Ebay accounts have been changed to "No longer a registered user".
I hope everyone involved got their money back. I will keep an eye out for future scams thanks guys.
ORIGINAL POST BELOW
I just recently purchased a few Foil
Dark Ritual
from Masques and the one I just received looks different from the others. Do people actually fake these? It looks like the picture box and text box are glossy not foiled but glossy looking. And the colors are way different in the picture. When I get my computer back I will put a picture of both up. The instant and Dark Ritual words are really white as well. Anyone have experience with this? How easy are these to fake?
EDIT: Even the sellers listing looks weird
http://www.ebay.com/itm/111125905684?ssPageName=STRK:MEWNX:IT&_trksid=p3984.m1497.l2649
Fake one on left, real one on right. Notice the missing bubbles in the border.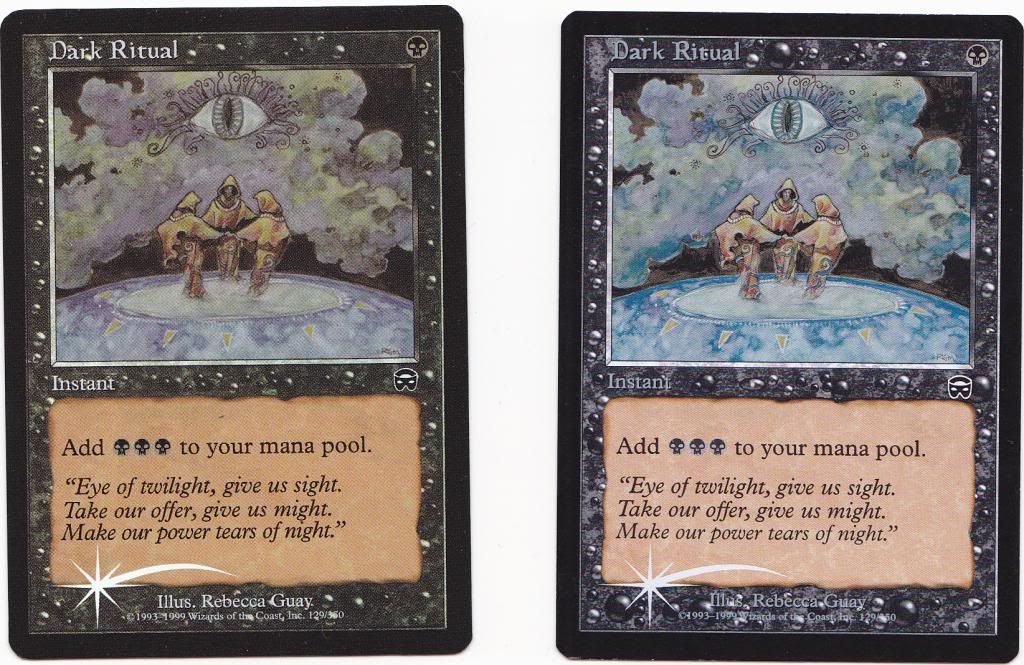 Last edited by
jake556
: Apr 3, 2014
Live in Northern AZ? Lets play some Legacy! Catch me on MODO!

Awesome sig by the one and only
DarkNightCavalier
from
Heroes of the Plane Studios