Monopoman
Join Date:

12/3/2005

Posts:

10,265

Member Details
Pretty sure 90% of the play it's seeing outside Standard is because of all the popularity it has WITHIN Standard. It's just not playable in older formats, where there are already tons of "draw X" cards similarly costed, and all of them are FAR from playable in those formats.

Stroke of Genius

is $5 card from a set where the playable rares are going for $50+ each. EDIT: I do realize Stroke is only available for Legacy, Vintage, Commander, and Casual formats, and not in Modern. Modern has other mass draw spells.
The life gain is extremely relevant to UWR control no other card draw spell gives you x cards at instant speed and x life.
It's the reason why in standard
Blue Sun's Zenith
was never as popular of a card as
Sphinx's Revelation
during the time when either were in standard respectively. Like I said until you play against UWR control in modern or play UWR control you don't realize how necessary the card is. If the card is fast enough sometimes to halt a super aggressive deck in standard by gaining a crucial 5 life in the mid-game off a ramp spell or two, its perfectly fine for a control deck that seeks to kill everything you play that's relevant or counter it.
WotC obviously wanted a playable
Stream of Life
style card and they made one finally...
But, if you think it will be a bulk mythic or just barely higher or something after rotation that is fine :D. I personally expect a noticeable drop after rotation but it will still hold value over
Stroke of Genius
and other cards similarly to it because in most cases its better.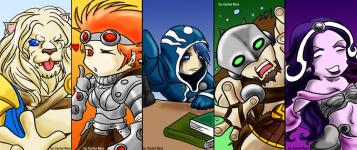 Feel free to bid on my cards
here
!