urzassedatives
Location:

Cincinnati

Join Date:

1/2/2005

Posts:

13,719

Member Details
In about 1 in 750 packs of first run ZEN packs, one of the following cards can appear in place of a land.
The more powerful and expensive cards appear less frequently than the less expensive of the cards listed.

The following is a (now alphabetized) listing of all the cards that have been reported to have been opened from packs thus far. If the card is on the list already, don't post here. This thread is not keeping a tally of opened cards, merely documenting the different cards in this promotion.
First Run packs are all packs of Zendikar currently available for purchase. Second run is shipped in November. You can tell what run your box is by checking the bar code. If it has an 'A' at the end, it is First Run.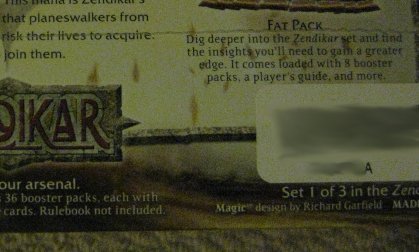 The Power 9 (some from unlimited, some supposedly from beta, some signed.)
The dual lands: (some from REV, some supposedly from Unlimited, some signed)
The following reserve list cards: (some were signed, some were misprinted, some were neither)
The following cards are not reserved, but appeared in packs: (some of them were misprinted, some were signed, some were alpha/beta versions, some were none of the above)
More information on the 'treasures' can be found in the first post of the rumor mill thread about them.
News and spoiler contributor for GatheringMagic.com
Twitter