Redirus91
Location:

Lincoln, CA

Join Date:

8/4/2009

Posts:

3,034

Member Details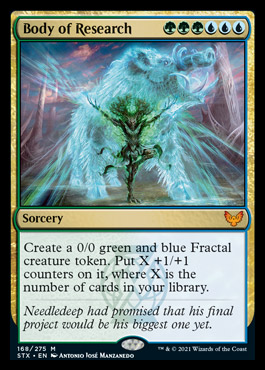 The mana base is suspect but I'll test it out. Obviously this deck is a standard Temur adventures but instead of Genesis Ultimatum or taking more turns we have terror of the peaks and Body of research to try and win. I plan to play the deck as winning when you play body of research so that means only casting the spell if Terror is in play or with 7 mana and a footfall crater or at 8 mana and Kazuul's fury. Of course the deck can still win without the spell and the threat of the spell is so great you can sideboard it out for a different style to next level the opponent with other cards.
Some other cards in the 'Maybe board":
the Royal Scions
giving haste to Body same turn at 6 mana,
Garruk's Uprising
giving trample to Body and drawing a card,
Crashing Drawbridge
enables haste,
tuktuk rubblefort
another haste enabler,
Garruk, Unleashed
trample enabler.

Props to DarkNightCavalier 4 da banner and SGT_Chubbz 4 avvie,
here
Standard
Aggro
Naya Purphoros
Aggro
Retired 9/19/2014
Primeval
Titan
RIP
1/5/2010
- 9/30/2011
Top 4
Channelfireball Winter series
5k Feb. 2011
3rd at California National Qualifiers 2011
40th
at GP SLC 2012
Find me on MTGO @ Ruslvmusl91