lookingupanddown
Spoiler Editor
Join Date:

6/20/2018

Posts:

1,866

Member Details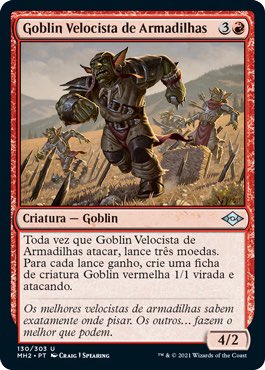 Goblin Trap-Runner
Creature - Goblin (Uncommon)
Whenever Goblin Trap-Runner attacks, flip 3 coins. For each flip won, create a 1/1 red Goblin creature token tapped and attacking.
The best speed trappers know exactly where to step. The rest... do the best they can.
4/2
And this is why you don't downshift
Leonin Warleader
. Bad things happen. Yes,
Zndrsplt
and
Okaum
, you're the exception here.
Source:
Carol Anet