lookingupanddown
Spoiler Editor
Join Date:

6/20/2018

Posts:

1,875

Member Details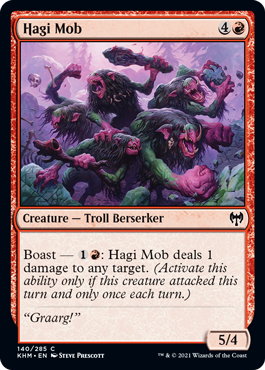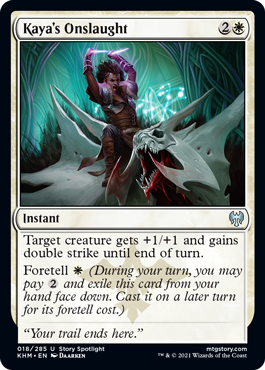 Curvefiller Troll for Limited, maybe even in non-Troll decks.
Someone tell Kaya to get off Vorinclex, he barely counts as either alive or dead and she's just going to get compleated from up there.
Source:
Shiro Games
EDIT: Just so we're clear, the second card happens in
last week's story.
After this card, she stabs Vorinclex's arm off. He responds by eating a corpse, growing him arm back, and THEN using the severed one as a club. She could've died several times had the then-disguised
Alrund
not threatened to vaporize the Phyrexian. Vorinclex is NOT dead. . . then again as a Phyrexian he wasn't alive in the first place.
Quote from

Now was her chance. Kaya lunged forward, her dagger vibrating with magic, and swiped straight through the monster's trapped arm, lopping it off at the shoulder. Flesh, bone, spirit—if it could be severed, she had severed it.

The arm hit the stone floor of the cavern with a wet thud and began to blacken and crumble to ash where Kaya had cut it. The creature roared again, that bear-sound mingling with something underneath—a noise like the grinding of metal. As it twisted in pain, the dead Omenseeker, still melded to its smaller front claws, flopped about, limp as a fish.

With a motion sickeningly like an embrace, the monster pressed the limp man into its body. He disappeared into the raw pink flesh, slowly absorbed. Then, from the stump where its arm had once been, another began to grow. It happened with remarkable speed—the muscles tying themselves together, the talons hardening from a juvenile translucence to a hard black edge in the few seconds she was held transfixed by the horrid spectacle. Finished, it flexed one complete hand, something quietly popping into place, before turning those empty eye sockets toward her.

Oh, gods and monsters, thought Kaya. Then it charged.

She ducked under its first swipe and turned her torso to ghostly aether so the second passed right through. I can hurt it at least semi-permanently, she thought. That's something. Now she just had to find another opening in which to strike, a moment where she could channel power into one of her blades instead of using her magic to phase out of these ceaseless blows. She danced and weaved, just as quick as her foe.

Suddenly, her heel hit rock. The cave wall. She swore. It hadn't been mindlessly attacking—it had been herding her, driving her into a corner where all her nimbleness would be useless.

The monster drew back one terrible claw just as another prism of blue light sealed around it, trapping the blow mid-air. Inga, from the regrouping Omenseekers, worked that lantern light into another spell of holding. Nice one, Rune-Eyes. Another prism locked the other talon in place. She was holding it, if only for a moment.

Then the monster did something that surprised her: it tore its own arm off, leaving the trapped hand floating in the air, and swung at Kaya with the stump, the muscles twitching and reaching for her.

Don't touch it, she thought. Only one way to go, then.

Kaya fell back into the cave wall, the cold shock of phasing ripping through her entire body. It was only for a moment—but what a long moment it seemed. Her heart stopped. Everything that made her alive, that made her Kaya, gone gray and faded.

Then she was tumbling back onto the cave floor, a few feet to the monster's left. She saw it pivot, those heavy simian legs propelling it toward her, and Kaya fought to restart her lungs. Get up. Get up!

"Enough!" bellowed a voice, echoing off the walls of the cave. To Kaya's surprise and relief, the creature actually slowed, its attention pulled toward the sound for a moment. That was enough; she jammed all the arcane power she could muster into her blade and lunged, cutting low, right through one of the monster's legs.

That voice, she thought, tucking into a roll on the other side of the howling creature, coming up into a fighting stance. It sounded familiar, and yet . . .

It was only then that she noticed the pavonine, shifting radiance that now filled the cave. She looked back at the Omenseekers and saw Asi.

No—not Asi. Not exactly. His hood was thrown back, and from his eyes spilled that strange light illuminating the cavern walls, a shifting pattern of greens and blues and purples. Not just a charming old man, then. Or, not just that.

"Never have I seen such filth dare to desecrate these realms! Even the demons of Immersturm are not so foul."

Unclear, thought Kaya, how much of that was getting through to the monstrosity before them. Its leg gone, crumbling to ash, it had balanced itself on its three remaining limbs while the smaller hands stayed folded up near its chest. Hunched over, it looked even more bestial than before. Kaya was no master hunter, but even she knew that an animal was always at its most dangerous when wounded.

The monster threw itself toward her yet again, but Kaya was ready this time. It was slowing down, now. She could get it on the next pass. One clean swipe through the neck should do it.

Suddenly, the monster crashed into—nothing. It stumbled back, then hurled its weight forward again. There was a deep thrum, and the air rippled where it made contact. A magical barrier, realized Kaya, and a damn strong one at that. Even she would have had trouble phasing through that.

She turned. Behind her, Asi had his arm outstretched, that coruscating energy rippling around his hand. The monster looked between her and Asi with something she thought she recognized as uncertainty. Then, with one more grinding roar, it turned to flee.