lookingupanddown
Spoiler Editor
Join Date:

6/20/2018

Posts:

2,309

Member Details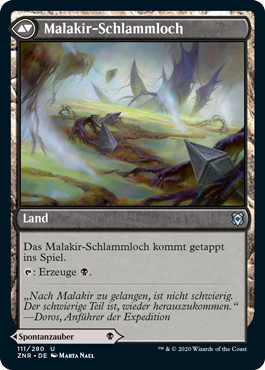 Malakir Rebirth
Instant (Uncommon)
Choose target creature. You lose 2 life. Until end of turn, that creature gains "When this creature dies, return it to the battlefield tapped under it's owner's control."
"Those who fail to escape Malakir become part of the city's defenses."
—Doros, expedition guide
//
Malakir Mire
Land
Malakir Mire enters the battlefiled tapped.
: Add .
"Getting into Malakir isn't difficult. It's getting out that's the hard part."
—Doros, expedition guide.
I figured we'd see a one-mana MDFC spell, just not with this effect.
Source:
RobBubble