Caranthir
Location:

Brno, CZ // Rochester, MN

Join Date:

1/1/2005

Posts:

9,527

Member Details
My shot at the translation (I do not speak Spanish at all)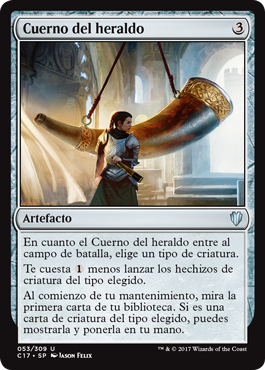 {Herald's Horn}
As
{Herald's Horn}
enters the battlefield, choose a creature type.
Creature spells of the chosen type cost you less to cast.
At the beginning of your upkeep, look at the top card of your library. If it is a creature card of the chosen type, you may reveal it and put it into your hand.
Corrections welcome.
100% Vorthos Spike and Storyline Expert
Former Fact Prospector of the Greek Alliance.
Let this great clan rest in peace (2001-2011)


>>Banner by Spanglegluppet<<