luminum can
Location:

the Grim Midwest

Join Date:

1/2/2005

Posts:

19,490

Member Details
http://www.wizards.com/Magic/Magazine/Article.aspx?x=mtg/daily/rc/264
http://www.wizards.com/Magic/Magazine/Article.aspx?x=mtg/daily/sf/264
http://www.wizards.com/Magic/Magazine/Article.aspx?x=mtg/daily/activity/1317
http://www.wizards.com/magic/tcg/article.aspx?x=mtg/tcg/theros/cig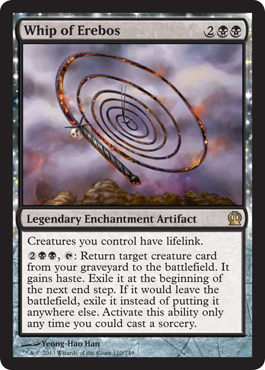 Whip of Erebos
Legendary Enchantment Artifact (R)
Creatures you control have lifelink.
: Return target creature card from your graveyard to the battlefield. It gains haste. Exile it at the beginning of the next end step. If it would leave the battlefield, exile it instead instead of putting it anywhere else. Activate this ability only any time you could cast a sorcery.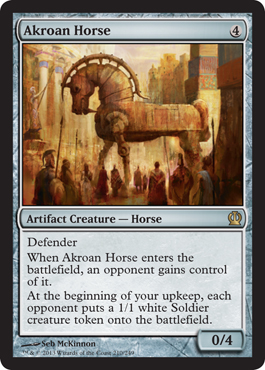 Akroan Horse
Artifact Creature - Horse (R)
Defender
When Akroan Horse enters the battlefield, an opponent gains control of it.
At the beginning of your upkeep, each opponent puts a 1/1 white Soldier creature token onto the battlefield.
0/4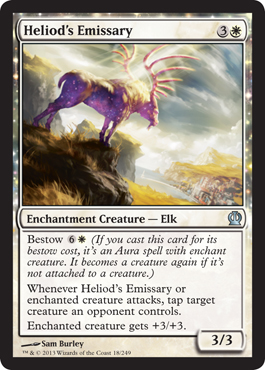 Heliod's Emissary
Enchantment Creature - Elk (U)
Bestow :6mana::symw:
Whenever Heliod's Emissary or enchanted creature attacks, tap target creature an opponent controls.
Enchanted creature gets +3/+3.
3/3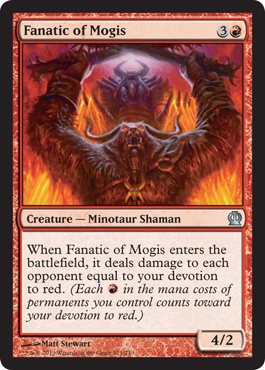 Fanatic of Mogis
Creature - Minotaur Shaman (U)
When Fanatic of Mogis enters the battlefield, it deals damage to each opponent equal to your devotion to red.
4/2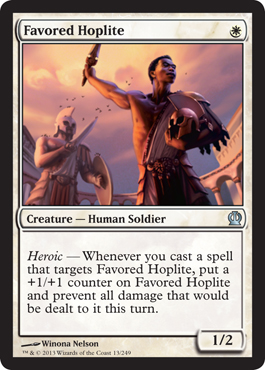 Favored Hoplite
Creature - Human Soldier (U)
Heroic - Whenever you cast a spell that targets Favored Hoplite, put a +1/+1 counter on it and prevent all damage that would be dealt to it this turn.
1/2