MtGColorPie
Location:

Bellevue, WA

Join Date:

8/28/2008

Posts:

773

Member Details
http://www.wizards.com/Magic/Magazine/Article.aspx?x=mtg/daily/arcana/848
The four new Planechase decks (Chaos Reigns, Night of the Ninja, Primordial Hunger, and Savage Auras) will contain all-new planar decks that contain a new kind of oversized card, and an assortment of new, Eternal-legal Magic cards.

Next, the new kind of oversized card. These are phenomenon cards (plural: phenomena) that represent the sort of perils that lurk between planes. Here's one now!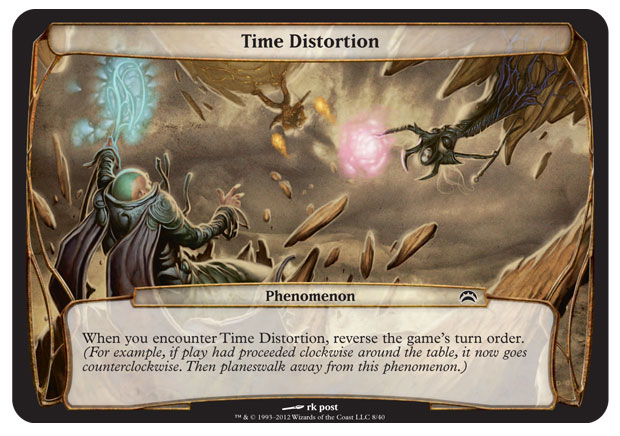 Each deck has eight new plane cards and two new phenomenon cards, and these cards are not shared between decks; there are a total of 32 new planes and 8 new phenomena.

Finally, there are brand new cards that are legal in Eternal formats. It's probably worth mentioning that there's a cycle of multicolored Legendary creatures. Like this one!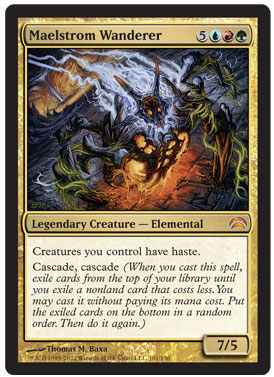 And speaking of multicolored Legendary creatures, we've been asked to mention that other Commander-specific products are on their way. That's all we can say! Now, back to Planechase.

There are a total of 21 new Magic cards in the set, spread across the four decks. Each deck has six of the cards (counting by name), although some appear in multiples.

Planechase (2012 Edition) comes out on June 1, 2012. Each of the four decks contains a sixty-card Magic deck, a ten-card planar deck, and a planar die. The MSRP for each deck is $19.99. This release will be available in English, French, German, Italian, Japanese, and Spanish.

Initial Concept and Game Design: Mark Globus (lead), Kelly Digges, Dave Guskin, and Ryan Miller

Final Game Design and Deck Development: Mark L. Gottlieb (lead), Ryan Miller, Lee Sharpe, and Ken Troop, with contributions from Matt Tabak