Sanity's_Eclipse
Location:

Colorado

Join Date:

3/28/2009

Posts:

6,973

Member Details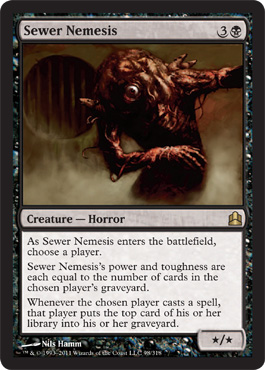 Sewer Nemesis
Creature - Horror (R)
As Sewer Nemesis enters the battlefield, choose a player.
Sewer Nemesis's power and toughness are each equal to the number of cards in that player's graveyard.
Whenever the chosen player casts a spell, that player puts the top card of his or her library into his or her graveyard.
*/*
Image attached, text added.