strangeuniverse
Join Date:

7/3/2008

Posts:

1,105

Member Details
Emrakul, the Aeons Torn
(Mythic rare)
Legendary Creature - Eldrazi
Emrakul, the Aeons Torn can't be countered.
When you cast Emrakul, take an extra turn after this one.
Flying, protection from colored spells, annihilator 6
When Emrakul is put into a graveyard from anywhere, its owner shuffles his or her graveyard into his or her library.
15/15
Just got this from WoTC in the MPR envelope.
It is an oversized card.
This card is the pre-release foil.
The release foil is:


Lord of Shatterskull Pass
(Rare)
Creature - Minotaur Shaman
Level up
(Play only as sorcery)

3/3 Level 1-5: 6/6
Level 6+: 6/6, Whenever Lord of Shatterskull Pass attacks, it deals 6 damage to each creature defending player controls.
I think it says (6 damage), its very hard to make out on the card as its in very small font.
The card is #4 out of 248 fyi.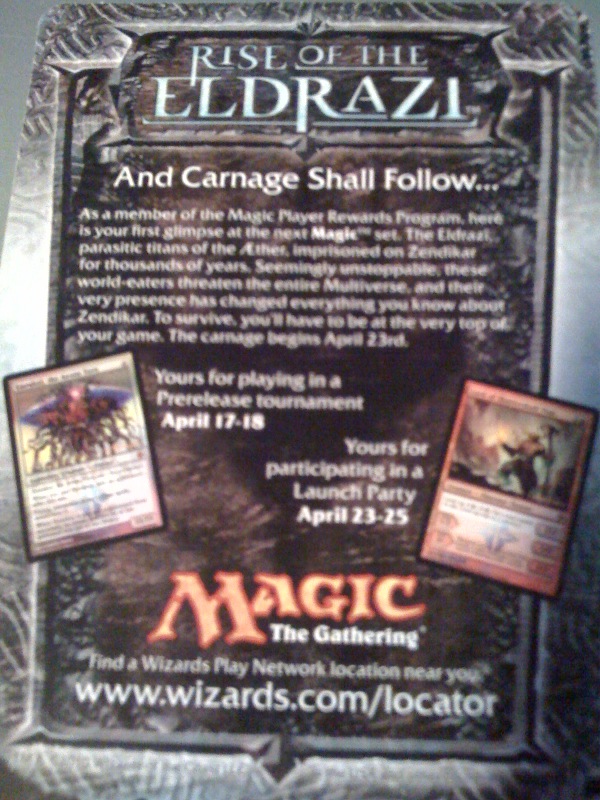 Formatted, pics attached, moved to main RM section.