brine
Join Date:

8/14/2008

Posts:

340

Member Details
(updated July 23, 2013)
What is OCTGN3?
Octgn stands for

O

nline

C

ard and

T

abletop

G

aming

N

etwork. It is a 100% free open-ended graphical card game emulator. With it, you can play your favorite card games with your friends online! Because of the versatility of its built in scripting API, OCTGN can be fully customized to accommodate any type of game. This website is dedicated towards providing you with the full Magic: The Gathering experience through OCTGN. You can visit the official OCTGN3 website at http://www.octgn.net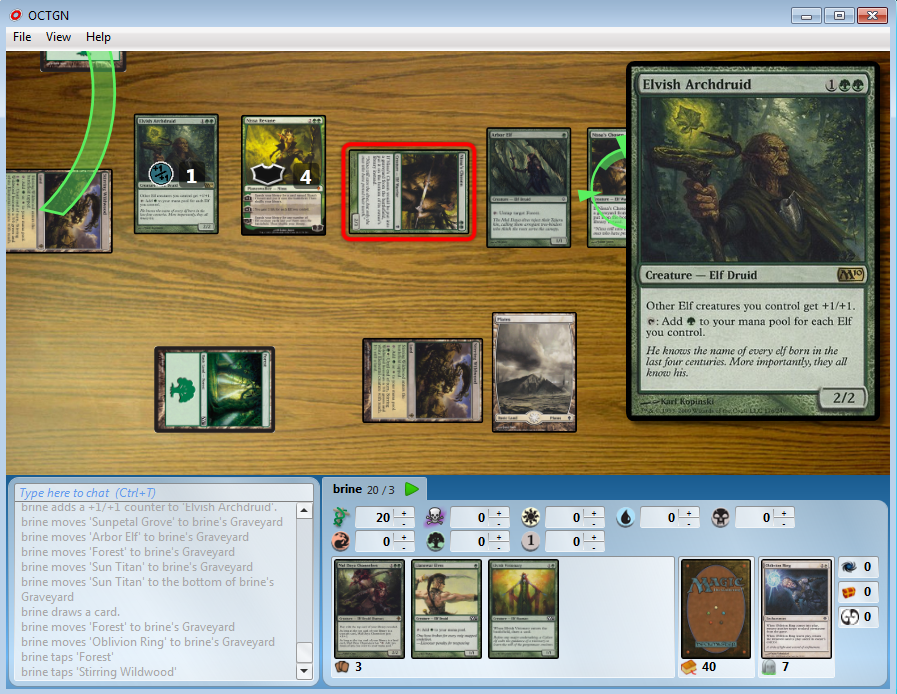 OCTGN beautifully displays the full artwork of the card on a fully-adjustable table. Cards can freely move around, and aren't locked to a grid if you choose to disable the card alignment functionality.
What do I need?
OCTGN runs off Microsoft's .NET 4.0 framework. You must have the latest version in order to properly install OCTGN to your system. Download the latest version HERE.
Once you have that installed, you can download the OCTGN client HERE.
Where are all the games?
Due to legal implications, OCTGN only comes games that have been officially supported by their owners.
I have set up a game directory for OCTGN, which contains information and download links for all "unofficial" games currently available for OCTGN. You can find it at http://www.octgngames.com.
Each game for OCTGN exists on the Game Directory Feed, which will automatically update the installed games as new updates are released.
OCTGN Games downloaded from the feed system are designed to tell OCTGN everything it needs to know about the game in order to you to play it. You can think of these files as Apps, and OCTGN itself as a phone.
You can find more info on the Magic: the Gathering on OCTGN here: http://www.octgngames.com/mtg.
I installed the Game Definition, but where are all the card images?
The Game itself does not include any of the card images associated with that game. Most of the games, including MTG, have included templates which automatically generate a 'proxy' card based on the card's data. To get the actual card images, you must download the Image Pack files, with the extension .O8C.
You can find all the Image Pack files associated with Magic: The Gathering HERE.
To install them, load up OCTGN and click on "Games Manager". Once inside, click the "Add Image Packs" button and select the o8c image packs you want to install. You can select more than one pack at a time!
The Sealed Deck Editor is a popular mode among OCTGN users, as it allows the player to build a Sealed deck with whatever packs they want then duke it out with other players!
Last edited by
brine
: Feb 2, 2015