Kelzam
MTGS Founder
The Devil in the Details
Location:

Houston, TX

Join Date:

7/11/2004

Posts:

7,182

Member Details
I. Preface
You're a long time Magic player or maybe even a novice, and through forums like ours or word of mouth you hear that a really large Magic event is taking place in the near future - a Grand Prix is being hosted near you! So you decide to go for any number of reasons. Maybe you're playing to win and aiming for Day 2 or even Top 8 glory. You've been practicing for this moment for many weeks and now it's your time to shine! Or maybe you just want to go have fun and be at a large event, to play and mingle with hundreds of other Magic players, get some cards signed by Magic: the Gathering artists and get that playmat-equivallent of an "I was here!" t-shirt.
There are many a reason and rhyme for attending, but the question remains: Are you prepared? Well, regardless of if it's your first Grand Prix or if you're a veteran of the large tournament scene, this thread is to help you bridge the gap between "Where do I start?" and starting your event.
II. What Is A Grand Prix?
Official Video: An Introduction To Magic Grand Prix
Quote from

Grand Prix are the biggest open events run around the world, attracting hundreds of Magic players to battle for prizes and glory in a festival atmosphere. They're high-energy and often feature the best players in the world. But you don't have to be a pro to play—Grand Prix are open to players of all ages and no invitation is necessary. Playing a good game is all that matters, and with high Planeswalker Points multipliers on the main event and cash prizes all the way down to 64th place, one thing is certain: a Grand Prix is sure-fire great time.

Each participant gets an alternate-art promotional card while supplies last. Pro Tour invitations are awarded to top finishers based on the size of the Grand Prix (see each event for details). Alongside the main event, a full side events schedule starts Friday and runs all weekend offering a wide range of smaller-scale tournaments.

Players with high Competitive/Seasonal Award Planeswalker Points totals or Pro Players Club levels can earn byes for Grand Prix tournaments. You can also earn byes at Grand Prix Trials.
More information about the prize payout, byes, event coverage and the current Grand Prix schedule can be found at the link below
Premier Event Invitation Policy
Grand Prix Promo Card?
Each player who registers for and attends the main event at a Grand Prix will be given a special foil promo card. Some tournament organizers also give out the seasonal promo for scheduled events outside of the main event. Check out your Grand Prix's webpage or contact the tournament organizer for more information on your particular Grand Prix!
Season 2017 Update: The 2017 promo is
Progenitus
!
Previous Season's Promos*:
2013 Season Promo -
All Is Dust
2014 Season Promo -
Batterskull
2015 Season Promo -
Griselbrand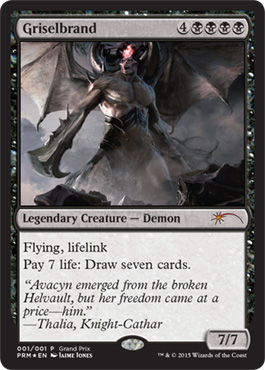 2016 Season Promo -
Stoneforge Mystic
*since as of this primer's creation
III. 2017 Event Schedule
Keep in mind this schedule is subject to change and some the location of a few events can be TBD
(to-be-determined)
.
Last Updated:
24th February, 2017 for the 2017 Season.
http://magic.wizards.com/en/events/premier-calendar#/overview
IV. Getting Started
The first step in attending an event is, well... knowing where an event is! Usually before every October set release and Standard rotation the event calendar for Grand Prix events and Pro Tour Qualifiers are announced. These events are typically held within larger cities or metropolitan areas, meaning our fellow players whom live in rural areas must usually travel farther to attend their nearest event.
Finding Grand Prix Event and Information
If your local game shop hasn't mentioned an upcoming Grand Prix or you haven't heard about one from another source, then the best place to find one is the source itself!
In the last section of
The Premier Play Schedule Page
linked previously, you can find a table with:
The City, State and Country of Each Scheduled Event
The Weekend and Date of the Event
The Format of the Event (Sealed/Limited, Standard, Modern or Legacy)
A Link to the Information Page For Trials and the Event Itself
To see event-specific information, click on the name of the City for the Grand Prix event you wish to attend, where you can find more information specific to that city's event (including a link to the tournament organizer's website). The page for your specific city is the best source for the following information:
The Event Location & Address
Link to the Tournament Organizer's Website (for Pre-Registration)
On-Site Registration Schedules (Typically some time on Friday)
Prize Payout
Tournament Schedule & Structure
Byes
Artists In Attendance
Side Events
Travel & Lodging
What is a Grand Prix Trial?
While the main Grand Prix event runs Saturday - Sunday the weekend of the event, on the final day preceding the event (Friday) "Last Chance Trials" are usually held by the event organizer. These were previously sometimes held at your local game stores, but due to upcoming changes in the Premier Play Program, these will soon be exclusively held at your Grand Prix's venue the Friday of the event!
A "Last Chance Grand Prix Trial" is a 32-person, single elimination event wherein you play for the right to "round byes" in the Main Event on Saturday. For winning a Last Chance Trial the night before the event, you can earn a Two-Round Bye. A Two-Round Bye means that you are automatically scored as 2-0 for the first two rounds.
For more information on byes and how you can accumulate Planeswalker Points, visit the links below!
Premier Event Invitation Policy
Planeswalker Points Program Official Page
Registering & Pre-Registering For the Main Event
Using the information provided in the last two sections, you should be able to locate your event organizer's page in order to pre-register. The base pre-registration cost varies between $60-80, which includes entry into the main event, as well as the promo card and an exclusive playmat (as long as supplies last). Each Grand Prix event has a unique playmat design and there are a limited amount available. The limit of supplies is very real, so if your heart is set on getting a fantastic new playmat, then pre-register as far in advance as possible! Many sad players whom have registered on-site in the past can attest to the disappointment of not getting a new playmat, or in rare occasions even missing out on their promo card. Some events will have brand new artwork by well known Magic: the Gathering artists, while others will have popular art pieces from recent sets.
Here is also a very important notice for Grand Prix veterans:
You can no longer register on-site the Saturday morning of the event!
In order to register, you must either pre-register through your event organizer's website (located on that specific Grand Prix event's page) or register on-site the day before the event (Friday). To find your organizer's on-site registration schedule, you will also need to either visit your event or organizer's webpage.
Most of the bigger tournament organizers are beginning to also offer various different kind of registration passes for fun and convenience and they come in at different price points. ChannelFireball for example offers registration packages tailored to each format that gains you entry into the biggest events for that specific format and some other goodies. There may even be VIP packages that grant you access to exclusive areas where Pro players hang out after matches that include things like free drafts, water or a number of other things. The price range can be from $80-200 but there is never a lack of options to tailor your Grand Prix experience for what will be the most fun for you or your friends!
V. Playing the Event
Check In
While planning for the event, make sure to note what time your event starts as they are not always the same for every Grand Prix. Some organizers set the event start time at 9:00 AM, while others will set it at 10:00 AM. It is also important to note if your event tournament format is constructed, because you will be required to fill out a deck registration sheet before the event starts. You should allow yourself plenty of time to fill this out, because errors could lead to disqualification later if your deck does not match your deck registration (the reason being that random deck checks are performed by Judges throughout the event or if another player suspects you of cheating and reports such - don't risk it!).
After you have found adequate parking and have made your way to your venue, you should look for the event organizer's stage and immediately go there. You will have to check in so that the organizers can mark your attendance at the event. At this time, you will be handed your new playmat as well as your deck registration sheet if you're at a constructed event. Depending on the organizer, you may also receive your new promo card at that time, or later on after the Player Meeting. You
must
check in before the main event's scheduled start time so you can be marked as being in attendance (despite having registered beforehand). Once you've registered, you're free to come and go as you please until the event starts.
Check-In Checklist:
Checked In With Organizers
Received Deck Registration Sheet (If Applicable)
Received Playmat
Received Promo Card
Deck Registration Complete & Turned In
The Player Meeting
Shortly after the event is scheduled to begin, the Judges will ask you to pick a spot to sit down and listen up for a little while. The player meeting is intended as a sort of orientation. During this time you will be introduced to the head Judge, the tournament organizers and be given information about the tournament structure and format. If you're playing in a sealed event the Judges will begin to pass out product. The head Judge will instruct you to
not
open your product until told otherwise, and it is very important that you follow those instructions. If you're at a constructed event, you won't have to worry about that tempting sealed product - just your anxiousness to play!
Sealed Events: Pool Registration and Passing
As the player meeting draws to a close, you will have received your product as well as a sheet of paper for card registration. This sheet of paper is a card pool registration sheet and is not for your sealed deck! If you're doing an event that includes packs from more than one set, the list may have a front and back side. Once you've been given the OK, you will be allotted a set amount of time to open your packs and write the contents on your registration sheet. Organize them in whatever way helps you write down your product contents most easily, and note that there is a quantity field next to each card. Make sure to keep cards together which you have more than one copy of to reduce errors!
But, keep your cards easy to look through afterwards, as well - you will also have to pass your pool to the player opposite of you (across the table) and vice versa in order to cross-check each other's sealed pool registration sheets.
Update: The content below regarding relinquishing your opened card pool to be passed to other players for use in the tournament is no longer valid! We no longer have to lose that sweet card we opened. The content below regarding passing of card pools will be left here in spoiler tags for posterity, but no longer applies, even for Competitive REL (rules level enforcement).
Once time is up and all players are registered, the head Judge will give you new instructions that may slightly differ, but are akin to this: Raise your card pool up in the air with your registration sheet, and pass it to the player to your left or right (whichever way the Judge specifies). You will typically do this several times before you are told to hold the cards you receive. Whatever card pool you end up with will be what you use to build your sealed deck for the tournament - yes, it's true, you just passed off the cards you opened in order to receive an unfamiliar pool to build from. This is done in order to help prevent cheating as it is a competitive level event.
"But..." you ask, "What if I don't want to give away the foil
Stormbreath Dragon
my packs contained?"
Well, that's a bit of a conundrum isn't it? You see, if your packs contain something so amazing that you're tempted to take them and run... you can actually do that (minus the running - that is not advised). While it is neither encouraged or discouraged, if after careful consideration you feel that your initial card pool is worth more than playing the main event to you, then you may approach a Judge about dropping and you will be allowed to keep your pool. They will adjust accordingly and it is not as uncommon as you might think. It's up to you to weigh your own reasoning and decide whether you want to play in the event or drop. There are no right or wrong answers - only what is right for
you!
Authors Note: As a personal example of the above, when I attended Grand Prix Houston in July of 2013, I did so with only having a little testing and knowledge of the DGR draft format. Upon opening my packs, I pulled a foil Deathrite Shaman, which was beautiful in and of itself (value aside). The guy next to me opened a foil Voice of Resurgence. Some players may jab you for dropping and treat it as some sort of moral issue, but I was there to have a good time. It was my first sealed Grand Prix event and I didn't expect to come into a $70 card; nor did I realize how bad the feeling was of passing off such an amazing pull to someone else. I knew that if I passed my pool off that it would have really ruined my day. There are side events all day at Grand Prix events, so I wasn't going to miss out on playing if I dropped, and I knew I didn't have the knowledge needed to make it to Day 2 or play of any significance. Both myself and the guy next to me dropped with our pools and still had a great day at the Grand Prix. I did however elect to finish cross-checking the other player's sealed pool to save the Judges time. What matters most is having fun at the event, and if you pull something you really want or that you will regret giving away and don't believe you'll be able to make up for that in the main event, then don't be afraid to do what feels best to you.
Pairings, Table Numbers and Byes
Shortly after your player meeting (at a constructed event) or your allotted to build your Sealed deck expires, the Judges will place player pairings at a designated area and instruct players to find their pairing. There are several hundred - some times more than a thousand - players at these events, so the pairings will be separated into three or four categories, which are sorted by last name. At this point, you should find which line applies to you and wait to get your pairing. The list will look a lot like the pairings at your local FNM or other events, just with a lot more players, and you will have table numbers just the same. Once you find your table number, proceed to make your way there and sit down. Mingle with players around you, set up your playmat, shuffle and begin getting ready but
do not
start playing your match until instructed to do so for any round.
If you've earned a bye, then much like the odd occasion where you get a bye at your local events, you will simply be marked as 2-0 for that round and wait until the next round for which you do not have a bye.
At the start of the match, a 50 minute clock will begin and the round will end when all players have completed their matches. If a match goes beyond 50 minutes, starting with the current active player's turn, those players will have 5 turns to finish their game. You cannot predict how long each round will last, so you do not want to stray too far from the venue in-between rounds during any event. Eat a big meal before the event starts so you aren't tempted to leave after your round for food, or bring snackbars or other small items with you to eat between rounds to hold you over.
Card Sleeves and Other Advice
At a competitive level event, all cards should (read:
must
) be sleeved uniformly in opaque (non-transparent) sleeves. For a competitive level event such as this, it is best to have a new pack of fresh sleeves ready so that any damage or wear cannot be called as being a "marked" card. A "marked" card is any card that is somehow unique from the rest of the deck or which could be used to gain an unfair advantage over your opponent with illegal information. For example, if you were playing a deck using red Dragonshield Sleeves but one of them had a dot from a permanent marker accident, then your opponent could call a judge over and you would be considered as having a "marked" card. While from your point of view it may have been purely accidental, in all likeliness your opponent does not know you and you cannot assume how serious that player is taking the event. This is why fresh, new sleeves are best for competitive level events!
For similar reasons, it may also be best to not use card sleeves that have artwork on the back. Sure, you might think your Nyan Cat sleeves are the most adorable thing ever, but what happens when a card you mistakenly shuffled upside down comes tp the top of your deck, or one has a noticeable scratch across the art like they tend to have? The artwork is the opposite direction of every card in the deck and you know what that means: "marked" card. The best practice is to use plain, opaque sleeves. All of these factors make plain black sleeves possibly the best sleeves to use as they reduce your risk factor the most. But hey, don't fret! There are plenty of other ways to show other players how unique, cool or silly you are that do not risk compromising your ability to keep playing in the event!
Tip #01: If you play with colored sleeves, play with a darker color. The brighter the sleeve, the more likely it is that you can see the back of your Magic card through them.
Tip #02: Not to be a shill for certain brands, but Dragon Shield now makes Perfect Fit Sleeves - Smoke, which have a darkened back side, making the back of your cards hidden even in the brightest colors such as Green Apple or bright Reds.
On the same note of not knowing how serious your opponent is taking the event, it is important to drive home the point of this being a competitive level event. Just like at any event, there will be some players who are more or less serious than others. But, because of the competitive level of a Grand Prix event, you should not be offended when your opponent doesn't allow take backsies. If you tap that Island when you should have tapped that Plains instead, you may very well be stuck with that decision. The best practice to use when tapping cards is to not take your hand or fingers off of your cards until you are sure your current action is how you wish to execute your play.
Here is some other advice regarding playing in the event:
Don't be offended if your opponent shuffles your deck. This is perfectly legal and you can shuffle theirs as well!
Keep your hand in view at all times. This means that your hands should be above the table and not in your lap. You will get a warning from a Judge, but further incidents could get you disqualified!
Judges will do random deck checks, even if you are not a suspect - don't take it personally! The quicker you cooperate, the faster you can get back to playing the game. Make sure that no cards other than your deck, sideboard and tokens are on the table or in your deck box. Because of this, it is also important to make sure after sideboarding that you have at least 60 cards in your deck, and to de-side board as the first thing you do when you finish your round.
Do not ever accept a bribe from an opponent to concede, or vice versa! This could get you suspended from DCI events!
If you have a question about a rule or interaction, don't be afraid to raise your hand and call for a Judge!
Always try to show the best sportsmanship possible. Even though every player enjoys the game in their own way, all players hold some accountability for the ability for others around them to enjoy the game, as well.
Protecting Your Belongings
If you've been around the forums long, you've seen them - threads wherein a player comes to us describing their experience involving the theft of their deck, binders or even entire collections at large events. While some players will debate about the amount of responsibility that the owner of those cards have for them being stolen, one thing remains true: losing your hard-earned or sentimental cards really sucks, and you will more than likely never see them again.
Magic: the Gathering players are more often than not decent people who just want to have fun playing a game; but, you can't assume that about everyone. The larger a crowd is the more likely there is a face in that crowd that is there for the sake of stealing, and some of them are good enough at it that they won't get caught. You can't prevent those people from trying to steal yours or others' cards, but you can take steps to avoid being targeted.
Here are some ways you can protect yourself. Remember that regardless of being with a group of friends, you are ultimately responsible for your own belongings:
Do not leave any of your belongings out of sight.
Do not depend on or ask a friend to watch your belongings. They may be your best friends, but your cards are more important to you than they are to them. They can and will get distracted long enough for your things to disappear. See the first bullet.
When playing or in a match, if you keep your belongings in a book bag, keep it tight between your legs and put a foot through one of the arm straps. This way, no one can try to swipe it from under you and you will feel someone tugging.
If a bookbag is under your chair, keep the pocket side facing towards your opponent. Don't leave pockets facing behind you and easily accessible.
Bring only what you need. You may have 5 Standard decks, 3 Modern decks, 4 Commander Decks and 2 Legacy Decks but what are the chances you will realistically use all of them? In bringing your entire collection with you or so many decks, you increase your risk of misplacing them or theft. Do not pretend it won't happen to you, because those are the people these things happen to!
Do not leave valuables or belongings visible in your vehicle! Theft doesn't only occur in convention center - people's cars can be broken into as well! Place all your belongings out of sight in your trunk so you do not increase the risk of being targeted!
There are many ways to help prevent facing theft of your personal property, and it all starts with
you
. There's no need to be scared as long as you use common sense!
Vendors and Dealers
Every Grand Prix hosts several dealers from which you can buy a whole range of Magic-related product. Foreign cards and sealed product, hot singles, card sleeves, binders... the list goes on! The list is never exactly the same but you will oftentimes see big name dealers such as Star City Games, Coolstuff, Inc. or Troll and Toad at these events. If you're not a fan of the marked up prices these larger dealers are known for, you won't be able to expect a break from the mark-up at the event. On the bright side, however, dealers often have fun games you can buy into ("games of chance" if you will) and even some times have beaten up or damaged cards at discounted prices. If you're someone whose main concern is having a playable card regardless of damage, then it's worth looking around. While not at every event, Star City Games has been known to have a case specifically for damaged cards where you could find things like damaged
Cryptic Commands
or various fetchlands for a mere $4-8 (less than half the price).
Artists and Etiquette
Each Grand Prix also hosts various Magic: the Gathering artists who travel to sign cards for players. Typically they will sign playmats, cards or anything else within reason and bring artist proofs, prints and even pre-altered cards to sell. Genreally the artists present will not charge you to sign your cards, but the commonly accepted number of cards to sign before at least tipping the artist is 10 cards. Artists are very busy as they will often offer to take players' cards to be picked up later and alter them, which can be time consuming. In some cases, they will even do offer to do a custom playmat for a fee. Because the artists are very busy, the commonly accepted 10-card rule was born within the community. Don't be afraid to talk to the artist, but it's always best to hold conversations for when the artist is in a slow period, so you do not hold the line up (and there
will
usually be a line).
You can find out which artists will be attending your event on your organizer's page or your event's official Grand Prix page, and more are usually added in the months leading up to the weekend of the event. More often than not the artist attending will depend on your region and proximity to where they live. For example, Mark Tedin (
Diabolic Intent
) is native to Nebraska and so will often attend Grand Prix events in Lincoln or Omaha, NE or the surrounding area, whereas rk post (
Avatar of Woe
) is a Seattle native and would usually attend events on the west coast or in the pacific northwest before he began traveling full time. Clint Cearley (
Syncopate
) lives in the Dallas Fort Worth area of Texas, and often attends events alongside Rob Alexander (
Vault of Whispers
). While you probably don't know exactly where your favorite artist lives, if you do happen to know you can learn who to expect!
On card signing fees: It varies from artist to artist. Some artists will sign cards and ask no fees other than your being courteous in not having a massive stack of cards to sign; some artists will charge $1 per card signed; some will charge after a certain amount. Whatever an artist chooses to do, it is their perogative to charge a fee for their signature. Whether you agree with the fees or not, many artists have to travel long distances away from their families and art commissions that pay their bills. If you can afford to pimp out your deck in foils and promos, you can surely set $10 aside to get some cards signed by an artist that has accepted an invitation to your Grand Prix out of their love for the game and the players.
Side Events
Side events will launch off and on all day Saturday and Sunday at your Grand Prix event, and even sometimes on Friday before the official start of the weekend events! These can include specialized events wherein players may draft using packs from many different sets (Chaos Draft), or be as simple as block draft, Two-Headed Giant Sealed, EDH/Commander pods, Standard, Modern, Legacy and so on. Each event has an entry fee and prize payout, which is usually in the form of Prize Tix, now. You will be able to find a list of side events on your Grand Prix event's page.
It's worth noting that Prize Walls have become increasingly popular and are becoming a staple of Grand Prix events. Rather than winning booster packs of the most recent set, many Tournament Organizers are electing to hand out prize tickets. These prize tickets can be turned in at the Prize Wall for a wide range of Magic-related products. T-shirts and apparel, sealed product both new and very old, uncut foil set sheets, singles and much more. If you win enough prize tickets, you could even walk away with a Mox Emerald or other pieces of the coveted Power 9!
V. Preparing for the Event
What To Bring and What Not To Bring
Assuming you're following the advice set forth in this primer, then you will want to bring the following to the event:
Your DCI Card/Number
A pack of fresh sleeves for your Sealed deck
Pen and paper or notepad to track life totals
Creature Tokens, if applicable (change and beads are unacceptable, as you cannot tell they are tapped)
Counters, whether in the form of a D6 or others that can clearly mark the number of counters on a permanent.
Newly sleeved constructed deck and deckbox
Other items you may need for side events or vendors throughout the event.
The question of what not to bring is open-ended and applies differently to each player. This question can be answered by carefully reading the section above regarding protecting your belongings from theft. Theft doesn't only apply to your cards - if someone is willing to steal cards, they are just as capable of trying to nab your laptop, iPad, Nintendo DS or any other item of value. Before you bring something into the venue, ask yourself if you really need it.
Anticipating Costs
Your $60 registration fee is paid, you've set aside gas money, lodging is taken care of and you've budgeted for food, so you've covered everything, right? Well, not necessarily. Your monetary needs for the event can some times depend on how detailed you get when planning your day. When going to the convention center in downtown Houston for a Grand Prix, for example, you might not expect to pay $10 for a one-time entry into the event parking (in other words if you were to leave, you'd have to pay $10 to re-enter!). You also may not have known how expensive food is in the downtown area, leaving you to buy a a $3.00 medium fountain drink and $6 subpar breakfast burrito from inside the event venue. What if one of your sleeves chose an inopportune moment to split when you were shuffling and getting ready to start your next round?
No matter how prepared you believe you are, it is a fact of life that things come up that you do not expect. From the examples listed above, to the entry fees for side events; or that beautiful foil
Elesh Norn, Grand Cenobite
that you suddenly have the urge to buy; or even the amazing job alter job the artist in attendance did to the next guy's cards that made you decide you
have
to get an alter done; there are ample ways to want and some times need to spend money at a large event. Always come prepared and try to budget for the extra things if you can. Maybe you dropped from the main event earlier than expected and want to play in side events all day? There's many different scenarios, but ultimately the event is an expense and you don't want to go broke.
It's also well known that travel costs and gas can be a large part of your costs to attend an event, depending on how far you're travelling for a given Grand Prix. If other players are attending you're familiar with at your local game shop, approach them in regards to carpooling so everyone saves money on gas and you can have more money to spend on the event itself. Carpooling or going with a group also grants you more safety when going into a metropolitan area where there are large crowds.
Study!
If you're in it to win it, then you must know that no matter how awesome of a deck you are playing that you lessen your chances of winning by not knowing the metagame or what to expect. If you plan to attend a Grand Prix weeks before the event, use that time to become familiar with the event format, including decks that are considered second or third tier. Competitive formats have more diverse metagames than ever before, and while you see decks like Affinity win a lot in Modern, it isn't unheard of for Living End, Death's Shadow or other underdogs to take the event by surprise. There are many ways to test whether it be with your friends, by attending FNM at your local game shop or through MTGO or software being discussed in our own Digital Magic and Software forums. The less you're likely to be surprised and blindsided, the more prepared you are and the more fun you will have. There are also many great streamers and resouces such as ChannelFireBall and Limited Resources just to name a couple.
Speaking of FNM, let's talk about ego checks. As should be clear now that we're approaching the end of this primer, the level of competition is a lot higher at a Grand Prix than at your local FNM. The guy that goes 4-0 at your FNM every week won't necessarily do better than 2-8 at a Grand Prix, and that applies to you the reader, as well! If you're a player whom likes to tout yourself as a pro or "really good" player due to your local winnings, try to walk into the Grand Prix with an open mind and an open heart so you don't get burnt if you don't do well. You may do fantastic, or you may be outclassed, but either way the point of the game is to have fun, which brings us to our last point:
Most Importantly, Prepare to Have Fun!
In conclusion, I hope this primer has been helpful to you and you feel better prepared to walk into the Grand Prix, whether it's your first or your tenth. Feel free to discuss this guide, ask questions, provide feedback or tell us about your own experience your first or most recent Grand Prix!
Until next time, good luck at your next Magic event and have fun!
VI. Frequently Asked Questions
Q:How long do side event rounds last?
A:
It depends! "Turbo" events are usually 1 round and done. Some events may be a full 5-8 rounds at one round each. If an event doesn't specify a number of games or rounds, assume it is the standard 5-8 rounds (depending on attendance) with 50 min round times!
Q:How long do rounds last? Is there time for side events or other activities during an event?
A:
Unless stated otherwise, rounds always have a 50 minute timer before going to turns (5 final turns). Due to variance, player skill and shifting metas, it's impossible to say how long each round will last or how much time you'll have until your next round once you've finished your current one. It could be between half an hour to a mere couple minutes. If you sign up for a full event and intend to play to the end, you will probably only play that event that day, but may have time to browse the vendor tables and visit the Artists. Because of this it's important to plan accordingly and what you really want to do that weekend. Turbo events are great for getting in a few drafts and games while allowing you to play in other events. It all depends on your Grand Prix's event schedule and what is offered.
Q: Should I do the main event? Or side events?
A:
This is a preference based on many things. Are you a competitive player? Are you trying to up your game and do you want to be at the same tables as the Pros? Are you a semi-serious player but know you won't make Day 2? The Main Event is an experience against some of the most talented Magic players out there, or at least some of the most ambitious. While side events won't be as intense, they'll still have some of the more serious players, but at least without the pressure of worrying about your standings in the Main Event. I'm not super serious about being competitive or making it to the Pro Tour, so I usually treat Grand Prix as Magic conventions and try to see as much as possible anddo things I normally don't get to do like full Sealed Box tournaments, Chaos Drafts, sealed or draft events for limited sets such as Eternal or Modern Masters and so on. It really comes down to what is important to you as a Magic player and what your goals are!
Q: Should I purchase/bring a lot of tokens? What are the rules?
A:
You should bring your own, and however many you may need that day. One token with a d6 dice on it set at 5 does not properly represent all those creatures and does not properly tell how many are tapped or untapped. Tokens don't have to be printed by Wizards, but must clearly display what they're representing. Don't use a Spirit token to represent your 3/3 Deathtouch Wurm from
Wurmcoil Engine
, or an upside down card, and it probably should be kept at PG-13, maximum. In other words, anime fan service tokens with gratuitous... fan servicing, are probably a bad idea. If you're in a featured match and on camera, the tournament organizers or judge may ask you to use different tokens for several different reasons. If you're missing tokens, you may be able to buy some from one of the vendors.
Q: How does this guide translate to SCG Opens or other unofficial Magic tournaments?
A:
You can find out more information about SCG Opens at
http://www.starcitygames.com/content/yourfirstopen
or via the organizer's website.
Q: How long do I have to wait to get cards signed by an artist? What about commissions such as alters or playmats?
A:
Getting cards signed usually doesn't take very long, maybe 5-10 minutes at most, but usually around 5. They're honored guests and hundreds of players visit them to get cards signed, which is why it is etiquette to keep it to around 10 cards at a time. Come back later, but don't hand the artist a stack of 20+ cards, especially ones that do it for free. Some artists deter this by adding a charge after a certain amount of cards, or charge a base price. As for alters or play mats, some artists do paid alters and they will typically ask you to come back later. The earlier you get to them, the better. They may finish it there, or may ask for your mailing address to mail it to you depending on how busy they are. They are also usually available to do quick sketches on your playmat, sketch book or whatnot with varying price points. Artists are very busy, so it's always best to contact them on social media or through their websites to ask about these things before the event. It goes much smoother and is easier on them if they expect you. They may wish to start work on large requests such as complex playmat commissions during their travel time and for things like this they will ask for payment before them so you can pick your commission up from them at the event.
Q: Where can I get that cool t-shirt? It's not on the Magic merch website!
A:
Chances are that it came from the prize wall! Along with card supplies of various types, the prize wall usually has apparel, sometimes posters and other really cool items! Find an event or two that awards prize tickets!
Q: Do I still have to pay registration fees if I only want to do side events?
A:
Nope! The main event registration is only for that. Entry into the venue is typically free (if you don't count parking fees from the venue itself) and any other costs will be on a per event basis. There is no fee just to be at the Grand Prix.
Q: I don't want to be in this feature match! Can I be matched with someone else!?
A:
The waiver you sign when you register for the Main Event gives permission for the Tournament Organizer to pair you up against someone that may be in a featured match, and thus on camera. Simultaneously, pairings are generated by a system based on points and other things and so to pair you with someone else would mean redoing pairings for hundreds or thousands of players. In short, the only way to avoid being in a Feature Match is to concede.
Q: Will my Grand Prix have X format side events? Or just Y?
A:
Many Grand Prix have a somewhat uniform range of events, while depending on the organizer some may have events exclusive to that organizer. You can always count on Turbo events (1 round Constructed or Limited) and On Demand events (fire as soon as 8 players are signed up) for almost every format, but most commonly Draft, Standard and Modern. Sometimes the Tournamenmt Organizers will do those for Legacy, 2-Headed Giant Sealed or Draft and other formats. As always, look for your specific Grand Prix website for more information on what is available!
Q: How many Prize tix are the rewards? What is the payout?
A:
This is entirely dependant on the organizers and can be different between each. Check your Grand Prix's website for details about prize support!
Q: I'm trying to find information on a Grand Prix this year, but can't find the website!
A:
Check back 2-3 months in advance! Many Organizers do not start putting up website or updating information until 2-3 months prior to the event. Details such as the schedule, prize payout and artists in attendance will be update closer to the time of the event. If you can find the organizers for that Grand Prix, you can check their websites. Some of the more frequent Organizers for Grand Prix are
Professional Event Services
,
Cascade Games
, and
ChannelFireball
and
StarCityGames
.
Change Log:

02.24.2017 - Updated promo; updated GP/Premier Play schedule link; updated on sealed pool passing; misc edits/clarifications; added FAQ section.
03.19.2016 - Updated promo card section to the 2016 Season promo; updated GP Schedule link for 2016 Season; adjusted numbers for rise of Main Event entry fees; added mention of increasingly popular Prize Walls and Tickets; added mention of Artist card signing fees.
12.02.2014 - Added "Current Grand Prix Schedule" section as image. Text table coming soon.
12.02.2014 - Updated promo card section to the 2015 Season's promo and formatting tweaks.
11.28.2013 - Posted to Magic General. More images and formatting to come. Basic information is done.

Last edited by
Kelzam
: Mar 11, 2017
QueueTimes - We're Here While You Wait | Twitter | Tumblr | Ayli and the Eternal Pilgrims
(Also known as Xenphire)
What the Griselbrand, Xen. Just when I thought your stuff couldn't get any better, you churn out that Jeleva banner. It's gorgeous.