Mystic-X
Location:

514

Join Date:

7/26/2011

Posts:

1,511

Member Details
I was in the middle of responding to the "age quit = Unsportsmanlike Conduct?" thread which was closed before I could post my insights. Consequently, I've created this new thread to discuss, explore, and debate anger control issues among players (who are sore losers for the most part).
One player in my city just placed 2nd on a big event tournament, he then proceeded to open all his prize, 20+ boosters, and tear up all the rares/mythics one by one. Open the pack, tear the rare, open another pack, tear the other rare, rinse and repeat.

These people should get something in their DCI records, for me, this is not an acceptable human behavior.
You shouldn't let this bother you. Chances are he did it with the intent of irking others who may have wanted to win said rares and mythics. However, by you (and others) not getting visually upset despite his obvious stupidity, his plan to get shocked reactions from others fails, and he may even acknowledge how irrational, arrogant, and pointless his behavior is. Ultimately the cards are his property, so if he wants to destroy them that's his prerogative. Ironically, by tearing up his own rares, he actually increases the value those cards (albeit somewhat insignificantly) since there are fewer copies of those cards in circulation as a result.
As far as "rage quitting" goes, I've seen it before and feel it's highly inappropriate and immature. Perhaps it was purely circumstantial, and the guy was just upset that he lost to a girl who was younger than him, but chances are he has deep seeded anger management issues, due to a chemical imbalance, or a lack of proper social upbringing.
A few months back, I was playing in a small eight person fnm draft at a local store, and this one guy who was trading with the store clerk came to the back of the store where we were seated, flipped out randomly, and said "I should start carrying a weapon on me!", then started uttering borderline death threats under his breath (but loud enough for us to hear) for no apparent reason. What made me feel extremely uncomfortable was the fact that the comments/threats didn't even seem to be directed at anyone in particular. Another guy who was playing in the draft and knew this weirdo asked what had happened, and I couldn't even believe the explanation that came out of his mouth. Evidently he was furious about not getting "fair value" for the
surgical extraction
(non foil) which he traded to the store for three copies of another cheaper card. Unfortunately I can't remember what the card he traded for was, but I was dumbfounded by the pettiness and couldn't believe he got so angry over losing a dollar or two in a trade with a store (which is expected since stores usually buy at 45-60% or trade at 70-80% value). So another guy at my table tells him "You knew in advance that the store only trades at 70% value, so if you didn't need the other cards right this minute, why didn't you just hold onto the extraction and trade with someone else for better value?" His response was something along the lines of "I'm impatient." (the understatement of the century).
In my mind all I could think was "Wow!, What's wrong with this guy?!", because when he initially flipped out, I honestly thought he had just lost a multi-thousand dollar legacy staples binder or something. Anyways, long story short, another guy who was there said that the guy (who he knew since high school) has always been a bit unstable and has already been banned from 4 other stores in the city (which wouldn't surprise anyone who witnessed the outburst that I did). In any event, I decided not to go back to that store since I didn't want to be in the wrong place at the wrong time, just in case that dude decided to come back one day with a sawed off shotty to accompany his short temper. To be honest, I'm usually very tolerant of other people's social imperfections (or total ineptitude) because I get along well with most people, but that experience was really odd, and still makes me uncomfortable to this day. If I was the clerk or store owner, my immediate instincts would be to ban him for life, but knowing how unstable he is, who knows if that would be the right decision since that might actually backfire and provoke him to seek revenge against employees and/or players at the store. In the end, Who knows what the underlining issues was. Maybe he's just bipolar and just forget to take his sedative meds that day.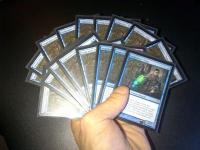 Anyhow, the best I can come up with myself is a game in the top 8 of a PTQ back during Urza block in which we were starting game 3 with time already expired, so the tiebreaker rule was that whoever had more life after 3 turns would win. And I lost to... healing salve.