Guesswork
Join Date:

1/2/2005

Posts:

6,465

Member Details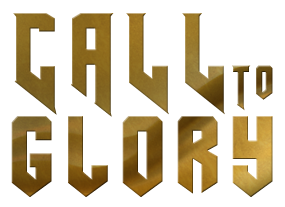 Set 1 of 3 in
Call to Glory
block
Logo design by .Rai
Cards
(125 of 306)
-
Agile Metsuke
;
Aid of the Ancestors
;
Ancient Uba
;
Bastion of Strength
;
Battle Mastery
;
Clever Yoriki
;
Close the Stone Gates
;
General's Discipline
;
Genju of the Valleys
;
Kuruwa Builder
;
Meticulous Uba
;
Mothrider General
;
Myobu's Accord
;
Nobori Mothrider
;
Nomi, Strange Throwback
;
Onna-Bugeisha
;
Pacifism
;
Pale-Eyes, Myobu of Jukai
;
Pale-Eyes' Pupils
;
Scour the Hanging Clouds
;
Scouting Party
;
Shogun's Presence
;
~SPOILER~
;
Thrust//Parry
;
Uba Brinkwalker
;
Vow of Peace
-
Barricade
;
Cast Nets to the Sea
;
Conceal in Mist
;
Countervail
;
Deflect
;
Eel Dancers
;
Expeditious Maneuver
;
Favorable Winds
;
Genju of the Atolls
;
Kakuriyo Squall
;
Leap
*;
Meditating Budoka
;
Ningyo Brinkwalker
;
Numbing-Toxin Ninja
;
Rainbow Kaijin
;
School of Shinobi
;
Sink//Swim
;
Spearbender
;
Streaming-Paper Kami
;
Tidestalker
;
Typhoon's Eye
;
Umiya Illusionists
-
Burrow Network
;
Dark-Moon Kami
;
Genju of the Caves
;
Hell-Sworn Kunoichi
;
Hidetsugu's Elite
;
Kuro's Hatamoto
;
Mask of Mortality
;
Nezumi Brinkwalker
;
Nezumi Infiltrator
;
Obedience Hooks
;
Oni-Possessed Stinkfoot
;
Pit General
;
Sawaki-Tribe Elder
;
Scum//Villainy
;
Stinkfoot Samurai
;
Thresh the Cut Grain
;
Vile Onmitsu
;
Walk the Paths Unspoken
-
Akki Brinkwalker
;
Akki Engineers
;
Akki Oxherd
;
Akki Rockjumper
;
Avalanche Kami
;
Blood-Mad Shinobi
;
Desolation Oni
;
Feed the Flames
;
Frozen-Geyser Kami
;
Furious Reikenden
;
Genju of the Cliffs
;
Gokuhi, the Spreading Fire
;
Hou-Ou
;
Imori-Gang Pet
;
Jigoku Fugitive
;
Oni Chattel
;
Pepperfish Breeder
;
Pierce Hell's Heart
;
Raid Bombardment
;
Smoke Walks as Flesh
;
Speed Drill
;
Strike as the Crimson Sun
;
Warlord's Discipline
;
Wear//Tear
-
Awakener Sensei
;
Battle Seer
;
Blade of Autumn
;
Command the Seasons
;
Flowing-Sap Kam
i;
Frenzy of Devotion
;
Genju of the Oaks
;
Great Wild One
;
Hatchling Pupil
;
Kami of Fallen Cedars
;
Kitsune Ratstalker
;
Matsu-Tribe Bushi
;
Needle of the Lone Pine
;
Orchard Spirit
;
Order of the Falling Leaf
;
Orochi Nemesis
;
Orochi Brinkwalker
;
Pound the Earth
;
Push//Pull
;
Rootbender
;
Senka Seed-Born
;
Wax Great as the Full Moon
;
Wild Crush
Multi -
Sisters of Flesh and Spirit
Artifact -
Bake-Zori
;
Hundred-Year Lantern
;
Jar of Jizake
;
Nunchaku
;
O-Yoroi
;
Tattered Karakasa
Lands -
Mouth of Jigoku
;
Plains
;
Island
;
Swamp
;
Mountain
;
Forest
Mechanics
Bushido
-
(40%) /
(40%) /
(20%)
Ninjutsu
-
(40%) /
(40%) /
(20%)
Deathknell
-
(40%) /
(30%) /
(20%) /
(10%)
"Wall Makers"
-
(40%) /
(30%) /
(20%) /
(10%)
Tactics
-
(20%) /
(20%) /
(20%) /
(20%) /
(20%)
Ki strike
-
(20%) /
(20%) /
(20%) /
(20%) /
(20%)
Story
The war between the great spirit
O-Kagachi
and the
Lord of Eiganjo
is now a 100-year-old fable, but the war's repercussions made these years the most violent in Kamigawa's history. Capitalizing on the political weakness of the human Shogunate after the Daimyo's treachery, both the
Oni
and the
Soratami
attempted to usurp dominion over Kamigawa from the beseiged Shogun. Both failed. But, while the Soratami fled in shame to places unknown, the Oni took their war to the shadows, and grew ever-stronger. The Second Oni War was nothing short of a genocide against the
Orochi
, and all of Kamigawa nearly fell alongside the snake tribes. Now, a terrible
foe
birthed during Konda's War threatens to drag all of Kamigawa into a final confrontation with the Oni. This time, the demon lords will not survive - or else, every creature of Kamigawa, both
flesh
and
spirit
, will become slaves to Hell for all eternity.
As
banners
rise, a Call goes out. But, this Call comes quietly and in the deep of night, to ears that have never heard the din of battle. A force more powerful than the cruelest Oni is seeking champions of both spirit and flesh to fight the most dangerous battle that Kamigawa has ever waged - a plunge into the very mouth of Hell - the counterstrike on Jigoku itself. But, what is the true nature of the demon's realm? And what long-hidden secrets might be uncovered there? Only those who have heard the Call will ever stand a chance to know. And in knowing, these chosen few may change the future of the Multiverse.
Characters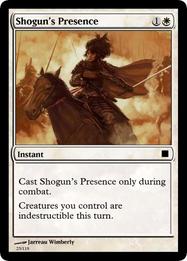 Rin Akayagi is the Fourteenth Shogun of all Kamigawa. Her great-grandfather, Raiden Akayagi, held the embroiled rank of Shogun during Konda's War. This elder Akayagi only barely preserved the Shogunate from other rebellious Daimyos, and did so by a public trial and execution of the imprisoned Takeshi Konda. As the Shogun's crest passed into the hands of other worthy samurai, the Akayagi lineage came to be seen as a lesser family among their noble peers - peers who saved the realm from Oni extermination plagues and from
Oboro's
soulcarver machinations. So, it was with great surprise that these peers watched Rin Akayagi rapidly ascend the ranks of the Onna-Bugeisha. She soon outgrew those ranks, began to command men of her own, then to command territories as a Daimyo. Within five years of her first command, Akayagi won the Shogunate. Hers was a meteoric rise.
Shogun Akayagi is a stern and inspiring leader.