penguinwriter
Penguins against Snow permanents
Location:

Ann Arbor, MI

Join Date:

3/13/2008

Posts:

1,138

Member Details
Latest Announcement

New additions to all three spoilers at the bottom of the page. Also, revealing the first three scene names.

So, I've realized that one reason I tend to lose interest in my sets is that I fail to start out with a story for the set that I find compelling. Keeping this in mind, I am presenting, for now, just the backstory of the plane. This is not the plot that is occuring when my set takes place, but merely the events that lead up to it. I hope you enjoy the setting, and please come vote in the
poll
regarding the preview legend.

I've set up the bottom of the thread to be ready for new information. With the first preview card except to see at least the theme added to the information below, and will as the text and visual card of the legend chosen. Also, I will be previewing the names of the 12 scenes of Volume 1 of the story over the next few weeks, giving a vague idea of where the story is going, hopefully without giving too much away. I hope you enjoy what I do, and please feel free to post any story criticisms or plot points you think would make good cards. Also, my magic fiction knowledge is non-existent so please tell me if something I've written makes no sense

I also welcome any speculation people want to make in this thread about what they think is going to happen in the story or with mechanics or things of the like. It may be somewhat egotistical to think anybody cares enough to predict what I'm doing, but I love making predictions, so I thought maybe people could get into this, as if it were real.

Peddler's Empire

The Plane of Correnth:
The Backdrop

Correnth is now a plane of industry. with a large human presence of traders, leaders, and strict infrastructure. But of course, all power corrupts, and the plane reeks of illicit dealings and extortion of the weak. The major empire, comprising the human presence that has taken over nearly all of the inhabitable land of the plane, is the Ryzine empire, headed by King Ivan Borrain. Ivan inherited a large fortune from both his father and then subsequently is mother, although there is rumor that his mother Hermina's death was not without his intervention. From the age of only 17 he began hiring mercenaries and soldiers, amassing an army that rivaled that of the then king, Yirren Forbear. At the age of only 20, he stormed the palace at Illyen, and personally beheaded the former king in front of his daughter, Alyssa, taking the throne as his own. Despite his precarious beginnings, his leadership has not been without merit. His immense army, as long as they remained well paid, was mor than willing to stand guard at city gates, leading to a heightened sense of security among common citizens. Also, Ivan's powerlust led to heigtened focus on industry, bringing a new influx of money, trickling down through the ranks. While the army remained the highest paid society, the merchant class not only thrived monetarily, but also doubled in size. Within two years of Ivan taking the throne, you could not go two blocks down the city streets without seeing a street peddler, offering the most remarkable of wares. Every service suddenly gained a price, but of course the Ryzine empire did not only trade within itself.

The elven colonies of the Correnthian woods have shifted over the years, both in location, and, more drastically, in culture. The old leadership had been wary of dealings with the humans of the Ryzine empire, but elves could now be seen walking through the streets of Illyen or leading humans through the woods, acting as a forest guide. In exchange for their knowledge of the forests, the elves are compensated well, often not only with wealth, but with whatever technologies they desire. The elves acquired new weaponry in this era, becoming a true force, though never finding occasion to use it. The overall opinion of Ivan himself is greatly varied among the elves, for the elves' leader is also a young upstart and rebel to the former establishment, but unlike Ivan, his power has not corrupted him as yet.

It cannot be stressed enough that the coup against Forbear was an act of pure greed. In his time Forbear had been greatly loved by the people, and there were those whose loyatly to him stayed true after his death. Ivan would not allow these men to protest, but instead of merely having them killed, he permitted them to leave the empire's borders, and so the fierce rebels banded together outside of the gates. While Forbear had always been a man of peace, these rebels lost his message in their fury. It was clear that Ivan was not ushering in a time of peace, and so the rebels prepared to strike, taking up arms with the speed of a spreading wildfire. They had little wealth, ragged armor and damaged weapons, but no lack of enthusiasm. For over a year now they have been waiting, forming a small civilization of their own on the outskirts of the empire, sharing their stories of the olden days, and all the while planning how to strike down Ivan. In the coming days, the rebels power will be greatly increased by a force that Ivan could never have seen coming. Unfortunately for the rebels, Ivan is only the beginning of the enemy.

Legend Biographies: Note: Please Vote In This Poll After Reading




Candro was not of any rank in Forbear's time. His style was too ruthless for the old king's tastes, but when Yirren was killed, Ivan's style meshed well with Candro's military bloodlust, and so Candro was promoted up the ranks, slowly, to Captain, the highest rank available and the highest paid. Because of this, he could afford to provide both himself and his men with a life of luxury, whether it be comfortable lodgings or some less sleep-focused bed activity at a local brothel. Because of this, the competition to be in his ranks was great, but Candro was more than happy to oblige. The more men he trained, the more he would be paid by Ivan, who was growing ever warier of the rebel force. And so Candro soon came to command the greatest, best equiped, and most sin-ridden army in all of Correnthian history. And all the while, he became only more and more powerful. There were rumors spreading that Ivan had named him as the man to take the regent position were he to be killed.



Roffla was and still is a real estate salesman. Before the coup, he worked in the suburbs of Illyen, buying and selling homes to families. Unlike the stereotype for his business, he was driven by a desire to help the poorer classes find homes for prices they could afford, even taking money out of his own pocket on occassion. His father had been a great blacksmith, and worked closely with the royal barracks, leaving Roffla with money to spare. Roffla was not well known, but in the circles where his name was recognized, he was a respected figure. After the coup, as trade increased with other realms, Roffla spent a day touring the woods with an elven guide. He found much land that seemed inhabitable, canopies that begged in his mind for treehouses and high walks. And so Roffla began to expand his trade, selling land in the forest to the people of Ryzine, but also, to the dismay of many, selling homes within the empire to elves seeking to acclamate to human cultures. Roffla nearly single-handedly began the coexistance of elves and humans, and in the process became quite rich.



Venken was going to be a great wizard one day, but when Ivan took power, his parents took a stand against him the with rebels, but refused to leave when many were accepting their banishment. Subsequently, they were killed, and Venken could no longer safely wander the streets, for fear of being hunted down despite not havin ever made a stand for or against any leader in his life. Venken became aware of the streets, raiding dumpsters for food, pickpocketing when he could, and staying alive although not comfortably. But Venken, despite his attempts to remain unseen, became noticed; not by the authorities, but by the thieves. Many sought him ought for guidance, help, even scraps. Slowly, and anonymously, Venken began turning these thieves over to the authorities in exchange for rewards. Nobody knows what he did with the rewards however, for he remained without a real home and still foraged for all his necessities of life.



Glave was Forbear's speechwriter, and before the coup would have been considered an unlikely candidate for a warrior, but when he became enraged at his former friend's murder, he took up both the pen and the sword with surprising skill. As the rebels left the boundaries of the empire, it was Glave who stood atop a high boulder and cried out to the crowd that the day was not yet lost. The unofficial mayor of the rebel city, Glave is in charge of both military training, for which he had a brief background in his youth (despite his insistance to his parents that he did not want to serve in the military,) and for the health and well-being of the rebels. Each day he stands at the border and greets more disillusioned citizens of Ryzine. In recent months, he has become so bold as to enter within the borders of the empire to seek out followers of the cause, those who have insider information and may be able to do real damage to the empire.



Felwyn began as a hunter in the elvish colonies of the Correnthian woods, but quickly discovered he was out of place. While his brethren shot to kill, he was always creating traps, wanting to take his prey alive, a skill at which he became quite proficient. His talents were scowled upon, and there was talk of banishment, but when Felwyn heard of these murmurings among the council, he was seen departing the colony overhead, riding upon a hellkite. This was no small occurence. For an elf to have trapped and tamed a hellkite was unheard of. Had they not seen it themselves, they would have all believed it impossible. Within days, bands of elvish youth were gathering together and marching off into the uncharted woods, towards where Felwyn had settled. Felwyn accepted his followers and trained them in the ways of trapping, teaching them to stalk the grove and lay their nets. In time this village of specialists turned into a full grand city, aided in no small part by the utilization of great beasts to transport materials. The larger their prey, the more the elves of Felwyn's clan began to thrive. The old village from which he descended died out, as no hunters would stay to defend it, leaving it without food and without a new generation to further its culture.



"The Battle for Correnth's first installment will begin and end with sparkling revelations."

The story will be told in volumes and scenes (short chapters) each set having a volume and each volume containing 12 scenes.

Announcing


Scene 1: Heiress Empowered

Scene 2: A Man With A Price

Scene 3: The Key To Stealing

Scene 4: ????

Scene 5: ????

Scene 6: ????

Scene 7: ????

Scene 8: ????

Scene 9: ????

Scene 10: ????

Scene 11: ????

Scene 12: ????
The Cards:

Themes: Control and Ownership matter.
Mechanics: ????, ????, ????, Recruit

Recruit (Whenever this creature deals combat damage to a creature, regenerate that creature and gain control of it as long as you control this creature.)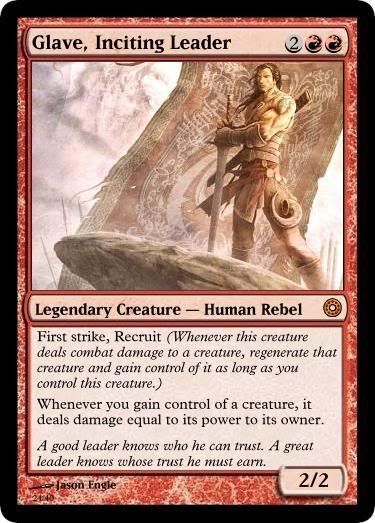 Glave, Inciting Leader
Legendary Creature - Human Rebel

First strike, Recruit
(Whenever this creature deals combat damage to a creature, regenerate that creature and gain control of it as long as you control this creature.)
Whenever you gain control of a creature, it deals damage equal to its power to its owner.
A good leader knows who he can trust. A great leader knows whose trust he must earn.
2/2
Thanks to Spiderboy4 of
High~Light
for the above sig banner.
I happen to run a game for a set:
The Safeguard Custom Card Competition
I happen to be working on another set:
Peddler's Empire
First card revealed.