Raptorchan
Location:

Rampongtoch

Join Date:

8/30/2015

Posts:

3,240

Member Details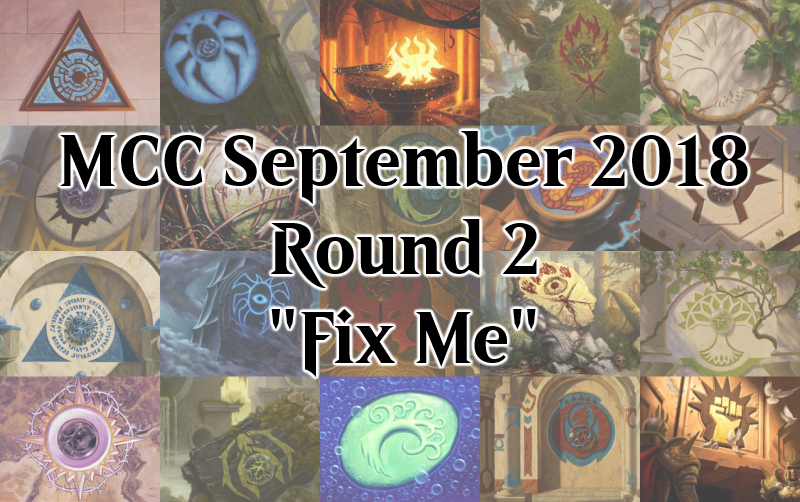 September MCC 2018 Round 2 - Fix Me
Your idea has been gladly (well, mostly...) accepted by your Guildmaster and he granted you with a carte blanche to bring it to life. However, due to unlucky circumstances (slaughterhorns migration, sudden blackout, seasonal upheavals, invasion of an army from other world), your resources are limited. Keeping in mind that every guild uses two colors of mana, you have to fix your mana first. Please do!
Main Challenge: Design a card that produces exactly one or exactly two colors of mana.
Subchallenge 1:
Your card is monocolored that produces mana of exactly one another color or colorless that produces exactly two colors of mana.
Subchallenge 2:
Your card has converted mana cost 3 or less.
Main Challenge: Cards producing "mana of any color" aren't allowed. Your card can be permanent or not. You have claimed your guild in Round 1.

Subchallenge 1: Monocolored means your card has mana symbols of only one color plus maybe generic mana symbols in the mana cost. Colorless means no colored mana symbols (keep in mind, lands are colorless). For this subchallenge, colored cards producing mana of the same color aren't allowed. But your card may add any amount of mana.
Subchallenge 2: Your card costs 0, 1, 2 or 3 mana.

Please feel free to ask additional questions if you have any in the MCC Discussion thread.
Design Deadline: All submissions are to be final and submitted by September 15th 11:59 PM EST
Judging Deadline: All judgements are to be final and completed by September 19th 11:59 PM EST
Design -
(X/3) Appeal: Do the different player psychographics (Timmy/Johhny/Spike) have a use for the card?
(X/3) Elegance: Is the card easily understandable at a glance? Do all the flavor and mechanics combined as a whole make sense?

Development -
(X/3) Viability: How well does the card fit into the color wheel? Does it break or bend the rules of the game? Is it the appropriate rarity?
(X/3) Balance: Does the card have a power level appropriate for contemporary constructed/limited environments without breaking them? Does it play well in casual and multiplayer formats? Does it create or fit into a deck/archetype? Does it create an oppressive environment?

Creativity -
(X/3) Uniqueness: Has a card like this ever been printed before? Does it use new mechanics, ideas, or design space? Does it combine old ideas in a new way? Overall, does it feel "fresh"?
(X/3) Flavor: Does the name seem realistic for a card? Does the flavor text sound professional? Do all the flavor elements synch together to please Vorthos players?

Polish -
(X/3) Quality: Points deducted for incorrect spelling, grammar, and templating.
(X/2) *Main Challenge: Was the main challenge satisfied? Was it approached in a unique or interesting way? Does the card fit the intent of the challenge?
(X/2) Subchallenges: One point awarded per satisfied subchallenge condition.

Total: X/25
*An entry with 0 points here is subject to disqualification.
Judges:
Raptorchan
void_nothing
Antiantiserum
Contestants:
Subject16
Gerrard's Mom
bravelion83
Rudyard
Jimmy Groove
Flatline
TotallyHaywire
netn10
egoblinsw
The_Hittite
Forestguy
PsyOp
Marco
Brackets:
void_nothing
netn10
Marco
egoblinsw
Jimmy Groove
Raptorchan
Rudyard
Flatline
bravelion83
Antiantiserum
Gerrard's Mom
Subject16
Forestguy
The_Hittite
Two players from each bracket advance.
A helpful tip for those formatting their cards:
A reminder to everyone:

In the MCC, putting rarity on cards is mandatory!

If you don't put a rarity on your card, expect huge deductions in both Viability AND Quality.

Also,

you should format your text cards accordingly to the forum rules

(see the "this formatting looks best" spoiler in the linked OP). Again, expect deductions in Quality otherwise.
What's the use of anything?