void_nothing
Location:

Mou̡nt N͝o͝c̨hnoy͠,͠ Sadc̛o

Join Date:

1/11/2005

Posts:

28,484

Member Details
CCL September Round 1

"A Mighty Fortress"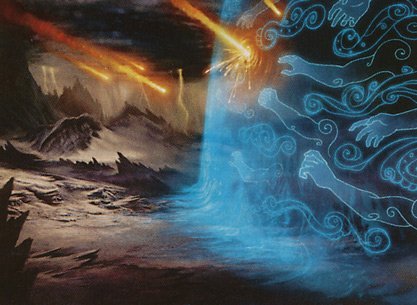 Wall of Denial, taken from MTG Amino, by Howard Lyon and Wizards of the Coast
Welcome to the Card Creation League!
Everyone is free to participate in either or both of the first two rounds. Come join us!
Theme
September in the CCL is going to be Defenses Month! Because not everything has to be aggressive, and slowing the game down is often healthy.
Challenge
Design a creature card with defender.
Make sure to include a rarity.
Stay tuned for August's CCL Final Poll. Anyone who votes will receive 2 bonus points for September's CCL!
PLEASE NOTE: This month will continue the use of the "Mandatory Top 3 Rule." For this month, you must submit a Top 3 during a round's critique period in order to receive any points for the round. Submitting critiques as well will be worth 2 bonus points in the round.
Your submissions are due Thursday, September 6th, 23:59 EST.
Schedule


Round 1 — Open to Everyone (September 1st-6th)
Round 2 — Open to Everyone (September 7th–12th)
Rounds 1 and 2 Critiques (Due September 15th)
Top 8 — Open to top 8 finishers (September 16th–20th)
Top 8 Critiques (Due September 22nd)
Top 4 — Open to top 4 finishers from last round (September 23rd–26th)
Top 4 Critiques (Due September 28th)
Final (End of month, winner determined by public poll)

I̟̥͍̠ͅn̩͉̣͍̬͚ͅ ̬̬͖t̯̹̞̺͖͓̯̤h̘͍̬e͙̯͈̖̼̮ ̭̬f̺̲̲̪i͙͉̟̩̰r̪̝͚͈̝̥͍̝̲s̼̻͇̘̳͔ͅt̲̺̳̗̜̪̙ ̳̺̥̻͚̗ͅm̜̜̟̰͈͓͎͇o̝̖̮̝͇m̯̻̞̼̫̗͓̤e̩̯̬̮̩n͎̱̪̲̹͖t͇̖s̰̮ͅ,̤̲͙̻̭̻̯̹̰ ̖t̫̙̺̯͖͚̯ͅh͙̯̦̳̗̰̟e͖̪͉̼̯ ̪͕g̞̣͔a̗̦t̬̬͓͙̫̖̭̻e̩̻̯ ̜̖̦̖̤̭͙̬t̞̹̥̪͎͉ͅo͕͚͍͇̲͇͓̺ ̭̬͙͈̣̻t͈͍͙͓̫̖͙̩h̪̬̖̙e̗͈ ̗̬̟̞̺̤͉̯ͅa̦̯͚̙̜̮f͉͙̲̣̞̼t̪̤̞̣͚e̲͉̳̥r͇̪̙͚͓l̥̞̞͎̹̯̹ͅi͓̬f̮̥̬̞͈ͅe͎ ̟̩̤̳̠̯̩̯o̮̘̲p̟͚̣̞͉͓e͍̩̣n͔̼͕͚̜e̬̱d̼̘͎̖̹͍̮̠,͖̺̭̱̮ ̣̲͖̬̪̭̥a̪͚n̟̲̝̤̤̞̗d̘̱̗͇̮͕̳͕͔ ͖̞͉͎t̹̙͎h̰̱͉̗e̪̞̱̝̹̩ͅ ̠̱̩̭̦p̯̙e͓o̳͚̰̯̺̱̰͔̘p̬͎̱̣̼̩͇l̗̟̖͚̠e̱͉͔̱̦̬̟̙ ̖͚̪͔̼̦w̺̖̤̱e͖̗̻̦͓̖̘̜r̭̥e͔̹̫̱͕̦̰͕ ̗͔̠p̠̗͍͍̱̳̠r̰͔͎̰o͉̥͓̰͚̥s̟͚̹̱͔̣t͉̙̳̖͖̪̮r̥̘̥͙̹a͉̟̫̟̳̠̟̭t͈̜̰͈͎e̞̣̭̲̬ ͚̗̯̟͙i͍͖̰̘̦͖͉ṇ̮̻̯̦̲̩͍ ̦̮͚̫̤t͉͖̫͕ͅͅh͙̮̻̘̣̮̼e͕̺ ͙l͕̠͎̰̥i̲͓͉̲g̫̳̟͈͇̖h̠̦̖t͓̯͎̗ ̳̪̘̟̙̩̦o̫̲f̙͔̰̙̠ ̹̪̗͇̯t͖̼̼͉͖̬h̹͇̩e͚̖̺̤͉̹͕̪ ͚͓̭̝̺G͎̗̯̩o̫̯̮̟̮̳̘d̜̲͙̠-̩̳̯̲̗̜P̹̘̥͉̝h͍͈̗̖̝ͅa͍̗̮̼̗r̜̖͇̙̺a̭̺͔̞̳͈o̪̣͓̯̬͙̯̰̗h̖̦͈̥̯͔.͇̣̙̝