admirableadmiral
Join Date:

10/29/2011

Posts:

4,962

Member Details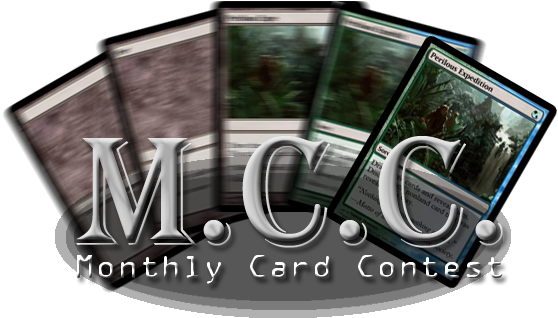 August MCC Round 4
"Split Timelines"
Not every story ends on a good note, and not every hero gets a good ending. Today, we're going to remedy that, and give a character a shot at redemption.
Main challenge: Choose a modern-legal set and a legendary creature card or planeswalker card from that set that is important to that block's story. Design an alternate version of that card that either represents a different version of their past or a possible version of their future.
Subchallenge 1: Your card has a different converted mana cost than the original. If your new card is a creature, it has a different power and toughness. If your new card is a planeswalker, it has a different starting loyalty.
Subchallenge 2: Your card has a different color identity from the original, and the change in color identity is flavorfully reflected in a change in philosophy of the new card.
Main Challenge
Your card doesn't have to stay the same card type; you could turn a planeswalker into a legendary creature, and vice versa.

Subchallenge 2
Your new card can have overlap in its color identity, but it cannot be exactly the same.

A reminder to everyone:

In the MCC, putting rarity on cards is mandatory!

If you don't put a rarity on your card, expect huge deductions in both Viability AND Quality.

Also,

you should format your text cards accordingly to the forum rules

(see the "this formatting looks best" spoiler in the linked OP). Again, expect deductions in Quality otherwise.
Design -
(X/3) Appeal: Do the different player psychographics (Timmy/Johhny/Spike) have a use for the card?
(X/3) Elegance: Is the card easily understandable at a glance? Do all the flavor and mechanics combined as a whole make sense?

Development -
(X/3) Viability: How well does the card fit into the color wheel? Does it break or bend the rules of the game? Is it the appropriate rarity?
(X/3) Balance: Does the card have a power level appropriate for contemporary constructed/limited environments without breaking them? Does it play well in casual and multiplayer formats? Does it create or fit into a deck/archetype? Does it create an oppressive environment?

Creativity -
(X/3) Uniqueness: Has a card like this ever been printed before? Does it use new mechanics, ideas, or design space? Does it combine old ideas in a new way? Overall, does it feel "fresh"?
(X/3) Flavor: Does the name seem realistic for a card? Does the flavor text sound professional? Do all the flavor elements synch together to please Vorthos players?

Polish -
(X/3) Quality: Points deducted for incorrect spelling, grammar, and templating.
(X/2) *Main Challenge: Was the main challenge satisfied? Was it approached in a unique or interesting way? Does the card fit the intent of the challenge?
(X/2) Subchallenges: One point awarded per satisfied subchallenge condition.

Total: X/25
*An entry with 0 points here is subject to disqualification.
DEADLINES
Design deadline: Friday, August 4th 2017 23:59 EDT
Judges
admirableadmiral
ManyCookies
Rocco
doomfish
Players
Conntroll
RickyRickster
Raptorchan
IcariiFA