Asrama
Join Date:

5/7/2007

Posts:

2,502

Member Details
Welcome to the final poll, Gleemax is waiting your input.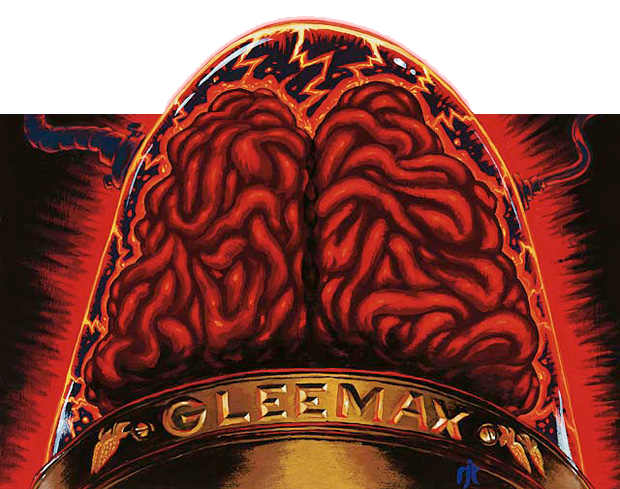 For this final showdown, two contestant have made their way through the trails and tribulation of being a fledgling designer in a corporation controlled by an evil alien brain in a jar. You can read about their adventures here:
Round 1
Round 2
Round 3
Top 8
Semifinals
Finals

Our two fearless designers are now pitched in the battle of their lives:
Ink-Treader

Vs

Bravelion83
Their mission was to create a total of four cards:
Three cards designed to defeat Gleemax, a player with 1000 life and all magic cards ever created as his library
One final card to show what they choose to do with Gleemax once they defeated it
The submissions:
Ink-Treader:
Oh my, that's one hell of an opponent. Holder

Heh, poison might work, but what's the fun in that? (And yet I can't help but think of this in terms of one turn kills...)

Alright...

Essence Spinner

Creature - Hag Druid (R)

, Sacrifice another creature: Add the sacrificed creature's mana cost to your mana pool.

(Mana cost includes color. If a mana symbol has multiple colors, choose one.) "Such potential. You could become many things..."

0/2

Ruinous Spiteblade

Creature - Human Assassin (R)

Deathtouch

Whenever Ruinous Spiteblade attacks and isn't blocked, if your life total is less than defending player's, you may have his or her life total become equal to your own.

"Mutually assured destruction is a fantastic modus operandi."

1/1

Dream Reveler

Creature - Nightmare (R)

Whenever you cast a spell, if you didn't cast it from your hand, Dream Reveler gets +2/+2 and gains menace until end of turn.

Whenever Dream Reveler deals combat damage to a player, you may search his or her library for a card and exile it. That card's owner shuffles his or her library. You may cast that card for as long as it remains exiled and you may spend mana as though it were mana of any color to cast it.

4/4

And as for after the battle...

Painted Smile

Enchantment - Aura (U)

Enchant creature

Enchanted creature attacks or blocks each turn if able.

If enchanted creature would deal damage to a creature, planeswalker, or player, that permanent's controller or that player instead gains that much life.

"So... happy... So... much... joy... Must... share..."

Every card you say? Plan here is simple. Ruinous Spiteblade brings Gleemax to my level, Dream Devourer steals a

Wound Reflection

, Essence Spinner sacrifices the Dream Devourer so I can cast Wound Reflection. Gleemax falls on my end step. And then it's time for some... reconditioning.

Hmmm...
Bravelion83:
Nervous Stress

Sorcery (R)

Target player puts the top X cards of his or her library into his or her graveyard, where X is the number of cards in that player's graveyard. Untap target creature that player controls.

They say stress is a physiological response of your body to make you alert. It may be good for your body, but it certainly puts a heavy burden on your mind. Azorius Council

Legendary Creature — Human Wizard (R)

: You may cast target blue instant or sorcery card with converted mana cost equal to Azorius Council's power from your graveyard without paying its mana cost. Activate this ability only any time you could cast a sorcery.

"The Council has accepted your request. You're allowed to perform again that ritual you asked to repeat."

4/3

Macabre Undertaker

Creature — Human (M)

At the beginning of your end step, if there are forty or more cards in your graveyard, you win the game.

, : Choose one —

• Each player sacrifices a creature.

• Each player discards a card.

• Each player puts the top two cards of his or her library into his or her graveyard.

1/4

Brain Dissection

Sorcery (R)

Target player reveals his or her hand. You choose a nonland card from it. That player discards that card. You draw X cards and gain X life, where X is that card's converted mana cost.

"Let's see what's inside..."

How it works: you need to have the Undertaker and the Council on the battlefield without summoning sickness. You cast the Stress on yourself untapping the Council and then recur the Stress with the Council until you have the forty cards in your graveyard that the Undertaker requires. If you don't have any card in your graveyard to start the combo, that's what the activated ability on the Undertaker is for. The activation cost should not be a problem as you should only need to activate this ability once (if at all) to start the combo. This should be allowable based on this:

[quote from="Asrama »" url="http://www.mtgsalvation.com/forums/creativity/custom-card-creation/custom-card-contests-and-games/658237-december-final-round-im-here-to-design-cards-and?comment=7"]You may assume that you could activate something once if the mana to do so is not too high (say one to three mana).

Brain Dissection is what I do to Gleemax after his defeat.

I hope this submission is fine. Let me know if there are any problems with it.
And now it's up to you: Who should win the battle? Who will parish from Gleemax's fury?
The winner will receive epic bragging rights, and his very own ending, depending on their fourth card.
Good luck!
This sig is both witty and charming. Really.