Asrama
Join Date:

5/7/2007

Posts:

2,502

Member Details
Welcome to the December 2015 CCL Final Round!

You make a run to the time machine, but as soon as you step out of the corridor, alarms start blaring. You run through the metallic labyrinth with your cover intact, until you hear a large crash behind you. You turn around to see that a hole has formed in the wall, and a pack of slivers are pouring out of it. The four of you manage to outrun them until a
Blur Sliver
comes along and their speed increases enough to grab one of you.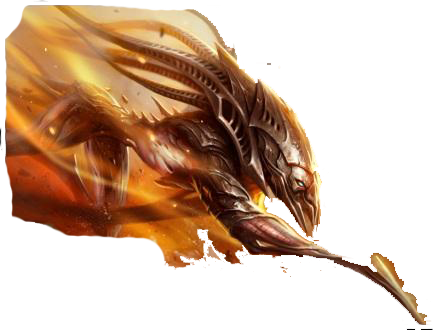 "Run, you fools!" He yells at you.
You speed down the hall, hearing him say "I always wanted to say thatAAAARGH!" as the slivers tear him apart.
You move swiftly down another corridor, when suddenly the person ahead stops. You look ahead to see there's a squirrel standing innocently in the middle of the corridor.
One of you say, "Dude, it's just a squirrel", and moves to get past it. As he walks, another squirrel appears, then another, then another. Then an old, raggedy man with long, messy grey hair steps into the corridor. He points a crooked finger towards the guy who stepped forward, and the squirrels leap at him, tearing his flesh with their sharp teeth. You and the other one stumble back, and try a different route.
At long last, you've made your way to the time machine's chamber. You take a seat in one side, while your colleague take the other one. You can hear the sounds of a chase coming from the corridor you've just left.
"How do we turn this thing on?", you ask. A great roar can be heard from the corridor, and you can see a flicker of light coming from there, as though there was a burst of flames.
"Just press something!" shouts your comrade, starting to frantically press the buttons and pull the nubs. You do the same, pushing and pulling anything within your reach in a panic. Suddenly, the machine begins to glow, then hum, then the room starts spinning faster and faster, until all you can see is a blur. Suddenly, the spinning stops and the room stabilizes, but it's not the same room anymore. You come to the startling realization that you recognize the room.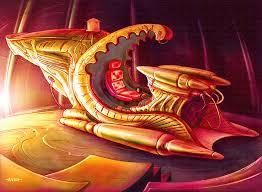 It's the auditorium where you were gathered on the night you were sent to Svalverden.
You look quickly around you, and recognize your colleague at the end of the row. You walk to him as people start pouring into the auditorium. With one look into his eyes you can tell that he remembers everything.
"We don't have much time" You tell him.
- "I know, I wish we'd known how to operate the time machine. I'm not even sure what to do now"
The answer comes to you immediately. "We take out Gleemax", you tell him.
"Are you insane?" He replies.
"Think about it", you tell him, "without Gleemax, all this stops. No planar portal, no Explorartory Design Committee, no crazy designers sending innocent newbies to their deaths."
He looks at you hesitantly. "Look", you say, "we still have the Cardmaker 3000 and a bunch of playtest cards. We're both good designers. We can design our way into Gleemax's chamber and then design something to take him down."
He nods. You make quick plans to get out of the auditorium unnoticed. You leave the room just as MaRo begins to say "As everyone here knows, Gleemax has put some of his incredible intelligence to the effort of better understanding Human culture…".
You make your way through the halls without incident, as this time nobody is after you, and pretty soon you're back in the corridor with the organic looking walls.
"You ready?" you ask your colleague.
"Wait", he says. "What's the plan here?"
You look at him with disbelief. "To destroy Gleemax, of course."
"Is that such a good idea?" He asks "I mean, we could do anything with our designs, maybe we should try and gain control of it, makie Gleemax work for us, or we should try and capture it so it could be studied. It's an alien brains in a jar, think of what it knows!"
"No." You tell him. "We destroy it. That's all there is to do."
- "OK", he says, but he doesn't sound convinced. You're not sure how convinced you are yourself. Some of the points he made make sense, and besides, you don't know why Gleemax has taken over Wizards. Maybe it's trapped here on earth and doing what it can to survive. Maybe you should just send it home.
Without additional words, you open the door for one last mission.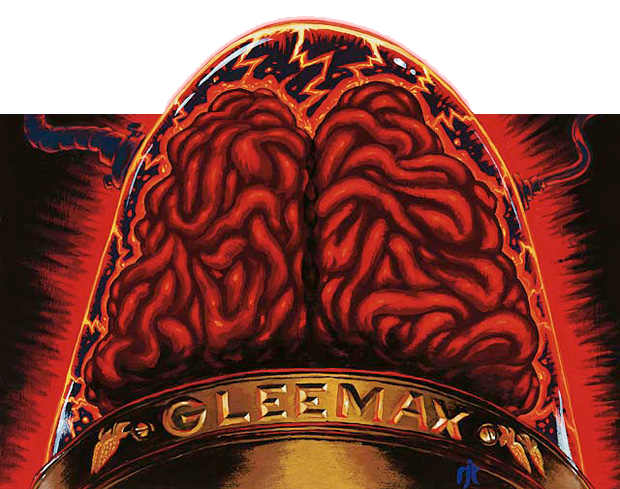 Bravelion83 and Ink-Treader
Your mission
is to design four cards:
Three cards to fight Gleemax. For the porpose of this mission, Gleemax is considered a player with 1000 life and a library made out of every Magic card ever created. Your three cards should work together to "win the match" in a manner of speaking.
The last card will show what you will do with Gleemax once you defeat it. Will you destroy it? Take control of it? Dissect it in the name of science? Try to study its secrets? Attempt to send it back home? (any other outcome you can think of is fine by me, just make it clear what you tried to do). This card can be anything. If you choose to represent Gleemax himself on a card (to show you have control of it), you may do so ignoring the fact that there was already a Gleemax card in Unhinged.
The final card will affect your ending, should you win.
There is no deadline, but try to finalize your submissions within four days or so.
Good luck!
Image credits:
Blur Sliver: Daarken
Squirrel: Ron Spencer
Time Machine: John Avon
Gleemax: Richard Thomas
All images taken from web sources and belong to Wizards
This sig is both witty and charming. Really.