Asrama
Join Date:

5/7/2007

Posts:

2,502

Member Details
Welcome again to the December CCL!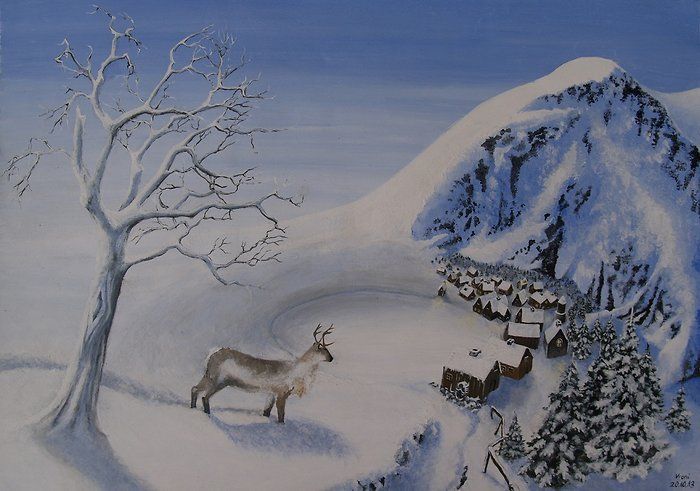 You still can't believe all that happened since you woke up to a call from Mark Rosewater last night. You're in Svalverden, an actual different plane!
A frozen plane, as luck would have it, but it is one teeming with life and interesting locations, all of which you have diligently cardified with your trusty Cardmaker 3000. Who knew all those strange jokes about Magic R&D were true? Were the other stories also true? was there really a time machine in the basement of Wizards of the coast? Who knows?
Meanwhile, you've had a busy day of literal card making. By the end of the day, you're sitting by the fire, and a mustached man who identifies only as 'Sergeant' is keeping you all warm with some nice heated yelling:
"Listen up, you maggots! you've survived the first day on a foreign plane, but don't get cocky! You've got pear reviews to write still! and you need to prep up for step 2 of exploratory design! Hop to it, maggots!"
Someone asks what is step 2, and how do you prep for it. You're glad it wasn't you, because Sergeant goes ballistic: "What do you mean "what is step"? Have you paid no attention? do you not know where we are? Who here can sort out the little maggot here and tell them what's step 2?"
No one answers. Sergeant looks like he's about to explode. "What a bunch of know-nothing maggots! well listen up! Step 2 is infiltration! I'll say it slower for you dingbats! In-fil-tra-tion. You are to take the cards you've created today, and craft a new personality for yourself to infiltrate into the indigenous people so you can gather information for the Creative team. Do the teach you nothing?"
He sighs, then pulls out a strange looking black polygon from one of the crates. "This is an Imitation Matrix" He says. "I'm sure you all had practice with this during orientation".
The dumbfounded look from the group is the only answer. "Holy Heliod! What did I do to deserve this bunch of know-nothing imbeciles for an Exploraratory Design Committee?" He cries.
He sighs again. "Look, just punch in a new identity in card form, the Matrix will do the rest, and you can walk in and mingle with the locals. Don't forget to write everything down! I don't want data lost in case you're eaten by something."
Well, that settles it. Looks like you have a new mission.
Your mission is to
Design a new identity for yourself to use with the Imitation Matrix
. This means a
legendary creature card
that
belongs to one of species, cultures or locations from round 1
. You can choose any card from round 1 as your background. No need to link the card.
EDIT: clarification: you may choose any card from round 1 that tickles your fancy. That includes your own card, of course.
You have until the end of December 10th. Good luck!
Image credit: Vroni Schnattinger
Last edited by
Asrama
: Dec 6, 2015
This sig is both witty and charming. Really.