Asrama
Join Date:

5/7/2007

Posts:

2,502

Member Details
Welcome to the December CCL!

They say that the best way to ruin your dreams is to fulfil them.
Well, you've fulfilled your dream, you've become a fully-fledged Magic: the Gathering designer. The road was long, and sometimes bizarre (why was there a military obstacle training course, you'll probably never know), but after months of trails, you've received a shiny contract from Wizards of the Coast, Inc ,(a subsidiary of Hasbro Inc. All rights reserved). You sign the monstrous 178 page contract without even reading it, and that's it. You're in. You've made your way in to the heart of Magic .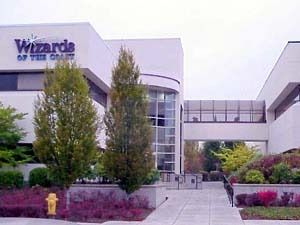 At first, things are fairly normal. You go to work in the morning, design cards all day, play epic EDH games with the team on Thursdays, and playtest with the development team during lunch breaks. Life's good.
Then your phone rings in the middle of the night. Mark-fricking-Rosewater is on the other side:
"Hey, kid, we need you to come in. It's urgent." He says, and hangs up. You look at your clock. It's 03:00 am, but you can't say no to MaRo.
Half an hour later, you enter the halls of Wizards' HQ. It's dark, with most of the lights gone, and quiet. As you approach the elevator, you're surprised to see Aaron Forsythe standing next it.
"Good, you're here", he says. Up until now you weren't even sure if he knew who you were. Aaron signals you into the elevator, then presses the buttons in a quick order, and then the buttons
change
. He pushes the button marked G23 and the elevator starts going down. Down? you thought this was the ground floor.
You go out of the elevator into a hallway you've never seen before. The walls look metallic, and you can't quite see where the light is coming from. Aaron leads you into a locker room, and hands you a thick bundle.
"Get dressed. Briefing is at 04:00", he says, then leaves before you can ask any questions.
You open the bundle to find a heavy looking weather suit in blue and grey camo-colors. Having nothing better to do, you wear it, then proceeds through the doors that Aaron went through.
The room you enter looks like a movie theater. There are many seats, all facing the large screen at the back of the room. You take the first vacant seat you can find. Soon the room starts to fill. Some of the people are high-ranking members of R&D, but most are newbies like you. You notice only the newbies are wearing the camo-gear.
MaRo enters the room and takes his place near the large screen. The room grows quiet as if given a signal. It's funny, but the strange lighting makes it seem as though MaRo has little demon horns growing from his forehead. But surely, that must be your imagination, right?
MaRo speaks up: "As everyone here knows, Gleemax has put some of his incredible intelligence to the effort of better understanding Human culture, and has recently began to grasp the significance of our holidays. Gleemax calculated that a winter-theme set that would come out for Christmas would gain popularity with a young audience, and thanks to the addictive ink and subliminal messages in the artwork, we should expect this to allow Magic to grow over the next few years, keeping our cover intact for a long time."
Several of the other newbies raise their hands to ask a question, but MaRo ignores them. "As we are already in December, time is of the essence. We're sending our new recruits on an exploraratory design committee to gain as many card assets as possible for us to incorporate into a new set."
A picture of a vast, snowy wasteland appears on the screen. "This is the plane Gleemax has identified as the most fitting to stage the new set in. It's known as Svalverden, and it might be the source of many Christmas-related myths, as well as Nordic and Inuit mythology. You are to go through the planar portal and retrive as many cards as you can based on your findings there."
Someone shouts from the back: "So we're supposed to go there and design cards according to what we see there?"
All veteran member of R&D laugh at this. You see Alexis Janson holding her sides.
"No, no", says MaRo with a smile. "You'll use the Cardmaker 3000, of course".
Someone hands him a weird looking gun. "Just aim it at the targets, and it'll turn them into cards. Don't forget the change the setting according to the card type you want to get, of course. Now, head off! there's no time to waste!"
With that, the senior members of R&D start corralling you newbies into the adjacent room, where a large, gate-like shape occupies most of it. You are each given a Cardmaker 3000, and then rushed towards the gate. A countdown is sounded, and when it reaches zero the gate flashes with a bright light, and you can see the same cold wastseland on the other side.
"Just a reminder", says MaRo before you leave, "That according to section 146.1.2 subsection D of your contract, should you perish during this mission, Gleemax will erase all memory of you from everyone who knew you, and your card collection will be divided between the senior members of R&D".
You start to regret not reading that contract fully, but then you are pushed forward and step into the portal.
You look around you at the snowy landscape, then at the sci-fi gun in your hand. You're at Svalverden, and you have a mission.
Your mission is to
use the Cardmaker 3000 to design a non-legendary, non-planeswalker card that represents a place, an indigenous species, or a unique culture of Svalverden, the snowy plane.
You have until the end of December 5th.
Good luck!
Important note
: This is meant to be a return to form for the CCL. There will be three rounds followed by a top 8, then semifinals and finals. Do join in the fun.
Credit for images: WotC Headquarters from:
http://www.enworld.org/forum/showthread.php?316036-Off-to-see-the-Wizards-The-day-that-WotC-showed-me-D-amp-D-5th-Edition
Devil MaRo from Wizards website.
World art by Yap Kunrong
Last edited by
Asrama
: Dec 3, 2015
This sig is both witty and charming. Really.