Asrama
Join Date:

5/7/2007

Posts:

2,502

Member Details
April CCL 2014
Finals Poll
Chapter 8 - The Turn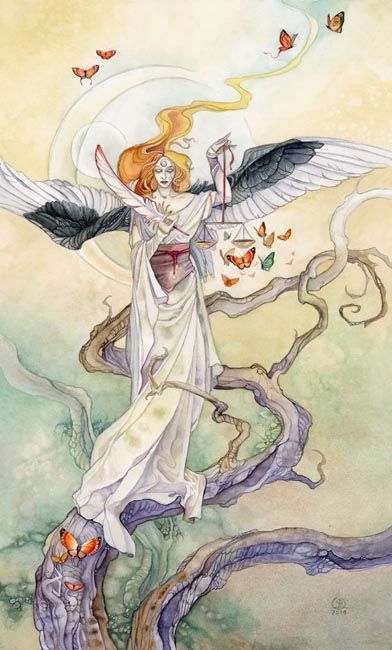 (Art by Stephanie Pui-Mun Law)
Fate has accepted the bet of our two remaining players, and as usual, has to rhyme about it:
"The final round comes, it's outcome I cannot tell,
Will you win your desire or be doomed to hell?
The last card is flipped, but do not cheer yet,
For now, it is your connections I want for a bet."
And so he flipped the final card, and now it is apparently up you to bet your earthly connections. Who have rallied to you over your journey? who will put their name and vote for your victory?
For the voters: Vote for one of the finalists:
NVRBLND
or
Zoomba
, who were given a final mission of designing five cards depicting the future they may have should they win their hearts desire:
First card
: A creature. Should represent you, your avatar and how they have changed from gaining their heart's desire – Who is the powerful version of Pyxll? How did the romance influenced Treek? (You may, if you choose, design a planeswalker version instead of a creature. Personally, I find it less interesting)
Second card
: A land. Your place of residence - the literal seat of power (for Pyxll) or a place for companionship (for Treek).
Third card
: An enchantment that best describes your lifestyle now – be it harmonious, adventurous, despotic, benevolent – or any other description you see fit.
Forth card
: An instant or sorcery – You're new identity's signature move, representing the lessons learned or powers gained.
Fifth card
: An artifact – a symbol of your power (for Pyxll) or your love (for Treek)
Treek of Ancient Stories
Legendary Creature - Troll Shaman (M)
Hexproof
Whenever a noncreature spell is cast Treek gets +X/+X until end of turn, where X is that spell's converted mana cost
His memories are the rise and fall of civilizations, his words turn mortals into gods
4/4

Lycia, Prodigy of Passion
Legendary Creature - Human Wizard (R)
Whenever you cast an instant or sorcery spell put a +1/+1 counter on Lycia
Instants and sorceries you cast cost less for each +1/+1 counter on Lycia
A burning swells in her heart, whether it is for destruction or knowledge remains to be seen
1/1



Scour the Horizons
Enchantment (R)
Whenever a land enters the battlefield under your control put an Explore counter on Scour the Horizons.
At the beginning of your upkeep you may search your library for a creature card with converted mana cost equal to or less than the number of Explore counters on Scour the Horizons and put that card onto the battlefield
"The greatest stories remain to be told" - Treek


Grand Entrance
Enchantment
Whenever a creature enters the battlefield under your control, you may cast an instant or sorcery spell with converted mana cost equal to or less than that creature's from your hand without paying its mana cost.
As she entered the room some men's hearts burned with the intensity of the sun, others went cold as ice, but all noticed her arrival.

Tome of Tales
Artifact (R)
Whenever a player plays a spell put a charge counter of Tome of Tales.
At the beginning of your upkeep you may remove any number of charge counters from Tome of Tales, the first spell you play this turn costs X less to play, where X is the number of charge counters removed this way.
"A story is more than just what has happened, it is why things happen." - Treek


Traverse the Wilderness
Sorcery (U)
If a forest is on the battlefield, search your library for a forest card, reveal it, and put it into your hand. Do the same for plains, swamps, islands and mountains. Shuffle your library afterward.
Each new place holds a story of its own, though they are all entwined in the great work.

Storyteller's Familiar
Creature - Spirit (C)
Flying
Sacrifice Storyteller's Familiar: If the next spell you cast this turn resolves, return it to your hand instead of putting it into your graveyard. Activate this ability only anytime you could cast a sorcery.
A story is little good without the memory of what its telling.
1/1


Treek, Keeper of Memory
Legendary Creature - Troll Wizard (M)
Hexproof
Whenever you cast a noncreature spell you may place that spell on top of your library instead of into your graveyard upon resolving.
"Our memories define us, those who forget who they were cannot know who they are."
4/4



Elderpond Grove
Land (U)
: Add to your mana pool.
: Return Elderpond Grove to your hand, regenerate target creature.
The calm of the trees can ease even the most restless soul, the purity of the water heal even the most grievous wound.



Patient Harmony
Enchantment (R)
All permanents enter the battlefield tapped.
Whenever a player untaps a permanent, each other player may untap a permanent.
In a world of chaos and uncertainty it is the patient who triumph.



Memory Blast
Instant (U)
Memory Blast deals damage to target creature or player equal to the converted mana cost of target spell.
There is nothing more painful than a bad memory.



Everburn Talisman
Artifact (U)
Spells you cast cost less if they share a name with a spell in a graveyard.
The mistakes of the past can never be erased, but they can provide the path for a brighter future.


Treek had met many beautiful and powerful people across the eternities he traveled, but there was something different about Lycia. She had a purity about her that surpassed any physical beauty he had ever encountered. Her purity came at the price of a weakness to the power dwelling inside her. Without a lust for control or knowledge the power was able to grow and consume her almost to the point of destruction. This did not go unnoticed by the powers that be who looked to bend her to her will, to take control of the great potential they saw as wasted. Treek had written many stories like this in the past and they all ended in disaster. Finally it was his chance to write his own story, and create the ending he wanted. Using his status Treek gained a personal council with the girl at a royal event. It was here he learned that her passion was driven by fear above all else. She realized her position but felt helpless to control it. She knew that she could do great or terrible things but had no way of determining which she was doing. Treek's concern grew for the girl and he asked to hear her story. While listening to the girl's troubled past he reached out to grasp her hand. Upon touching it her mind became an open book, each story taking place in living color right before his eyes. He could see every moment of joy alongside the pain that followed and realized what she was. A spark had ignited deep within her without her noticing and it had grown to a raging flame of mana and power. Treek focused hard on his home, a place he had not seen in a very long time, and asked the girl what she saw. As she started describing his hovel deep in the woods of a distant world the room faded from around them and was replaced with lush forest. After the initial shock of what happened the fear faded from Lycia's eyes as she had finally found a place she could be at peace with herself. Treek promised to keep her memories safe as she learned to tame the power within her. He had finally found his happy ending.
Holder: (Description to be up by the end of today (5/17)

Me:

Pyxll, Ghost of Shaosa
Legendary Creature - Shapeshifter Rogue (R)
Changeling (This card is every creature type at all times)
First Strike
Prowl (You may cast this for its prowl cost if you dealt combat damage to a player with a creature this turn.)
3/2

My hometown:

City of Strangers
Land (R)
: add to your mana pool.
Morbid - : Add one mana of any color to your mana pool. Activate this ability only if a creature has died this turn.

My cherished treasure:

Weathered Lockpicks
Artifact (C)
Weathered Lockpicks enters the battlefield with three charge counters on it.
, , remove a charge counter from Weathered Lockpicks: Target creature can't be blocked this turn.
With two sticks of metal, Pyxll opened her first barred portal. And soon all doors were open to her.

Judge Storwell, Hammer of the Inquisition
Legendary Creature - Human Cleric (R)
Vigilance
, : Destroy target creature that shares no creature types with a creature you control.
3/5
"There is no cost too high for purity."

Cast Out
Instant (C)
Return target creature to its owner's hand. That creature's controller puts the top X cards of his or her library into his or her graveyard, where X is that creature's power.
Some of the Accursed's noble birth saved them from the sword, and were instead exiled into Shaosa's undercity. Thrown from lives of luxury into poverty and squallor, some questioned if they had truly been spared.

Pilferer's Knack
Enchantment - Aura (R)
Enchant Creature
Whenever enchanted creature deals combat damage to a player, gain control of target artifact or enchantment that player controls.
"I'd be a poor excuse for a thief if I could only steal magic items." - Pyxll Storwell

Pyxll grits her teeth as Fate sepaks again, trying to resist rolling her eyes at the figure's rhymes. Then the words sink in, and for the first time in this competition, no this entire journey, there is a moment of hesitation.

Can I risk my future on just a chance for power, for freedom and protection? And if I should lose that, what does that mean?

A flash of worry crosses the changeling's mind, before she brushes it aside. She has come this far, there is no choice but to see it through. She will be everything, or she will be nothing.

As a card is flipped over, Pyxll starts as images appear in front of her. Flashes of a life that can be, and could be soon. She sees herself, adorned in cloak somehow both regal and yet somehow unremarkable, moving with impunity throughout the main concourses of Shoasa. She strides freely amongst the hustling bazaars and the Inquisition's mobs, or "rallys" alike, effortlessly shifting her form to assimilate into the crowd. There is a glean in the present-Pyxll's eyes as she beholds a vision of her potential self pocket jewels and arms admidst crowds even then decrying her and her kind as 'The Accursed', safe in the knowledge that none of them could even dream of catching her. One such flash of future-time even shows Pyxl lightly bumping into a passerby, only to have an invisible image of a powerful spell seep out from his head and into the rogue's.

Now, there's a trick

Pyxll muses as Fate continues to flip over the cards.

Suddenly a new set of images cascade in front of Pyxll and the troll. This Pyx-to-be sits in a lair virtually untraceable. But there is little sign of the wealth she must have amassed, even to the level of the horde Pyxll possessed before this game began. The next card is flipped, and Present-Pyxll's eyes widen in surprise for the first time in this game. Her future counterpart is giving her treasures away! Bestowing food, clothes, and jewelery to other changelings, goblins, orcs, and nantuko that cower in the undercity! Another flash, and Pyxll sees herself donning a thin red sash the place before her eyes. Surrounded by other exiles form the Inquisition above, she is no longer just a skilled thief, but a symbol, an agent of resistance and hope for the scared and oppressed underclass below. They have even granted her a name, the "Crimson Gadfly", as her campaign of theivery and sabatoge creates a perisistent thorn in the side of the city above, and most of all that of her father, Judge Storwell. Rejected by her family above, she has become the heart of a new one below, and she fights on to chart a course for them to regain their place in the city.

As the images fade, Pyxll is shaken by the revelations. The cards have shown her a future very different from the one she expected, but also one far greater than she could have dreamed. Suddenly, dread creeps in, and the almost foreign concept of regret creeps into her mind. She has wagered such a future, and in doing so has given herself the chance to lose it forever. Pyxll begins to cry out a halt to the game, to rescind her decision, but it is too late. The cards have been dealt, and now it is up to Fate to decide hers.

My future...

Pyxll, the Crimson Gadfly

Legendary Creature - Shapeshifter Rogue (R)

Changeling

(This card is every creature type at all times.)

Double strike

Infiltrate

(

Return an unblocked attacker you control to hand: Put this card onto the battlefield from your hand tapped and attacking.)

3/3

She can be everywhere and anyone, no treasure safe from her wandering eye. Labyrinthine Warren

Land (U)

: Add mana to your mana pool.

, : Exile target creature you control. Return it to the battlefield at the beginning of the next end step. Labyrinthine Warrens doesn't untap during your next untap step.

The endless alleys and narrows of the undercity make it a refuge for those not wanting to be found. Defiance

Enchantment (R)

Whenever a source would deal damage to a creature you control, Defiance deals half that much damage to that source's controller, rounded up.

"The city above has turned on us, pushing us out of our homes, our lives, our safety. They will push us no further." - Pyxll Storwell Theft of Potential

Sorcery (R)

Search target opponent's library for a permanent card and exile it. Then that player shuffles his or her library. You may play that card for as long as it remains exiled.

Cipher

(Then you may exile this spell card encoded on a creature you control. Whenever that creature deals combat damage to a player, its controller may cast a copy of the encoded card without paying its mana cost.) Redistributing wealth changes a man's fortunes. Redistributing ideas shapes a new future. Cloak of Anonymity

Artifact - Equipment (U)

Equipped creature has hexproof and protection from creatures that share a creature type with it.

Equip
The winner will receive the glory of victory, and their own ending.
Good luck
This sig is both witty and charming. Really.