Asrama
Join Date:

5/7/2007

Posts:

2,502

Member Details
April CCL 2014

Chapter 5 – The Deal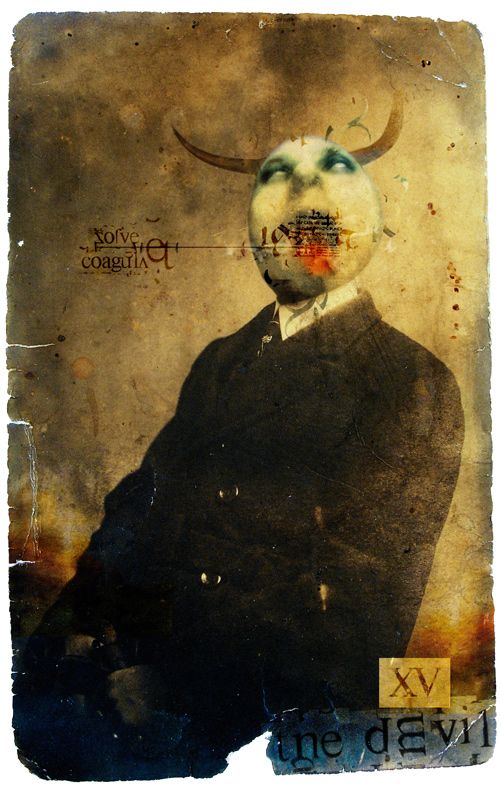 (art by Giuseppe Lama)
What a night. You were not the only one who thought that taking out the competition before the game begins would be a good idea. The number of guests at the inn comes the morning is significantly lower than the number that was there the evening before. You can't help but take it as a good sign: Surely your survival means that fate is in your favor. You will win this game, you will get your heart's desire.
One of the jet-eyed attendants waits at your door as you leave your room. He signals you to follow and so you go down steps that you have not noticed before. Down and down you go, deep into the cliff. Torches in the walls on both sides provide ample light, but also cause the shadows to dance in a way that makes you nervous. You try to shake of the nervous feeling - You are not a child, after all – and yet the feeling lingers.
You come, at last, to a large room. Most of it is occupied by a table that seems to be craved from the rocks around you, as if it grew straight from the room's floor like a strange mushroom. The wall across from the door is a large mirror, reflecting your bewildered expression. One by one, the remaining pilgrims pile into the room and seat around the large table. There are only eight of you now. The wall-mirror shows the whole lot of you: A pale elf, a metal-casted human, a kangaroo-person, a sage-looking lizard, a decorated warrior, a serious looking vedalken, a gnarly troll and a changeling. You wonder how you stand compared to the others.
A man enters. His face is oddly familiar, but you are certain you never met him before. You'd remember meeting someone with eyes completely white. Unlike the attendants, it is clear that his eyes are not gems inserted into the sockets but rather his real actual eyes. The lack of pupil makes it impossible to know what he is looking at, but you get a distinct feeling that he is looking at
everything
at the same time.
The man seats, and speaks, his voice deep and tantalizing:
"And so you've made it, congratulations,
My warmest welcome and salutation.
This is a game, one unlike any other
a unique experience, as you might discover.
Win, and you heart's desire you'll receive
Lose, and all you've wagered you'll have to give.
And if you try and attempt to cheat,
then, friend, I do not envy the fate you'll meet. "
A deck of cards appears in his hand – or was it always there? Fate (for it is surly Fate himself, no?) shuffles it quickly.
"One last thing, before we begin.
To play the game you must buy in.
What I ask is simple, but may be a hard concession.
To play the game you must wager your most valued possession."
Your most valued possession? Can you truly give that up? You've had it for so long, and to go without it will sadden you, but if you win, will it matter? And can Fate really know what's your most valued possession? Could you give him something else of value to get in the game?

Challenge: Design a card to represent your most valued possession to buy in to the game. Your peers will judge its true value. If you fail to supply fate with your truest valued possession, you'll find yourself out of the game, or worse.
Zoomba and maximumbuttitude
– You've always worked to get power, and you've climbed your way out of the very bottom. Your most valued possession is not of great worth to others, but it is important to you – it is a memoir of the first time you've climbed out of that bottomless pit and got a taste of success. (Just make sure it's not a planeswalker, anything else that fits the description is fine.)
Antny223 and Ink-Treader
– Your whole life was geared to cheting death and living forever. You've kept something on the side to enjoy when you've achieved this goal. Something unique you were going to savor for many years as you live forever. It won't be the same without it, but if giving it up means you get a chance to never die, then there is really no other option (Again, anything but a planeswalker that fits this description is good. )
Balefire and Gerrard's Mom
– Your loved one goes with you, wherever you go, but over time it has become harder and harder to remember the little details. That's why to kept a reminder of them. It might not be big, or of any importance to others, but for you it means the world. Could you really give up the last remnant of your loved one? (Anything but a planeswalker that makes sense as a reminder of your loved one will do)
NVRBLND and RaikouRider
– Ah, soon you will prove your love and win the game. Soon, a bright future will emerge for you and your darling. But for now, you must make a concession. What is your most valued possession? Surely nothing is worth enough compared to a lifetime with your one true love. No, the more you think about it, the more you realize that your most valued possession is not a physical object, but rather a memory: the first time you laid eyes on your love. You still recall it vividly, and think about it every day. Can you give up this one, perfect memory for a chance of happiness? (Anything that symbolizes this memory and is not a planeswalker is acceptable).
Deadline for submission is April 28th, when Sunday becomes Monday in Philadelphia.
Good luck
Last edited by
Asrama
: Apr 24, 2014
This sig is both witty and charming. Really.