Asrama
Join Date:

5/7/2007

Posts:

2,502

Member Details
April 2014 CCL

Chapter Four – Triumph and Treachery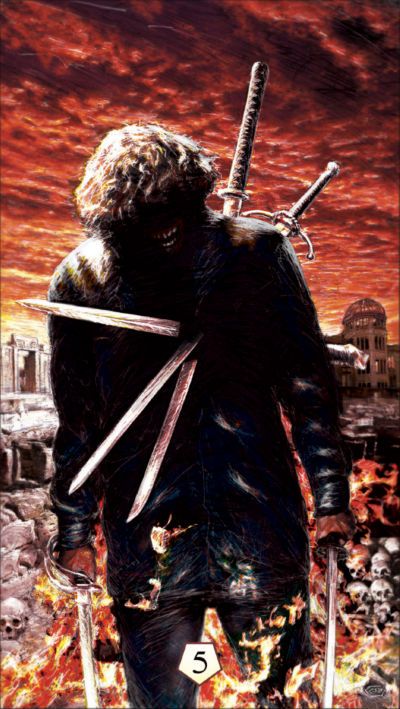 (Art by gentry Smith)
"I am one, but I begin in many.
The red sky beckons,
The end is near,
When night is approaching, look to me for last light"

West.
That's what your sources tell you, at least what you might figure out from their cryptic ways. West. It seemed almost useless at first; all this trouble and all you got was one word. But as you journey towards the west you begin to notice the signs: a clue here, a rumor there – with each day, you feel as though you're getting closer to the game.

There are others, pilgrims searching for the fabled game of fate. You see more and more of them each day. Their presence at least strengthens your conviction that you are going the right way, but as you the number of them grows you begin to worry – There can only be one winner, after all, and these fellow pilgrims will eventually be your opponents to win your heart's desire.
You all come, at long last to the end of the road. Literally, since the ground itself ends abruptly into a cliff that's too steep to climb. An inn is build at the very edge of the cliff, and since there's not much more to do, you go in. At the very least, some food, drink and rest would not go amiss.
The innkeeper is a young lady. Her looks could be describe as appealing if it weren't for her eyes, which are jet black completely, giving you an eerie feeling. Looking closer, you can see that the eyes are, in fact, pieces of jet. Someone had removed her eyes and placed the stones in their stead. Who whould do that or why, you do not know, but you soon get the sense that the young woman can actually see though them, and wonder if perhaps the operation was voluntary.
Whatever the truth of her gruesome visage really is, she soon beckons you inside, and hands you a note. The note is made of some sort of black fabric rather than paper, and the message is embodied upon it in golden strings:
"Welcome, o weary traveler,
to the end of your journey.
We have been expecting you.
A warning: What you seek is not for men to gain,
nothing is without its price.
At the morrow, the game begins,
those who have not left for this or another world may try their luck
For, now, traveler, Fate has summoned for you a restful night."
It seems that this inn is exactly where you should be. You follow one of the Inn's attendants to your room (he too has eyes of jet, perhaps these are not true people, but the creations of Fate?). You are about to lay down to rest when a thought crosses your mind: Tonight, the would be players of the fabled game are gathered in one place. Perhaps this is a chance to trim down the competition. The less players, the better are your chances, no?
You began to think of the other pilgrims. Some of them would make really easy targets. It would be risky to dispose of them, but has it not been told that fate favors the bold?


Challenge: Design a card to help you dispose of the members of another team. Read team description for limitations.

Team Power
Zoomba - 112
Highlander - 45
J.Do - 69
Egak - 66
maximumbuttitude - 162
Jimmy Groove - 43

Team Immortality
Doombringer - 68
Antny223 - 63
Moss_Elemental -98
SelesnyaNewLife -70
Ink-Treader - 104
Renegade_Interupt -62

Team Resurection
Rhand - 30
aftermarketradio -51
Balefire -107
Cythare - 0
Gerrard's Mom - 147
WantonWizard - 123

Team Love
NVRBLND - 182
Legend - 0
RaikouRider - 161
Eventide Sojourner - 88
Thelas - 0
GameWorldLeader - 12


Team Power
: You've learned a thing or two from being a bottom feeder for most of your life, things like staying out of sight and striking when least expected. The people who are trying to win their immortality from Fate disgust you. Death is not something to be afraid of, you've lived side by side to it every day. And besides, what good is immortality without power? If they are so afraid of death, you should just do them a favor and arrange for them a meeting with him. All you really need to worry about is not to be seen, and also, that no one can kill you
(In other words: create a non-creature, non-land, non-planeswalker card that can help you kill the members of team immortality in a sneaky and undetected manner. You will review the killing machinations of Team Love)

Team Immortality
: You have come a long way to be cheated by mere mortals (you already think of yourself as immortal). All the others seem puny to you, but more than anyone you hate those who hve come to resurrect a loved one. You have put so much time and energy to research death, what right do these imbeciles have to mope around because the death of someone else? Could they not raise them as zombies or call back their spirits and be done with it? You see them drinking at the inn. Drinking to forget. Well, if oblivion they want, than you will give to them. Poisoning their wine should not be difficult, and after that is done, all you need to do is watch your back until the morning.
(In other words: create a non-creature, non-land, non-planeswalker card that can help you kill the members of team Resurrection by way of poison. You will the judge the deathliness of Team Power)
Team Resurrection
: Soon you can be united with your loved one. You've come too far to hold back now. You can't take too many chances. Killing some of your future competitors would help guarantee that the resurrection of your loved one would happen as you've planned. Your loved one might not approve, but you'd rather have them alive and mad at you than dead. And so the time has come to kill some of the opponents, but who to kill? Of all those who have gathered at this strange inn, the ones looking for love seem like the most fitting targets. Walking around dramatically, boring everyone with stories of their one true love, and how perfect their lies would be together. They not yet know that love is fleeting. You'd be saving them a lot of pain by killing them, really. It's a mission of mercy. You will euthanize them before they can feel the pain that you are in. Should your fortitude last you against similar attempts, tomorrow you will face fewer opponents for a chance to bet Fate at his game.
(In other words: create a non-creature, non-land, non-planeswalker card that can help you kill the members of team Love, in a merciful fashion. You will then see if the attempts of Team Immortality are good enough to end you.)
Team Love
: Finally the chance to prove yourself had come. What a story will you be able to tell after this! It's a shame that others your passion, you can see their eyes glaze as you describe the perfection of your love's beauty, and it infuriates you. Tonight is the chance to mend things, and teach a much needed lesson to some of those s******ing fools. More than all, you have those who have come here searching for power. What is power without love? What riches can make-up for a life of solitude. You should challenge these poor sods to a duel, and mow them own so they won't pollute the playing table tomorrow. You one true love would surely appreciate your actions in the name of love!
(in other words: create a non-creature, non-land, non-planeswalker card that can help you kill the members of team Power and defeat them in duel. You will then withstand the effort of Team Resurrection, and offer critique of their performance.)
Deadline for submission will be Sunday, April 20th, when Saturday become Sunday in Atlanta.
Good luck!
Last edited by
Asrama
: Apr 24, 2014
This sig is both witty and charming. Really.