Asrama
Join Date:

5/7/2007

Posts:

2,502

Member Details
April CCL 2014
Chapter 2: A Fool's Errand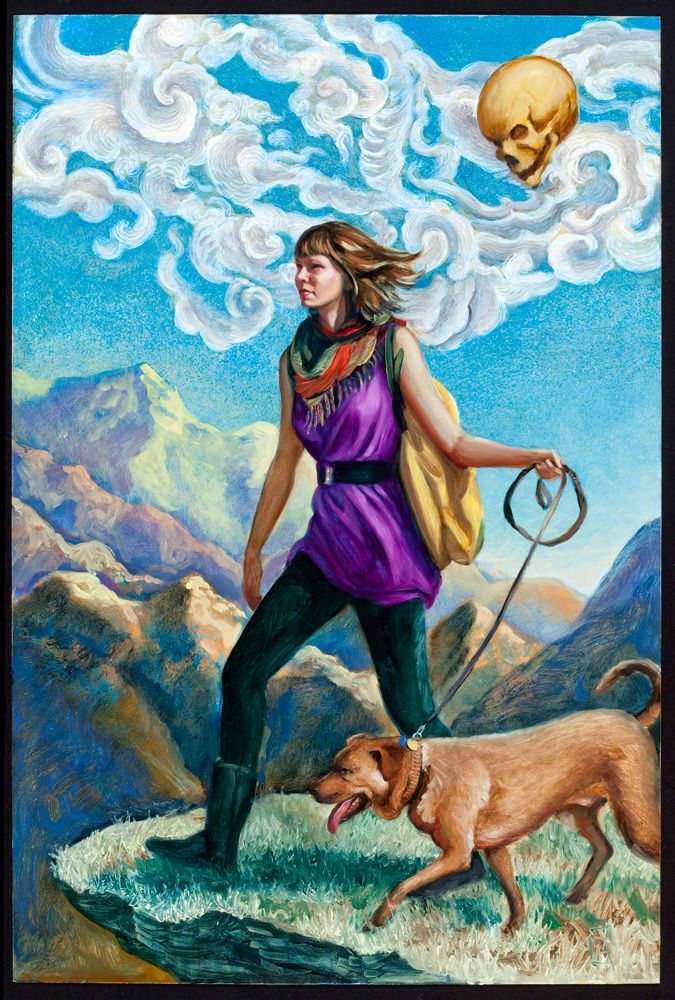 (Art by Carrie Ann Baade)
You're not one to brag, but you have done well for yourself. From humble beginnings you've worked your way up and now you have nearly every goal you've set for yourself.
…All, except one. One goal yet eludes you. It burns in your veins and troubles your sleep at night. It fills you with a drive, a burning desire that stays with you at all times.
It's not that you didn't do your best. All your life have been shaped for this goal and this goal alone, but you've had no luck at all, no successes, fate has intervened time and time again to hinder your efforts.
…Fate. Now there's a thought. A rumor reaches you with a sensational claim: Once a year, on a dark night, you may play Fate himself in a card game and win your heart's desire. When or where this game takes place, you do not yet know, but if there is truth to this rumor, you must look into it, cheat Fate in his own game, and win your heart's desire.
They say only a fool will try to beat fate in his game, so it's only fitting you'll begin your journey on the day of fools. Now it is time to set forth, and win your heart's desire!
Challenge: Every journey must have a starting point: Design a card that will give background to your quest. Your desire is decided by your team:

Team Power
Zoomba
Highlander
J.Do
Egak
maximumbuttitude
Jimmy Groove

Team Immortality
Doombringer
Antny223
Moss_Elemental
SelesnyaNewLife
Ink-Treader
Renegade_Interupt

Team Resurection
Rhand
aftermarketradio
Balefire
Cythare
Gerrard's Mom
WantonWizard

Team Love
NVRBLND
Legend
RaikouRider
Eventide Sojourner
Thelas
GameWorldLeader

Deadline is April 5th, 2014 - When Friday becomes Saturday in New York.
Team Power
: You've lived in lowest rung of the ladder for most of your life and it has not been fun, to say the least. Every now and then you manage to score some gold or a gain some influence, but these were always temporary, wasted sooner or later and always there someone richer and with more influence than you. What you want is to true power, beyond all expectation, to have the world at your feet, waiting on your command. Riches, magic, divine favor - You don't care where your power comes from, as long as you have it. Your starting point is where you grew up, a poor, wrenched slum, escaping it would make your triumph complete
(in other words: Design a land card that will show where you've grew up: a slum or hovel where poverty and crime are commonplace
).
Team Immortality
: You've done well for yourself and have mastered powers that others cannot even fathom, yet one thing might make it all for naught: your death. You've gone to great distances to extend your life, but you know that they are only temporary solutions. You still have several years before death knocks on your door, but they are not nearly enough. Your starting point is your last failed attempt, it might have extended your life, but not guaranteed immortality as you've desired, and so you the game is your last hope.
(In other words: Design an enchantment card meant to prevent you from losing due to life loss.)

Team Resurrection
: Someone you loved has died. Perhaps a family member, or a lover you were looking forward to spend your lives together. What matters is that they are dead, and that you blame yourself. You'll do everything you can to get them back into your life, and ease the pain of your guilty conscience. You do not know if even Fate is powerful enough to bring them back from the clutches of death, but you have to try. Your starting point is technically the moment of the tragic death of your loved one. It still haunts you, every time you close your eyes, you see those horrifying moments again, thinking that if only you would have done things differently, they would still be here with you.
(in other words: Design an instant or sorcery card depicting the tragic circumstance that led to your loved one's death)
Team Love
: You love someone, but your love is, as of yet, unrequited. Despite being obviously perfect for you, they do not see it, and have spurned your advances whenever you've tried to bring it up. Your lavish gifts and attempts of poetry did nothing to melt their frozen heart, but alas! You are certain they are the one and only for you. Your life has lost all meaning since being rejected. The food tastes dry and bitter in your mouth, and spirits do nothing to bring mirth. You are left with no choice but to seek this last, desperate measure to tie your destinies together. Your beloved is of course your starting point, it is they who inspire you to go on this quest.
(In other words: Design a legendary creature that your avatar fell in love with. Seeing that you were obviously meant for each other, it must have strong synergy with your avatar)


Your team assignment is based on your avatar, according to what I felt most suits your avatar's desire, and balanced so that every team will have an equal number of players as much as possible. Feel that you were put in the wrong team? Sorry, but it's not going to change. Use your imagination and make it work.
Team Power critiques team Immortality
Team Immortality critiques team Resurrection
Team Resurrection critiques team Love
Team Love critiques team Power
Good luck!
Last edited by
Asrama
: Apr 6, 2014
This sig is both witty and charming. Really.