void_nothing
Location:

Mou̡nt N͝o͝c̨hnoy͠,͠ Sadc̛o

Join Date:

1/11/2005

Posts:

28,417

Member Details
CCL May Finals

"Plans Into the Infinite"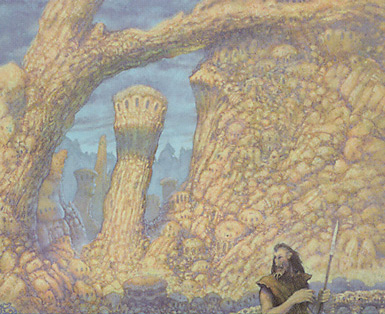 Kor Haven, taken from Pucatrade, by Darrell Riche and Wizards of the Coast
Welcome to the Card Creation League!
Everyone is free to participate in either or both of the first two rounds. Come join us!
Theme
It's Puzzles and Patterns Month here in the CCL.
Challenge
Design one of each of the following: a "Magus" creature card in the style of the Time Spiral Block or Commander cycles; a legendary land card representing a place on Dominaria; an Atog creature card; and a "lord" creature card for the creature type of your choice that at least grants those creatures +1/+1.
Make sure to include a rarity.
Contestants:
Hemlock
Eventide Sojourner
Your submissions are tentatively due Sunday, June 16th, 23:59 EST.
Schedule


Round 1 — Open to Everyone (May 1st-6th)
Round 2 — Open to Everyone (May 7th–12th)
Rounds 1 and 2 Critiques (Due May 15th)
Top 8 — Open to top 8 finishers (May 20th–25th)
Top 8 Critiques (Due May 27th)
Top 4 — Open to top 4 finishers from last round (May 31st–June 4th)
Top 4 Critiques (Due June 6th)
Final (End of month, winner determined by public poll)

I̟̥͍̠ͅn̩͉̣͍̬͚ͅ ̬̬͖t̯̹̞̺͖͓̯̤h̘͍̬e͙̯͈̖̼̮ ̭̬f̺̲̲̪i͙͉̟̩̰r̪̝͚͈̝̥͍̝̲s̼̻͇̘̳͔ͅt̲̺̳̗̜̪̙ ̳̺̥̻͚̗ͅm̜̜̟̰͈͓͎͇o̝̖̮̝͇m̯̻̞̼̫̗͓̤e̩̯̬̮̩n͎̱̪̲̹͖t͇̖s̰̮ͅ,̤̲͙̻̭̻̯̹̰ ̖t̫̙̺̯͖͚̯ͅh͙̯̦̳̗̰̟e͖̪͉̼̯ ̪͕g̞̣͔a̗̦t̬̬͓͙̫̖̭̻e̩̻̯ ̜̖̦̖̤̭͙̬t̞̹̥̪͎͉ͅo͕͚͍͇̲͇͓̺ ̭̬͙͈̣̻t͈͍͙͓̫̖͙̩h̪̬̖̙e̗͈ ̗̬̟̞̺̤͉̯ͅa̦̯͚̙̜̮f͉͙̲̣̞̼t̪̤̞̣͚e̲͉̳̥r͇̪̙͚͓l̥̞̞͎̹̯̹ͅi͓̬f̮̥̬̞͈ͅe͎ ̟̩̤̳̠̯̩̯o̮̘̲p̟͚̣̞͉͓e͍̩̣n͔̼͕͚̜e̬̱d̼̘͎̖̹͍̮̠,͖̺̭̱̮ ̣̲͖̬̪̭̥a̪͚n̟̲̝̤̤̞̗d̘̱̗͇̮͕̳͕͔ ͖̞͉͎t̹̙͎h̰̱͉̗e̪̞̱̝̹̩ͅ ̠̱̩̭̦p̯̙e͓o̳͚̰̯̺̱̰͔̘p̬͎̱̣̼̩͇l̗̟̖͚̠e̱͉͔̱̦̬̟̙ ̖͚̪͔̼̦w̺̖̤̱e͖̗̻̦͓̖̘̜r̭̥e͔̹̫̱͕̦̰͕ ̗͔̠p̠̗͍͍̱̳̠r̰͔͎̰o͉̥͓̰͚̥s̟͚̹̱͔̣t͉̙̳̖͖̪̮r̥̘̥͙̹a͉̟̫̟̳̠̟̭t͈̜̰͈͎e̞̣̭̲̬ ͚̗̯̟͙i͍͖̰̘̦͖͉ṇ̮̻̯̦̲̩͍ ̦̮͚̫̤t͉͖̫͕ͅͅh͙̮̻̘̣̮̼e͕̺ ͙l͕̠͎̰̥i̲͓͉̲g̫̳̟͈͇̖h̠̦̖t͓̯͎̗ ̳̪̘̟̙̩̦o̫̲f̙͔̰̙̠ ̹̪̗͇̯t͖̼̼͉͖̬h̹͇̩e͚̖̺̤͉̹͕̪ ͚͓̭̝̺G͎̗̯̩o̫̯̮̟̮̳̘d̜̲͙̠-̩̳̯̲̗̜P̹̘̥͉̝h͍͈̗̖̝ͅa͍̗̮̼̗r̜̖͇̙̺a̭̺͔̞̳͈o̪̣͓̯̬͙̯̰̗h̖̦͈̥̯͔.͇̣̙̝