Eventide Sojourner
Awaiting Return to Dominaria.
Location:

Southeastern PA

Join Date:

6/19/2008

Posts:

1,954

Member Details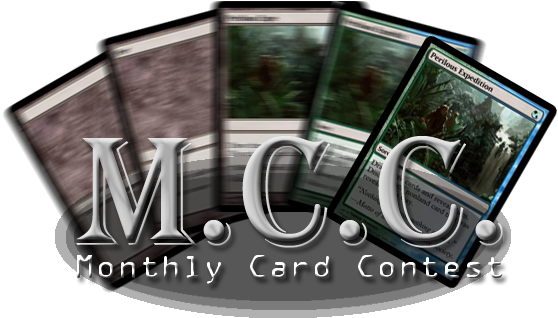 MCC Round 2 - Two Roads Diverged...
Welcome to the Final MCC for MTG Salvation. Due to the desire to make sure this contest concludes before the site is archived into read-only mode, there will only be three rounds. Contestants will have four days to design, and judges will be given four days to complete scoring. We will do our best to adhere to this schedule. For the penultimate Round of MCC at MTGS, the time has come to make a choice of how to execute your task.
Round 2 Challenge:
Design a card that employs an alternate casting cost mechanic, other than Flashback or Suspend (in deference to the challenges offered by GMom for the Final MTGS CCL).
Subchallenge 1:
The alternate cost has a different or additional effect when paid (such as
Rix Maadi Reveler
) outside of rules effects associated with that ability.
Subchallenge 2:
The card has no mana cost (such as
Ancestral Vision
).
Valid mechanics for the primary Challenge include:
Awaken, Bestow, Dash, Emerge, Evoke, Flashback, Jump-Start, Madness, Miracle, Morph, Overload, Prowl, Retrace, Spectacle, Splice, Surge, Suspend,
or the
Trap mechanic
from Zendikar (which is undefined in the Comprehensive Rules save that the card has the 'Trap' subtype).
Regarding the card having no mana cost, please take into consideration what would happen if the card were cast via the
Expertise cycle
or
Omen Machine
or
Knowledge Pool
.
Design Deadline is the 16th of June, 2019 at 23:59 EDT.
Judging Deadline is the 20th of June, 2019 at 23:59 EDT.
Design
(X/3) Appeal:
Do the different player psychographics (Timmy/Johhny/Spike) have a use for the card?
(X/3) Elegance:
Is the card easily understandable at a glance? Do all the flavor and mechanics combined as a whole make sense?
Development
(X/3) Viability:
How well does the card fit into the color wheel? Does it break or bend the rules of the game? Is it the appropriate rarity?
(X/3) Balance:
Does the card have a power level appropriate for contemporary constructed/limited environments without breaking them? Does it play well in casual and multiplayer formats? Does it create or fit into a deck/archetype? Does it create an oppressive environment?
Creativity
(X/3) Uniqueness:
Has a card like this ever been printed before? Does it use new mechanics, ideas, or design space? Does it combine old ideas in a new way? Overall, does it feel "fresh"?
(X/3) Flavor:
Does the name seem realistic for a card? Does the flavor text sound professional? Do all the flavor elements synch together to please Vorthos players?
Polish
(X/3) Quality:
Points deducted for incorrect spelling, grammar, and templating.
(X/2) *Main Challenge:
Was the main challenge satisfied? Was it approached in a unique or interesting way? Does the card fit the intent of the challenge?
(X/2) Subchallenges:
One point awarded per satisfied subchallenge condition.
Total:
/25
*An entry with 0 points here is subject to disqualification.
Judges
Eventide Sojourner
void_nothing
The_Hittite
Contestants
Algernone25
Artorias
bravelion83
Hemlock
IcariiFA
kwanyeegor
Mr. Rithaniel
StonerOfKruphix
Subject16
Judge Assignnments
Eventide Sojourner
Artorias
vs
IcariiFA
vs
StonerOfKruphix
bravelion83
vs
kwanyeegor
vs
Subject 16
The Hittite
bravelion83
vs
kwanyeegor
vs
Subject 16
Algernone25
vs
Hemlock
vs
Mr. Rithaniel
void_nothing
Algernone25
vs
Hemlock
vs
Mr. Rithaniel
Artorias
vs
IcariiFA
vs
StonerOfKruphix
May your games be
chaotic
and your decks be Rogue.