Gerrard's Mom
MS Sans Seraph:The Unholy Font
Location:

Seattle, WA

Join Date:

1/17/2006

Posts:

8,646

Member Details
Card Creation League The Last (June 2019)
Round 2 - Flashback to Reality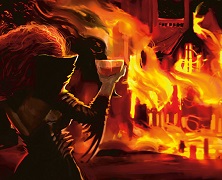 The heroes have gathered from across time. Some old friends greet one another fondly, while others recall past slights and trade insults or even nearly come to blows. In the ethereal space around them, years play out in moments. The heroes recall planes they may have traveled through themselves in the years following the original call - a fairytale land caught between day and night, shards of worlds forced into convergence, a wild plane faced with an ineffable threat, and a pristine metal world corrupted beyond recognition. A
master of temporal manipulation
appears, reminding the assembled of their first visit to a plane of monsters and darkness. Around the same time that this mage first appeared, helping the heroes remember their past with a magical skill that was itself drawn from the distant past, new heroes had also first appeared,
commanders
for
a
new
generation
. To face what comes ahead, the heroes will need to recall the legacy of these pioneers.
Challenge:
Create a spell with both flashback and one of the following mechanics introduced in the Commander series. Stay within the color identity of your Round 1 card.

join forces
tempting offer
lieutenant
experience
myriad
undaunted
Deadline:
Tuesday, June 11th, 11:59PM Pacific
Critiques until Thursday, June 13th, 11:59PM Pacific
We'll do a top 8 cut after critiques. Make sure to get your critiques in for
Round 1
!