void_nothing
Location:

Mou̡nt N͝o͝c̨hnoy͠,͠ Sadc̛o

Join Date:

1/11/2005

Posts:

28,484

Member Details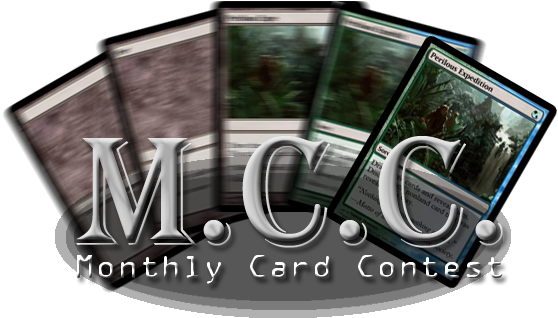 May MCC 2019 Round 3 - Lament for Teferi's Isle
It's Magic Classics Month here at the MCC and this round will be about one of the first true block mechanics in Magic: Phasing.
Main Challenge:
Design a card with "phasing", "phase(s) in", and/or "phase(s) out" in its rules text.
Subchallenge 1:
Your card is not blue.
Subchallenge 2:
Your card is uncommon or rare.
Please feel free to ask additional questions if you have any in the MCC Discussion thread.
Design Deadline: All submissions are to be final and submitted by May 28th 11:59 PM EDT
Judging Deadline: All judgements are to be final and completed by May 30th 11:59 PM EDT
Design -
(X/3) Appeal: Do the different player psychographics (Timmy/Johhny/Spike) have a use for the card?
(X/3) Elegance: Is the card easily understandable at a glance? Do all the flavor and mechanics combined as a whole make sense?

Development -
(X/3) Viability: How well does the card fit into the color wheel? Does it break or bend the rules of the game? Is it the appropriate rarity?
(X/3) Balance: Does the card have a power level appropriate for contemporary constructed/limited environments without breaking them? Does it play well in casual and multiplayer formats? Does it create or fit into a deck/archetype? Does it create an oppressive environment?

Creativity -
(X/3) Uniqueness: Has a card like this ever been printed before? Does it use new mechanics, ideas, or design space? Does it combine old ideas in a new way? Overall, does it feel "fresh"?
(X/3) Flavor: Does the name seem realistic for a card? Does the flavor text sound professional? Do all the flavor elements synch together to please Vorthos players?

Polish -
(X/3) Quality: Points deducted for incorrect spelling, grammar, and templating.
(X/2) *Main Challenge: Was the main challenge satisfied? Was it approached in a unique or interesting way? Does the card fit the intent of the challenge?
(X/2) Subchallenges: One point awarded per satisfied subchallenge condition.

Total: X/25
*An entry with 0 points here is subject to disqualification.
Judges:
void_nothing
Subject16
Eventide Sojourner
Algernone25
Contestants:
mirrodin71
Forestsguy
Freyleyes
RaikouRider
Flatline
bravelion83
Cardz5000
netn10

I̟̥͍̠ͅn̩͉̣͍̬͚ͅ ̬̬͖t̯̹̞̺͖͓̯̤h̘͍̬e͙̯͈̖̼̮ ̭̬f̺̲̲̪i͙͉̟̩̰r̪̝͚͈̝̥͍̝̲s̼̻͇̘̳͔ͅt̲̺̳̗̜̪̙ ̳̺̥̻͚̗ͅm̜̜̟̰͈͓͎͇o̝̖̮̝͇m̯̻̞̼̫̗͓̤e̩̯̬̮̩n͎̱̪̲̹͖t͇̖s̰̮ͅ,̤̲͙̻̭̻̯̹̰ ̖t̫̙̺̯͖͚̯ͅh͙̯̦̳̗̰̟e͖̪͉̼̯ ̪͕g̞̣͔a̗̦t̬̬͓͙̫̖̭̻e̩̻̯ ̜̖̦̖̤̭͙̬t̞̹̥̪͎͉ͅo͕͚͍͇̲͇͓̺ ̭̬͙͈̣̻t͈͍͙͓̫̖͙̩h̪̬̖̙e̗͈ ̗̬̟̞̺̤͉̯ͅa̦̯͚̙̜̮f͉͙̲̣̞̼t̪̤̞̣͚e̲͉̳̥r͇̪̙͚͓l̥̞̞͎̹̯̹ͅi͓̬f̮̥̬̞͈ͅe͎ ̟̩̤̳̠̯̩̯o̮̘̲p̟͚̣̞͉͓e͍̩̣n͔̼͕͚̜e̬̱d̼̘͎̖̹͍̮̠,͖̺̭̱̮ ̣̲͖̬̪̭̥a̪͚n̟̲̝̤̤̞̗d̘̱̗͇̮͕̳͕͔ ͖̞͉͎t̹̙͎h̰̱͉̗e̪̞̱̝̹̩ͅ ̠̱̩̭̦p̯̙e͓o̳͚̰̯̺̱̰͔̘p̬͎̱̣̼̩͇l̗̟̖͚̠e̱͉͔̱̦̬̟̙ ̖͚̪͔̼̦w̺̖̤̱e͖̗̻̦͓̖̘̜r̭̥e͔̹̫̱͕̦̰͕ ̗͔̠p̠̗͍͍̱̳̠r̰͔͎̰o͉̥͓̰͚̥s̟͚̹̱͔̣t͉̙̳̖͖̪̮r̥̘̥͙̹a͉̟̫̟̳̠̟̭t͈̜̰͈͎e̞̣̭̲̬ ͚̗̯̟͙i͍͖̰̘̦͖͉ṇ̮̻̯̦̲̩͍ ̦̮͚̫̤t͉͖̫͕ͅͅh͙̮̻̘̣̮̼e͕̺ ͙l͕̠͎̰̥i̲͓͉̲g̫̳̟͈͇̖h̠̦̖t͓̯͎̗ ̳̪̘̟̙̩̦o̫̲f̙͔̰̙̠ ̹̪̗͇̯t͖̼̼͉͖̬h̹͇̩e͚̖̺̤͉̹͕̪ ͚͓̭̝̺G͎̗̯̩o̫̯̮̟̮̳̘d̜̲͙̠-̩̳̯̲̗̜P̹̘̥͉̝h͍͈̗̖̝ͅa͍̗̮̼̗r̜̖͇̙̺a̭̺͔̞̳͈o̪̣͓̯̬͙̯̰̗h̖̦͈̥̯͔.͇̣̙̝