void_nothing
Location:

Mou̡nt N͝o͝c̨hnoy͠,͠ Sadc̛o

Join Date:

1/11/2005

Posts:

28,435

Member Details
CCL May Top 8/Round 3

"Off Balance"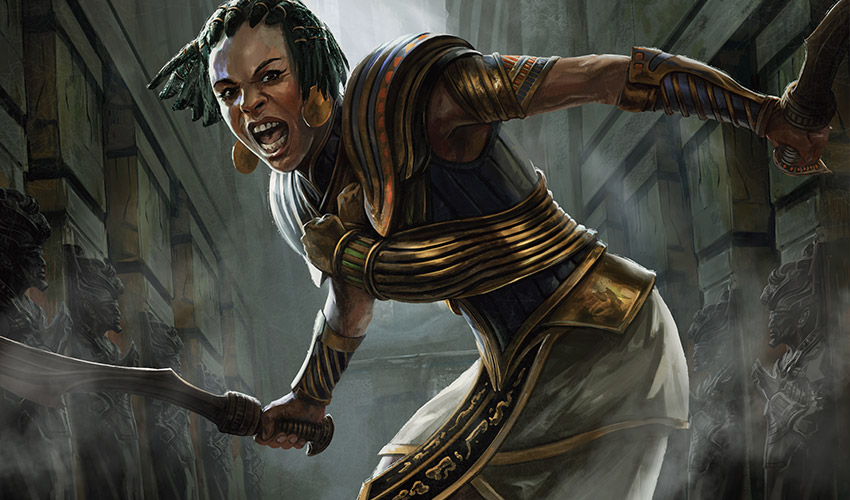 Samut, Voice of Dissent, taken from Gamelore, by Aleksi Briclot and Wizards of the Coast
Welcome to the Card Creation League!
Everyone is free to participate in either or both of the first two rounds. Come join us!
Theme
It's Puzzles and Patterns Month here in the CCL.
Challenge
Design a monocolor card with mana symbols of exactly two other colors in its text, or a two-colored card with mana symbols of exactly one other color in its text.
Make sure to include a rarity.
Examples of valid entries: A card that costs
and adds ; a card that costs and has an ability that costs .
PLEASE NOTE: This month will NO LONGER use the "mandatory top 3" rule. Critiques and top 3s will each be worth one bonus point per round but it will be possible to score points and advance even without submitting a top 3. This will also be done on a trial basis; future months may once again require top 3s from contestants.
Contestants:
Hemlock
Artorias
Fajen Thygia
RaikouRider
BlackWaltz3
Subject16
Eventide Sojourner
kwanyeegor
Your submissions are due Saturday, May 25th, 23:59 EST.
Schedule


Round 1 — Open to Everyone (May 1st-6th)
Round 2 — Open to Everyone (May 7th–12th)
Rounds 1 and 2 Critiques (Due May 15th)
Top 8 — Open to top 8 finishers (May 20th–25th)
Top 8 Critiques (Due May 27th)
Top 4 — Open to top 4 finishers from last round (May 28th–June 2nd)
Top 4 Critiques (Due June 4th)
Final (End of month, winner determined by public poll)

I̟̥͍̠ͅn̩͉̣͍̬͚ͅ ̬̬͖t̯̹̞̺͖͓̯̤h̘͍̬e͙̯͈̖̼̮ ̭̬f̺̲̲̪i͙͉̟̩̰r̪̝͚͈̝̥͍̝̲s̼̻͇̘̳͔ͅt̲̺̳̗̜̪̙ ̳̺̥̻͚̗ͅm̜̜̟̰͈͓͎͇o̝̖̮̝͇m̯̻̞̼̫̗͓̤e̩̯̬̮̩n͎̱̪̲̹͖t͇̖s̰̮ͅ,̤̲͙̻̭̻̯̹̰ ̖t̫̙̺̯͖͚̯ͅh͙̯̦̳̗̰̟e͖̪͉̼̯ ̪͕g̞̣͔a̗̦t̬̬͓͙̫̖̭̻e̩̻̯ ̜̖̦̖̤̭͙̬t̞̹̥̪͎͉ͅo͕͚͍͇̲͇͓̺ ̭̬͙͈̣̻t͈͍͙͓̫̖͙̩h̪̬̖̙e̗͈ ̗̬̟̞̺̤͉̯ͅa̦̯͚̙̜̮f͉͙̲̣̞̼t̪̤̞̣͚e̲͉̳̥r͇̪̙͚͓l̥̞̞͎̹̯̹ͅi͓̬f̮̥̬̞͈ͅe͎ ̟̩̤̳̠̯̩̯o̮̘̲p̟͚̣̞͉͓e͍̩̣n͔̼͕͚̜e̬̱d̼̘͎̖̹͍̮̠,͖̺̭̱̮ ̣̲͖̬̪̭̥a̪͚n̟̲̝̤̤̞̗d̘̱̗͇̮͕̳͕͔ ͖̞͉͎t̹̙͎h̰̱͉̗e̪̞̱̝̹̩ͅ ̠̱̩̭̦p̯̙e͓o̳͚̰̯̺̱̰͔̘p̬͎̱̣̼̩͇l̗̟̖͚̠e̱͉͔̱̦̬̟̙ ̖͚̪͔̼̦w̺̖̤̱e͖̗̻̦͓̖̘̜r̭̥e͔̹̫̱͕̦̰͕ ̗͔̠p̠̗͍͍̱̳̠r̰͔͎̰o͉̥͓̰͚̥s̟͚̹̱͔̣t͉̙̳̖͖̪̮r̥̘̥͙̹a͉̟̫̟̳̠̟̭t͈̜̰͈͎e̞̣̭̲̬ ͚̗̯̟͙i͍͖̰̘̦͖͉ṇ̮̻̯̦̲̩͍ ̦̮͚̫̤t͉͖̫͕ͅͅh͙̮̻̘̣̮̼e͕̺ ͙l͕̠͎̰̥i̲͓͉̲g̫̳̟͈͇̖h̠̦̖t͓̯͎̗ ̳̪̘̟̙̩̦o̫̲f̙͔̰̙̠ ̹̪̗͇̯t͖̼̼͉͖̬h̹͇̩e͚̖̺̤͉̹͕̪ ͚͓̭̝̺G͎̗̯̩o̫̯̮̟̮̳̘d̜̲͙̠-̩̳̯̲̗̜P̹̘̥͉̝h͍͈̗̖̝ͅa͍̗̮̼̗r̜̖͇̙̺a̭̺͔̞̳͈o̪̣͓̯̬͙̯̰̗h̖̦͈̥̯͔.͇̣̙̝