Feyd_Ruin
Location:

MTGNexus

Join Date:

1/1/2005

Posts:

9,737

Member Details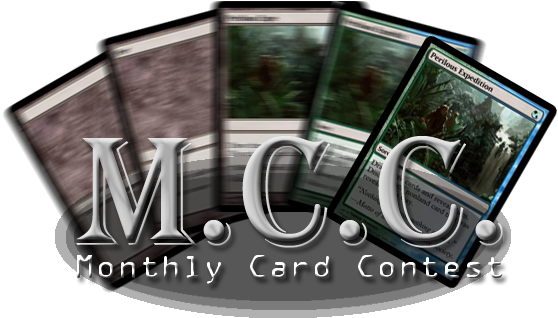 Hall of Fame!
Rubric Discussion Thread and Poll
Old Discussion Thread
The Monthly Card Competition is the member-run, unofficial successor to the FCC (Jan '05-Feb '09, RIP). For those of you who were familiar with the FCC, the MCC will (for now at least) be keeping the same rules/structure as the FCC, but without the moderator-sponsored bits. All sign-up and round threads will link back here and between each other. Check this thread for announcements, updates, and current discussion.
MCC Frequently Asked Questions
(Inspired by the old
FCC FAQ
.)

The MCC, or Monthly Card Contest, is a game that runs each month in the Card Making Contests and Games forum. In it the participants create their own homemade cards. It is designed to test the participants card making skills with a series of single-elimination rounds with restrictions on what cards you can make. COmpared to other contests, the MCC's focus is on thorough evaluation and feedback.


Basically, 10 x the number of people who sign up as judges. It normally works out to 70 or 80, but we haven't had to turn anyone away yet.


On the 1st of each month Round 1 will be posted. Just submit a card there and ta da, you're entered.


Nope, sorry. You can certainly take part in the discussion on this thread, but please don't post in the round thread.


Each month has four single-elimination rounds. Rounds 1-3 will have a bracket of players assigned to a single judge. In Round 4 all the entries will be judged by all the judges.

There will be a thread for the current round linked to this post. That thread should only be used for posting cards and judgings. All commentary and discussion will be posted here.

Each round will have a round requirement and two bonus points.

MCC Rubric
(The questions after each subcategory are suggested areas of inquiry for each judge to consider when judging cards.)
Design (X/10)
–
This reflects the work put into the initial concept of the card.
Creativity
– How original or innovative is the card? Does it present an old idea with a new twist? Does it employ an entirely new mechanic?
Elegance
– Is the concept easily understood at a glance? Does the design just 'click' with the flavor?
Potential
– Will different player demographics (Spike/Johnny/Timmy) find a use for this card? Does it stand out as a card to build a deck around?
Development (X/10)
–
This reflects the execution of the idea, fleshing it into a playable card.
Viability
– How well does this card fit into the color wheel? Does it break or bend the rules of the game? Is it at the appropriate rarity?
Balance
– Does the card's cost match its power? How balanced are its interactions with other cards? Can it be played in constructed, limited, or multiplayer without breaking any of those formats?
Creative Writing
– Does the name sound like it fits on a card? Does the flavor text feel natural and professional? Does the combination of name, flavor text, and card concept make Vorthos spout poetry?
Polish
–
This reflects the finishing touches made to the card, polishing it to an end product that could see print.
Challenge (X/2)
– One point awarded per satisfied challenge condition.
Quality (X/3)
– Points deducted for incorrect spelling, grammar, and templating.
Total: X/25
FAQ

True, spelling has no reflection on your abilities as a designer. But the fact of the matter is that those sorts of errors are a) impossible to ignore and b) easy to correct. We could go on and on about this, or you could take a small fraction of the amount of time it would take to post a complain about it to just check over your card when you submit it.


Yes. If you have a render, the render must credit your artist. The name given should be able to lead people to that artist without effort, so if you're pulling art off of DeviantArt or someplace similar you should probably include the site.


Nope. And I know that this is sometimes very tempting. But these cards should be evaluated as though they're being taken out of a booster pack and seen for the first time. The name, mechanics, flavor text, etc should all be able to stand on their own. This rule is inflexible because allowing any aspect of the card to be explained gives an unfair advantage to fluent speakers of English.

As of September 2009, we require "real" Magic wording, which is currently that as of the M10 updates ("battlefield" instead of "in play", "exile" instead of "remove from the game" etc).

No. It helps, especially in the flavor department, but no judge should ever say -X, no render.

Judges, when judging text-only cards you should make a mock-up in MSE to see whether you're dealing with microtext.
For a while, we were using a modified version of the old FCC rubric which I'll post here under a spoiler for posterity.

/2 Bonus
/10 Balance
/4 Flavor
/4 Creativity
-? Quality
/20 Total

Bonus: Each round will have two bonus point criteria. If your card meets them, you get these points.

Balance: Just that. This is the most debatable area and we're all just going to have to accept that there are no perfect answers. In order for your card to get a 10 here, it will ideally be a very playable card that isn't over the power curve and has uses in both constructed and limited play. Being fun/useful in casual games is also a big plus. I would encourage judges to weight this score towards the current standard environment, but there are no hard and fast rules regarding this. Judges, I would encourage you to post any particular quirks you have in your judgeholder. For instance, I wouldn't know a good Legacy card if it bit me.

Flavor: As well as being a cool card game, magic also tells some pretty amazing stories. Flavor is where your judge decides if your card continues this tradition. Is it neat? Is it evocative? Does it do something fantastic with an existing story? Do we want to know more about this? This is generally an aspect of the name, art (optional), mechanics, and flavor text.

Creativity: How new and exciting the card is. You'll generally lose more points, the more directly it can be compared to existing cards.

Quality: This is a catch-all. What it comes down to is that outside of those 20 set points, judges can detract points for anything that doesn't fit in those categories. Things like typos and templating errors certainly fall under this, but it can also include such ethereal things as color-pie issues and elegance. How much a given judge takes off for these things is up to them, but the maximum deduction should never be more than 5.


To limit complaints about scores, we want to make sure that our judgings are all up to certain standards. This isn't meant as some sort of punishment or criticism of potential judges, just as a way to keep things as civil and fair as possible. With this in mind, here's what I want to do. Every month there will be a judge sign-up thread. The Signup will have a custom card at the top and your sign-up should include a judging of that card. You can sign-up first and then post your judging later so long as it's before the 1st of the month. A couple of the organizers will look at the judgings for new applicants and either make them a judge for the month or send them a PM with helpful feedback and move them into a player bracket. Again, this isn't meant to be discouraging. If you're turned down as a judge for a month, we still like you and hope very much that you'll give it another try next month.


You receive the pride for doing it and knowing the fact that you just were a big help in running an event.


That's just silly.


You get a little trophy icon under your name and everyone who watches this contest will think you are SO COOL.


Challenge is a bad word. For the most part, judges' rulings are final. Sometimes they won't be perfect, but that's ok. Along those lines, you can feel free to bring up concerns with your judge via PM or ask for additional discussion in this thread, but do so politely and don't expect anything to change.


You know what? Please don't. Discussing an opponent's card is, on the surface, just as valid as discussing your own, but the potential bad feelings just aren't worth it. If your opponent's card was really judged in a discussion-needing way, someone else will probably bring it up.


Nope. The round ends at the indicated day at 12:00 Midnight EST. If you post at 12:01 you're disqualified. Reason 1 being slippery slope issues, it's better to just be arbitrary and strict about it then for us to argue about each specific case. Reason 2 being that in general, you'll have plenty of time that you don't need to be trying to post at 11:55. Reason 3 being that this is just a game and if real-life things prevent you from moving on one month, that's really ok.

A render is just a fancy name for a mockup of your card with art. To make one, the most widely used program is the fantastic free piece of software Magic Set Editor, which you can find
here
.

No.

For legal reasons, giving the artist credit is mandatory. If you're going to submit a render, put the name of the artist in the render. If you have art but don't know the name of the artist, either find who did the art or don't use it. The policy on crediting art can be found
here
.
My own 2 cents on this: The bottom line is that the artists own the art and if they say they don't want it used for something like this DO NOT ARGUE. I view MTGS as basically a giant kitchen table where people talk and share card ideas, so I don't personally see any harm in sticking credited, unaltered art here. But these artists are professionals who make their living doing this and while I'm comfortable with the grey area of using art for this purpose without specifically asking each artist, when it comes to usage rights, the creator is right and I don't want to see anyone posting any ridiculousness about how they should be grateful that we're giving them free exposure or any of that.

The card that is in your post when the round ends is your final entry. If it was a different card earlier in the round that is fine, all that matters is the card that is in the post the second that round submissions close.

Editing your post after the submission part of the round has closed will result in automatic disqualification.


Organizers for each month are updated in the MCC Hammer signature (look at the bottom of this post). The lead organizer for the current month would be a good place to start, but the original startup crew for the MCC were WhisperedThunder, Cantripmancer, Milldawg, and JqlGirl. Milldawg and JqlGirl have "retired" from MCC work as of 11/2009, so don't bother them! Additionally, Arzangremmel and seratonin have significantly contributed to the MCC and are probably good resources for questions.

The MTGSalvation rules gurus are allowed to help you on your card text. The current Rules Gurus are Woapalanne, Binary, Condor, Darkasecas, Dr. Tom, Krashbot, Lesurgo, Sutherlands and Yare. If you need help on card text or if a judge disagrees with your card text, contact them over PM or instant messenger programs, if applicable. You can also post rules questions to the
Rules Forum
.

MCC cards should be created on your own. That is, design, balancing, and all of that should be your idea and your's alone. However, in edition to the templating stuff discussed above there are a couple of areas in which you can seek help. The first is on rendering issues. The second is language issues. I want to make this point very clear. MCC cards will be judged in English and incorrect grammar will be marked down like any other wording error. That being said, we highly encourage you to play even if english is not your first language. If you not a little (or a lot) of help with translation just PM your card to someone who seems like an upstanding fellow and ask for help, it's no big deal.

Thanks for reading and hopefully this answered your questions.
See you in the MCC!