Megiddo
Location:

Internet Web Site

Join Date:

9/6/2007

Posts:

21,911

Member Details
CLUB FLAMINGO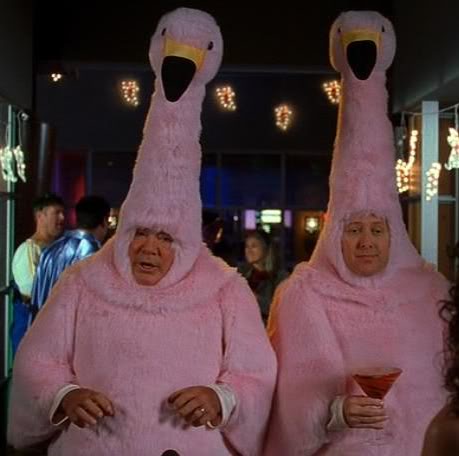 Check Near the End of the Thread for the Current Challenge
Remember: Use IIWs for all challenges
There is only one flamingo, that is Megiddo

it's Megiddo's club we just post in it.
Welcome to Club Flamingo! If you aren't familiar with the rules for gentlemen's clubs, open the spoiler right here. If you've posted in "the Winner is Judge" before, you'll be fine.
1. Submit an entry that fits the current criteria along with a suggestion for the next challenge (an "IIW").

2. If you win, you are the judge for the next round.

3. If you're the judge, evaluate all of the entries and choose the best one.
But isn't this Club Flamingo? Yes. This automatically makes it classier than basically every other thread on here. But this thread isn't made just for me to dress up like a flamingo. In the next spoiler you will find the special rules for this club.
1. I will facilitate proceedings by sending out PMs and things when needed.
2. If you are the judge and fail to judge in a reasonable time frame, I will judge for you, using whatever criteria I feel like. Don't subject your fellow posters to this. Have a heart.
3. If you do not post an "if I win" challenge, you cannot win.
4. If you DO post a challenge and it's dumb and/or nobody enters, I will take over with a new challenge. You may still judge this challenge if you want, but I'll do it otherwise. If you choose not to judge, see rule #5.
5. This isn't intended to be Club "Megiddo Does All of the Work." Please try not to abandon things, though I understand that real life is more important than the internet. It really shouldn't be, though.
6. As detailed
here
, double posting and certain spammy posts are not allowed. Please review that link before posting.
Use any criteria you want for the judging! It's up to you (and sometimes me)! If you can't be bothered, use the below rubric.
Card Balance /10: Is the card printable?
Card Innovation /10: Is it new and exciting?
Card Extras /5: Flavor, punctuation, whatever.
Chemtrails — 139 wins
AsianInvasion — 85
Oculus — 72
Sir Aureus — 64
avatarz — 55
Cythare — 52
PanchoPonceN — 47
admirableadmiral – 41
Megiddo — 41
k-rad — 40
Full List of Flamingos
Last edited by
Megiddo
: Sep 16, 2014
Can we have Megiddo removed from the forum forever please?
i'm pretty sure i can find your ***** online within 3 minutes
[Clan Flamingo]

[Club Flamingo]