Asrama
Join Date:

5/7/2007

Posts:

2,502

Member Details
Ladies and gentlemen, I give you the poll for round 2 of the best game around: Fill the Frame!
This round, the contestants were asked to fill the following frame: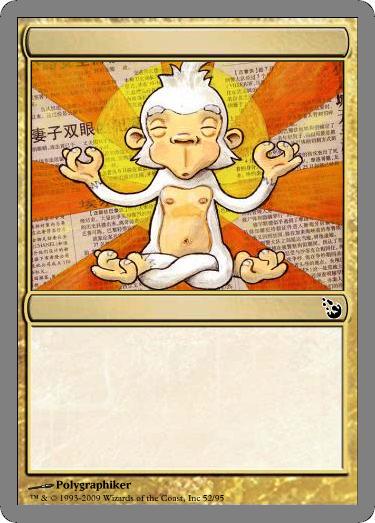 The entries, as posted by our contestants, are:
Meditant Monkey-Monkey

Creature — Monkey Monk (Common)

Each spell you play costs less to play if its name begins with the letter M.

1/1
Monkey Style

Enchantment - Aura (C)

Enchant creature

Enchanted creature gains absorb 1.

Whenever the absorb ability of enchanted creature prevents damage to it, enchanted creature deals 1 damage to target creature or player.

If enchanted creature would deal 1 damage to itself using the above ability, causing a loop, you lose the game for being a tool instead.

Nothing is more funky than the style of the monkey.
Monkey Concentration


Enchantment

Creatures you control get +1/+1 and have first strike.

At the beginning of your upkeep you may eat a banana. If you do, put two +1/+1 counters on each creature you control.

Must...u-u-a-a...concentrate...u-u-a-a.
Monk's Key To Inner Peace

Enchantment (C)

When Monk's Key To Inner Peace comes into play, choose a card in play who's art deeply disturbs you.

(You have to state how that art disturbs you)

As long as you are chanting "I am floating peacefully above all disturbance", you have protection from the chosen card.

"For example, if the card's art is based on some terrible pun, I'd call that deeply disturbing"
- Bucky, flavor text writer


Buddhist Monkey

:2mana::symw::symu:

Creature — Ape Monk

(C)

Buddhist Monkey has protection from everything as long as it's enlightened.

(A card is enlightened if it's under the direct influence of a source of light, for example a lamp.)

1/1
Monkey See Monkey Do

:2mana::symw::symu:

Enchantment [C]

At the beginning of your upkeep, strike a pose for one minute, then each opponent must copy that pose for one minute. If an opponent doesn't successfully copy that pose, you may draw an additional card during your draw step.
Mike, the Monkey Monk 1RW

Creature - Monkey monk

During your upkeep tap Mike, the Monkey Monk.

Say "Mike, the Monkey Monk who mastered the Monkey Monk technique" three times quickly and without breath: untap Mike, the Monkey Monk.

"He's always meditating because nobody can call him."
Mystic Monkey

Creature - Monkey Mystic (C)

As long as you are sitting cross-legged with your elbows above the table, Mystic Monkey has flying and shroud.

What is the sound of one ape flying?

2/2
Think Monkey

-

Enchantment

Whenever you play a spell and loudly call out the name of that spell as you are playing it, put a 1/1 green Monkey token into play.

The name of every spell you play has Monkey added to the beginning of it. (example: Monkey Lightning Bolt)
A couple of notes:
* FuriouslySleepingIdea and iamsum1gr8 did not post their cards, and are therefore disqualified. That means that
3 contestants from the bottom of this poll will be eliminated.

* Remember, as per the round requirements, all entries are supposed to be common.
* Anyone can vote. If you're one of the players, you are expected to vote.
* You may vote for more than one entry, but you may not vote for yourself.
* ArchGenius did not follow the requirements to make a multicolored card, so he shall recieve a -1 to his score.
Last edited by
Asrama
: Jun 12, 2009
This sig is both witty and charming. Really.