maplesmall
Location:

West.

Join Date:

8/19/2014

Posts:

583

Member Details
Found another terrific one while looking at cards with X in their text (not necessarily cost):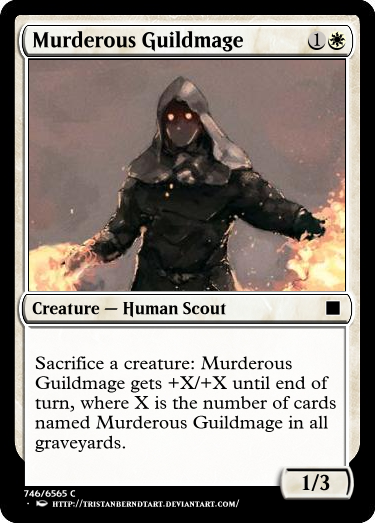 Flavour-wise he is terrific; kill off his guildmates, and the more he kills the more powerful he gets. Even the cardname is perfect. The only pity here is the colour (and the rarity and subtype, but those don't matter as much). This is pretty much the epitome of a black card, though white has some sacrifice-and-benefit effects (though not many, like
Caregiver
, and none of them do buffs). In fact, this is more an Orzhov card, I feel; somewhat like
Maw of the Obzedat
. Or alternately, a more sacrificial and personal version of
Kjeldoran War Cry
.
Still, this is one of my favourite cards to emerge from the network.
Also; I'm analysing 16,000 cards or so, and about 50 have been generated with the text 'choose a colour', and not one of them has mentioned that colour ever again. Clearly, though this network is powerful, it has much to learn.