rancored_elf
Location:

Vancouver

Join Date:

1/2/2005

Posts:

13,159

Member Details
Nothing overly creative here, just some designs that fill in gaps. Going for playable (Standard or Modern) but not obsoleting playable creatures already in print.

Webwatch Spider

-

Creature - Spider

Vigilance, reach

1/4
There is no other X/4 vigilance creature below three mana. I think this would be fine at 1/3 for .
I'm really thankful to silvercut for his response - it REALLY got me thinking! At first I wasn't sure about my original suggestion anymore. Yes, I wanted it to be good, but I'm not a fan of obsoleting strong cards that are already seeing play. So I had a look at what creatures had similar mana costs, stats, and abilities.
Ezuri's Archers
,
Kalonian Tusker
,
Canopy Spider
, and
Sporecap Spider
came to mind.
None of those cards are particularly "playable", although I considered them a reasonable place to start. Could bumping Canopy Spider's cost from to justify another point of toughness and vigilance? Maybe. The Archers could be "modified" into Webwatch Spider by giving it +0/+2 and changing the pump ability to vigilance for the additional .
Then I remembered
Plated Seastrider
, because it's so similar to the Spider in size and mana cost, except that it's in blue, Magic's weakest creature colour. Would green get the same creature with a couple keywords tacked on for no extra cost? Seemed that way.
At that point, I realized that I could probably close the case in favour of the 1/4 Spider. But I decided to expand on what I'd started, to see if more insights into the relationships between casting cost, power, and toughness might be found. I like to recognize nuances in data patterns. Sometimes a single point of toughness makes the difference between a creature being poor and being great. I enjoy using math and logic to solve puzzles. The question has evolved from "should Webwatch Spider have 3 toughness or 4?" to "what combinations of power and toughness are possible for any given mana cost?". And yes, I've been known to get into this kind of thing a few times before, including
here
in 2007, but this time I've decided to do it right. If it's not your thing, and for many amateur designers it won't be, that's okay. But I invite you to check it out, learn something, and contribute. This is by no means a completed project, and even when it is, it will need updating and more analysis as time goes by and more creatures are printed. You're welcome to use these data in any way you'd like - they're not my data! I've only collected, arranged, and partially analyzed them.
"The master list" - 120 creatures that define the boundaries of power and toughness at any given casting cost.
Ornithopter
,
Memnite
Keeper of the Lens
Spellskite
,
Gust-Skimmer
Myr Welder
,
Shimmer Myr
,
Spin Engine
Bladed Sentinel
,
Pierce Strider
,
Insatiable Souleater
Kuldotha Forgemaster
,
Stone Golem
,
Tangle Hulk
Scuttling Doom Engine
Lagonna-Band Trailblazer
,
Herald of Anafenza
,
Mardu Woe-Reaper
Concordia Pegasus
,
Veteran Armorer
,
Accorder Paladin
Veteran Armorsmith
Loxodon Wayfarer
,
Frontline Medic
Kami of Old Stone
,
Salt Road Patrol
,
High Sentinels of Arashin
,
Loxodon Convert
Indomitable Ancients
,
Hundred-Handed One
,
Indomitable Archangel
Nav Squad Commandos
,
Angel of Flight Alabaster
Old Ghastbark
,
Baneslayer Angel
Auriok Survivors
,
Requiem Angel
Deathless Angel
,
Sun Titan
Sidisi's Faithful
,
Nivmagus Elemental
Dragon's Eye Savants
,
Omenspeaker
,
Azure Mage
Frostburn Weird
,
Coralhelm Commander
Deceiver Exarch
,
Captain of the Mists
Latch Seeker
Fortress Crab
,
Aerie Worshippers
,
Mistfire Adept
Scion of Glaciers
,
Water Servant
,
Argent Sphinx
Torrent Elemental
,
Air Servant
Prognostic Sphinx
,
Murder of Crows
Riverwheel Aerialists
Shipbreaker Kraken
Disowned Ancestor
,
Deathrite Shaman
Gnawing Zombie
,
Kolaghan Skirmisher
Undercity Informer
,
Grim Haruspex
Necroskitter
,
Blood-Chin Fanatic
Wandering Tombshell
,
Ukud Cobra
,
Viscera Dragger
,
Orc Sureshot
,
Rotting Fensnake
Liliana's Reaver
Rotting Mastodon
,
Rakshasa Gravecaller
,
Magus of the Coffers
Bloodgift Demon
Maze Abomination
Grave Titan
Flamekin Brawler
,
Monastery Swiftspear
Dragonlord's Servant
,
Young Pyromancer
Frostburn Weird
,
Ash Zealot
,
Mardu Scout
Kragma Butcher
,
Hardened Berserker
,
Regathan Firecat
Mindsparker
Felhide Spiritbinder
,
Vengeful Firebrand
Ember Swallower
Atarka Pummeler
,
Scoria Elemental
Thundermaw Hellkite
Titan of Eternal Fire
,
Maze Rusher
Inferno Titan
Treefolk Harbinger
,
Ezuri's Archers
,
Dryad Militant
Bosk Banneret
,
Bramblewood Paragon
,
Brushstrider
Kalonian Tusker
Sporecap Spider
,
Colossodon Yearling
,
Centaur Courser
,
Alpine Grizzly
Wolfir Avenger
Sultai Flayer
,
Cliffrunner Behemoth
Deadbridge Goliath
Jaddi Lifestrider
,
Pheres-Band Centaurs
,
Timber Protector
,
Adaptive Snapjaw
Arachnus Spinner
,
Segmented Krotiq
Hydra Broodmaster
You've probably already noticed some patterns in the master list. I'll explain how it was generated:
1) Thus far, I've excluded creatures with more than 2 coloured mana in their mana costs, or cmc > 6. I also haven't ventured into multicolored mana costs yet.
2) I only look at Modern legal cards from core sets and regular expansions, and exclude cards like
Cathodion
that were designed before rules changes (like "manaburn") boosted their playability. This ensures I don't include design decisions made long ago, for special sets like Commander, or under different rules.
3) I excluded creatures with anything that could be considered a drawback. That's subjective of course, but it isn't useful to get bogged down here. Abilities that give your opponent an option, or take away an option from you, are drawbacks. Extra costs are drawbacks. "Bad" keywords like defender, champion, and fading are drawbacks. Having extra card types like legendary or enchantment are drawbacks. I also consider infect, which can look like a bonus, to be a drawback. I like the motto "when in doubt, throw it out". How about
Conundrum Sphinx
? In the end, I decided it's ability (which is forced upon you) isn't a bonus in all (or even almost all) situations. Therefore, I can't conclude that Conundrum Sphinx proves should get a 4/4+.
Dryad Militant
's ability probably wouldn't be considered a drawback because you'd have to go out of your way to play it in a deck where the ability hurt you. But again, even though this point is subjective, the neverending debate about "strictly better" is for another thread! Once all creatures with
drawbacks
are discarded, only vanilla creatures and creatures with bonuses remain, which is what we want. For shorthand, I write
Scathe Zombies
as 2/2, and
Phyrexian Ghoul
as 2/2+.
4) The "value" of a point of toughness, in relation to the "value" of a point of power, is unknown and unknowable. In design, we can't freely convert power to toughness or toughness to power. Just because a 1/6 is fair doesn't mean a 6/1 is fair too. Power
does
seem to be "worth" more than toughness, but
by how much
differs between the colours, so power and toughness are different aspects of a card and are analyzed separately. (
Great-Horn Krushok
and
Feral Krushok
are an interesting example of this, and perhaps contain more clues about design than it seems.)
5) Mythics appear to follow a different pattern and are often +1/+1 bigger than creatures of the other 3 rarities. Cards like Indomitable Archangel, Baneslayer Angel, Sun Titan, Torrent Elemental, Grave Titan, Thundermaw Hellkite, Inferno Titan, Transcendent Master, and Ojutai Exemplars could be included in a different iteration of the master list, but I've chosen to leave mythics off this one. (It seems to me that mythics are allowed to break the rules for financial reasons, so I choose to leave them out of this strictly design discussion.)
6) Now, the thousands of creatures in the game have been whittled down to a few hundred. All that's left is to identify the ones with the best stats at each mana cost. A 2/3 is better than a 2/2+ for the same cost, so we'd throw out the 2/2+. If a 2/3+ or a 2/4 got printed at the same cost, then it would knock the 2/3 off the list. Tie-breaking is subjective, but I look at creature types as well as the nature of the creature's abilities to decide which one makes it on the master list. Perhaps another version could list all of the tied creatures, but I don't find that necessary. Notice that out of all the creatures that cost
, only 0/4+, 1/2+, and 2/1+ are necessary to describe the range of possibilities currently available at that cost. No 3-power creatures without drawbacks have been printed at that mana cost (and I don't expect any ever will). But if a 0/5, 1/3, or 2/2 (without drawbacks) ever get printed for , it will knock something off the master list and take its spot.
The creatures on the master list can then be arranged for further analysis like so: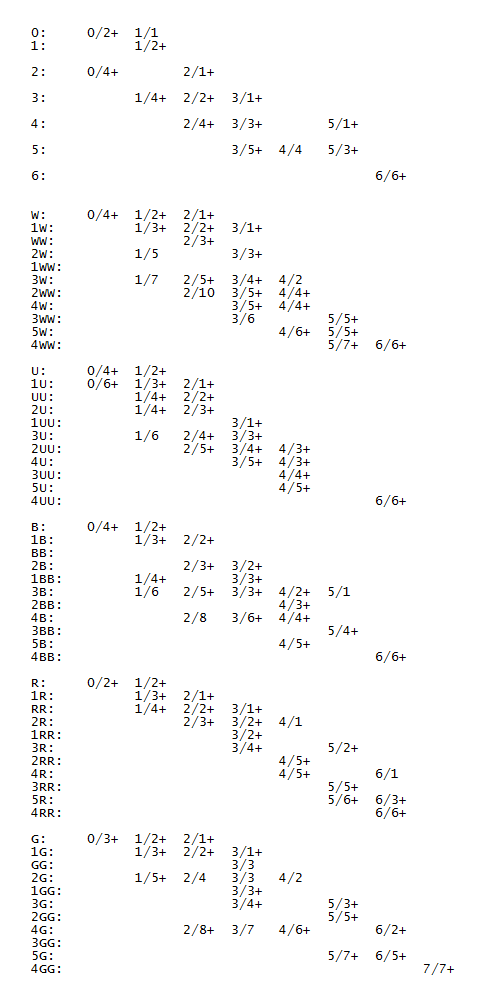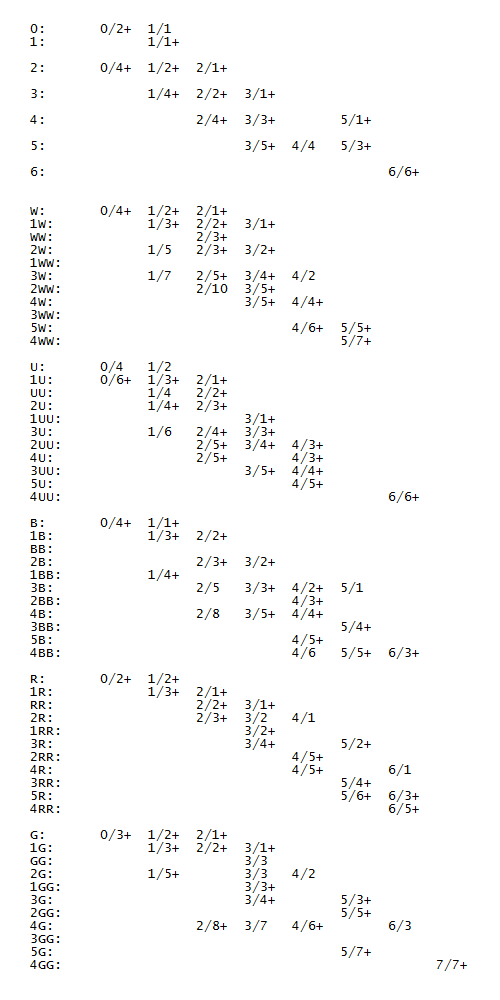 version 1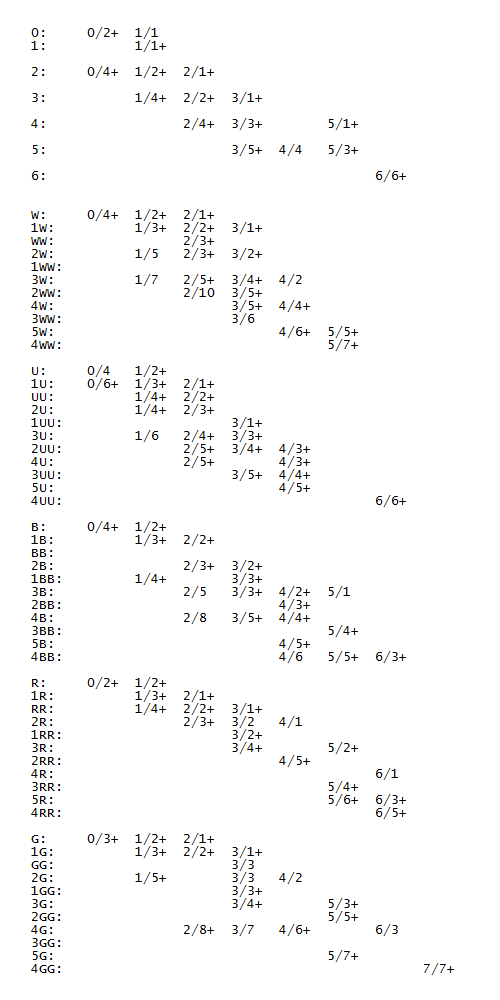 version 2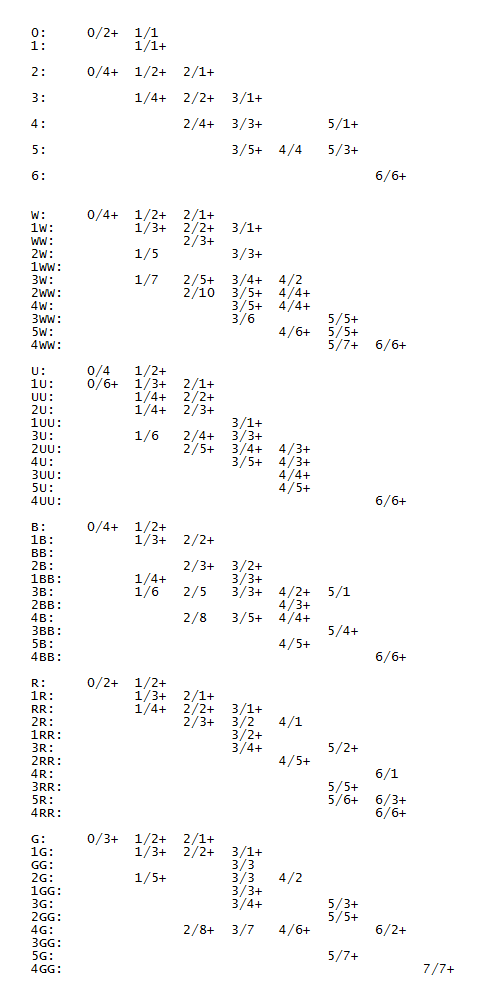 version 3
Right away, you probably noticed that the data forms non-random shapes which differ between the colours. For more on that, see the post below this one, where I'll go over analysis I've done on the master list. But first, I'm asking for your help. This is an ongoing project that I intend to keep updated as time goes by, and I keep finding improvements to it, so I'm sure there are more to be found! I've used Gatherer and my brain for most of it, but Gatherer's search has limitations. For example, if there was a creature out there like this...
Spikedog
-
Creature - Hound
When Spikedog enters the battlefield, put 2 +1/+1 counters on target creature.
1/1
... then I'd consider it a 3/3+ for , and it would knock
Centaur Courser
off the list. Gatherer wouldn't have helped me find Spikedog though. Another area where I'm probably missing data is hybrid mana costs. so PLEASE rack your brains and suggest improvements! When the list is complete, the creatures on it reveal the relationship in Magic between cost and size. It doesn't tell us anything new, because it's just a collection of data arranged a certain way, but there are some pretty interesting insights coming out of it. While it's true we aren't constrained by all the same rules and guidelines that official (paid) designers are, it's still useful to analyze what they've already come up with, to glean what they consider to be the boundaries of design, and then make better decisions about our own (unofficial) design work.
Chinpuncher
-
Artifact Creature - Golem
Whenever Chinpuncher deals damage to an opponent, you may untap it.
4/2
It's ten years late, but I finally started a
Rancored Elf FaceBook group
.
.