Doombringer
Creator of Re-Making Magic
Location:

Melbourne

Join Date:

6/20/2013

Posts:

2,478

Member Details
Custom Set Skeletons

A primer on set skeletons, archetypes and mana curves.
Introduction
This is a primer on Set Skeletons and Set Architecture to help inform magic players and custom card creators what these concepts are and how to apply them.
My aim is to make this guide necessary reading for anyone starting a new custom set to help avoid common pitfalls that even experienced designers can miss.
This guide may still be a little rough so feel free to ask questions, give suggestions or point out any errors.
I started writing this primer while taking a short break over the christmas period on my current custom set
Dreamscape of Noctus
. During this time I was both looking back at the problems from my earlier project
Coins of Mercalis
as well as providing a lot of feedback to members of this forum that were posting up large amounts of commons for critique.
What I noticed as the biggest failing aside from NWO issues (that I covered
in my previous primer
) was a lack of mana curve and draft archetypes among the colors, leading to very haphazard draft environments that often missed something as simple as having a two drop creature in white.
While seemingly minor mistakes when reviewing a set, this lead to a incredibly disappointing gameplay during both mental and physical playtests.
Finally I recently reread
Building Limited Environments by Zac Hill
which mentions mana curve among archetypes which I believe is often ignored or incorrectly applied in the majority of custom sets.
So then what is this primer?
Its a guide to applying a sophisticated design skeleton to your custom that not only deals with card numbers and color balance but also addresses archetype, mana curves, and much more to drastically improve both the quality and organization of your next custom card set project.
Q:
What is a design skeleton?
A:
Basically a blueprint for your set, to organize and plan out all the details that go into such a significant undertaking.
Mark Rosewater (The Head Designer of MTG) goes into detail about design skeletons in
his Nuts and Bolts article
.
Ok well how do I create one?
You don't have to!
A big part of what I wanted to do with this article is create a
design skeleton template
that has all the basics (and more) to allow you to design better sets.
Download Text Version
(Right click then select "Save as")
Download centered styled version
(thanks to SgtFailure)
BLANK LARGE MAGIC:THE GATHERING SET DESIGN SKELETON
A useful guideline to creating your own custom magic set
This resource is tailored for a Mono colored set, rearrange accordingly for sets with higher multicolored or colorless components.
Contact Reuben Covington:
Twitter: @reubencovington
Email: reubencovington@gmail.com
Skype: reuben_doombringer
Check out our MTG podcast: Re-Making Magic
http://remakingmagic.libsyn.com/
//list your mechanics here for quick reference
Mechanics:
//Use this when making commons, no more than 20% of commons should be red flagged
//See my NWO primer below for more details
http://www.mtgsalvation.com/forums/creativity/custom-card-creation/578926-primer-nwo-redflagging
Red Flag Reminders
- Does it affect other permanents?
- 4 or more lines of rules text?
- need to be read twice?
- Card advantage
- Multiple card kill
- Do you create a loop?
- Needed in numbers?
- rules issues
//What draft archetypes are each color aiming for?
Archetype Overview:
WU:
UB:
BR:
RG:
GW:
WR:
UG:
BW:
UR:
GB:
//Each color wants to have a certain number of common creatures
//Below is the RECOMMENDED number of common creatures for each color and CMC slot.
//Defenders or zero power creatures DO NOT occupy creature slots.
//Spells that create creature tokens DO occupy creature slots.
Creatures : White (total: 12)
1cmc : 2 : small, small
2cmc : 4 : small, small, small, small
3cmc : 3 : small, small, small
4cmc : 2 : small/medium, small/medium
5cmc : 1 : small/medium
6cmc : 0 :
Creatures : Blue (total: 9)
1cmc : 1 : small
2cmc : 2 : small, small
3cmc : 2 : small, small
4cmc : 2 : small, small/medium
5cmc : 2 : small/medium, medium
6cmc : 0 :
Creatures : Black (total: 10)
1cmc : 1 : small
2cmc : 2 : smalle, small
3cmc : 3 : small, small, medium
4cmc : 2 : medium, medium
5cmc : 1 : medium
6cmc : 1 : medium
Creatures : Red (total: 10)
1cmc : 1 : small
2cmc : 2 : small, small
3cmc : 3 : small, small, medium
4cmc : 2 : small, medium
5cmc : 1 : medium
6cmc : 1 : medium/large
Creatures : Green (total: 11)
1cmc : 1 : small
2cmc : 2 : small, small
3cmc : 3 : small, medium, medium
4cmc : 2 : medium, medium
5cmc : 1 : medium/large
6cmc : 1 : large
7cmc : 1 : large
//All common cards of a color should fall within this range
Approximate Converted Mana distribution of each color
1 : 3-4 :
2 : 5-6 :
3 : 4-5 :
4 : 3-4 :
5 : 1-2 :
6+: 1-2 :
//Size reference
Small: 0/1 -> 2/3
Medium: 3/3 -> 4/5
Large: 5/5+
Total of 101 cards at common for a large set
18 cards of each color
5 artifacts
6 lands
Adjust these numbers as necessary for Multicolored sets etc.
//White Commons
CW01 Creature small:
CW02 Creature small:
CW03 Creature small:
CW04 Creature small:
CW05 Creature small:
CW06 Creature small:
CW07 Creature small:
CW08 Creature small:
CW09 Creature small:
CW10 Creature small:
CW11 Creature medium:
CW12 Creature medium:
CW13 Enchantment Aura:
CW14 Enchantment Aura:
CW15 Instant:
CW16 Instant:
CW17 Instant:
CW18 Sorcery:
//Blue Commons
CU01 Creature small:
CU02 Creature small:
CU03 Creature small:
CU04 Creature small:
CU05 Creature small:
CU06 Creature small:
CU07 Creature small:
CU08 Creature medium:
CU09 Creature medium:
CU10 Enchantment Aura:
CU11 Instant:
CU12 Instant:
CU13 Instant:
CU14 Instant:
CU15 Instant:
CU16 Sorcery:
CU17 Sorcery:
CU18 Sorcery:
//Black Commons
CB01 Creature small:
CB02 Creature small:
CB03 Creature small:
CB04 Creature small:
CB05 Creature small:
CB06 Creature small:
CR07 Creature medium:
CB08 Creature medium:
CB09 Creature medium:
CB10 Creature medium:
CB11 Enchantment:
CB12 Instant:
CB13 Instant:
CB14 Instant:
CB15 Sorcery:
CB16 Sorcery:
CB17 Sorcery:
CR18 Sorcery:
//Red Commons
CR01 Creature small:
CR02 Creature small:
CR03 Creature small:
CR04 Creature small:
CR05 Creature small:
CR06 Creature small:
CR07 Creature medium:
CR08 Creature medium:
CR09 Creature medium:
CR10 Creature large:
CR11 Enchantment:
CR12 Instant:
CR13 Instant:
CR14 Instant:
CR15 Instant:
CR16 Instant:
CR17 Sorcery:
CR18 Sorcery:
//Green Commons
CG01 Creature small:
CG02 Creature small:
CG03 Creature small:
CG04 Creature small:
CG05 Creature small:
CG06 Creature medium:
CG07 Creature medium:
CG08 Creature medium:
CG09 Creature large:
CG10 Creature large:
CG11 Creature large:
CG12 Enchantment Aura:
CG13 Enchantment Aura:
CG14 Instant:
CG15 Instant:
CG16 Sorcery:
CG17 Sorcery:
CG18 Sorcery:
//Common Artifacts
CA01 Artifact Creature:
CA02 Artifact Creature:
CA03 Artifact:
CA04 Artifact:
CA05 Artifact:
//Common Lands
CL01 Land, W:
CL02 Land, U:
CL03 Land, B:
CL04 Land, R:
CL05 Land, G:
CL06 Land:
How do I use this?
The rest of this primer will be dedicated to walking you through each section of my set skeleton.
Note that any line starting with "
//
" is a comment or heading.
Also note that this example design skeleton is for a simple monocolored set and will require modification for more heavily multicolored/colorless sets.
If you would like me to provide different version of this skeleton let me know and I'll consider making a few variations.
Mechanics Overview
: The core of a lot of sets is the new mechanical keywords and ability words. This top section provides a quick reference to your mechanics and the colors they belong in.
For example in my Dreamscape of Noctus Design skeleton I have the following.
Dreamwalk (WUBRG)
Trance (WBG)
Memoir (URG)
Premonition (UBR)

This allows me to quickly check that the primary colors for each mechanic have at least 1 or 2 cards at common.
Red Flagging Overview
This provides a quick checklist of red flagging conditions without having to reread my NWO primer or other references.
Making sure you apply this checklist against EVERY COMMON will save you a lot of mistakes and criticism when showcasing your commons.
This also allows you to keep track of the number of red flagged cards to stay well within your complexity budget.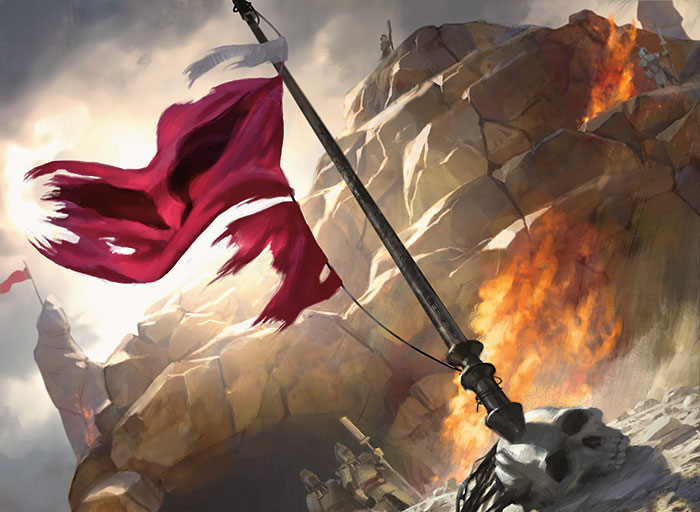 Draft Archetype overview
Ok now we start getting to the important stuff.
Unless you have a extremely warped color environment (such as KTK not supporting allied color decks) you should have a rough idea of the archetypes for EVERY TWO COLOR PAIR.
This is a large part of maintaining a fun and repayable limited environment and helps cut down on new player confusion by leading them down pre-arranged paths that you have hopefully guaranteed are fun.
Now these can be as simple as W/U tempo (as showcased in
a recent Dreamscape Thread
) or as complex as the Red/Green storm/Suspend deck found in modern masters.
For examples of some different archetypes from previous sets check out My
Coins of Mercalis overview
, the Modern Masters articles (
part 1
&
part 2
)
So how do I create these archetypes?
Creating archetypes comes down to a few mains things:
Supporting the Archetype at Common
Have cards that the archetype wants a lot more than other archetypes
Creating powerful or splashy cards at uncommon that reward the archetype.
Having playable cards on the mana curve.
To support your archetypes you need commons. Just like set themes, developmental themes simply don't work if not at common.
This means if you have a two color pair such as Red/White you want at least three commons spread over those colors.
Now the important part is to try and create at least 1 card at common that is good in that archetype but isn't as good elsewhere. This is so that is doesn't get picked up early by other drafters.
You can do this crudely with cards such as
Agent of Horizons
that simply uses off color activations or as subtly as a card like
Satyr Wayfinder
helping Red/Green monster decks.
Uncommons
Next you want to have uncommons that are obvious build around or support cards for an archetype to allow for players to pick it up early and use that to make a decision to go into the archetype. Examples are multicolored cards like
Chronicler of Heroes
or
Chief of the Edge
, off color cards with crazy interactions such as the famous
Spider Spawning
or cards that explicitly reward certain behavior such as
Burning Vengence
or
Flamespeaker Adept
.
Finally a deck doesn't work without a decent mana curve. We need to recognize this and make sure the cards that our archetypes want are spread out along the mana curve and can create a really fun series of plays if we do curve out perfectly. Something like the black/white warrior deck in KTK can quickly cast
Mardu Hateblade
into
Chief of the Edge
and finally
Mardu Hordechief
to create a devastating play that is extremely fun, thus rewarding the player for playing that archetype.
Note that not all curves need to start at 1 cmc. Your more controlling decks may not have any amazing cards until turn 3 but be aware that you don't want an archetype to live or die off of their 5 or 6 drops. Instead focus on the cards in the 1-4cmc range as this will allow for the most consistent plays.
Note that not all archetypes need to be equally supported. Some will be stronger that others. If you are finding this the case maybe think about adding one or two sideboard cards that can allow crafty limited players to combat this and thus keep the limited environment fresh.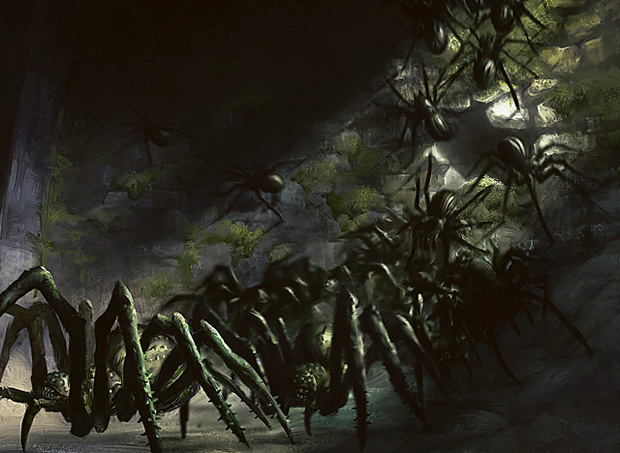 Creature Curves
Similar to how you need to worry about creature curves for each archetype. Each color needs a certain number of creatures and for those creatures to create a mana curve. If white has no two drops it is unlikely to be very fun to play. While if green has too many 5 or 6 drops then it can find itself scarce on options during the draft.
In my set skeleton I've provided a recommended curve, size and number outlines for each color created by looking at some of the recent sets such as Theros and RTR as well as some of the best draft sets ever such as Innistrad.
Notice that
SPELLS THAT CREATE TOKENS COUNT AS CREATURES
. Ina similar manner creatures with defender or zero attack do not. However creatures with defender or zero attack that can attack and pump their own power do count.
Non-creature slot examples:
Archer's Parapet
or
Bloodfire Mentor
Creature slot examples:
Flurry of Horns
or
Glint Hawk Idol
Creature slot examples that are not obvious:
Molten Ravager
or
Returned Phalanx
Notice that each color has a different number of creature slots in total. This is normal and is a fundamental part of showing the color pie in limited environments.
Also be aware that if you have alternate cost or cost reducing mechanics such as Delve or Kicker then you will need to take this into account when planning your card mana curves.
Just a reminder on creature sizes
Small: 0/1 -> 2/3
Medium: 3/3 -> 4/5
Large: 5/5+
While the total slots and the number at each mana cost shouldn't be tampered with too much unless you know what your doing the recommended sizes can vary a bit based on the mechanics and needs of your set. Eg: Theros tends to have slightly more large and medium creatures in green and red to support the R/G monsters theme.
Total card mana distribution
Similar to the creature slot mana curve considerations except that non-creature spells have more leniency in where you place them. Having a good creature curve is vital. Having a good spell curve isn't. This is due to instants, enchantments and similar effects are not played straight away. Often you are waiting for the correct time to get the most value or need to play a creature before you can play your combat trick etc.
However if you mana costs are very different to my guidelines then this should set off warning bells that you may not have otherwised notice.
The actual skeleton part
Finally the last half of the design skeleton template is a full ready to fill out design skeleton for all your commons.
For more information on filling this out reread Mark Rosewaters articles of the subject.
If you have filled out the previous sections this should be a simple copy paste job of the names of your cards and maybe what archetype they belong in and what size and abilities they have.
Signing out
I hope that this is a useful tool to help organize your next custom set and hopefully give you a better understanding of mana curves, archetypes and how a set sekelton can help,
If you have any questions/commons let me know.
I'd love to hear if you use this for any projects.
Also would you guys like me to post the a filled out example such as my Dreamscape of Noctus design skeleton?
Further Reading
Mark Rosewater's Drive to Work episode on Design Skeletons
Building Limited Environments by Zac Hill
Drafting Sideways by Sam Stoddard
Aggro Limited by Sam Stoddard
Developing Uncommons by Sam Stoddard