Feathas
Location:

California

Join Date:

12/20/2009

Posts:

4,093

Member Details
PREFACE: Better Late Than Never
_____This is the fourth League of Legends page, for season four in... the last 3/4 of its glory. Aside from additions, a couple error fixes and minor changes to reflect the new season and changes, I (with permission) shamely ripped G L J's season 3 thread. Once again the previous thread is so old and huge that it's probably daunting to new people and has some outdated information. Plus G L J is understandably tiring of upkeeping the player list and so I can and will do that now. Naturally, I sensed it was the perfect time to make the new thread - some time after we all got used to using the old one. To keep you all on your toes.
_____This thread is dedicated to all things League of Legends: Summoner's Rift, Champions, champion builds, epic stories of love and loss, and competitive tournaments – to name a few. The only thing you're NOT allowed to do is start a comparison war between other Mobas, it's bad karma. If you play league of legends, please take the time to stop by. We'd be more than happy to play with you, just scroll to the bottom and look at a few names in the summoner list. Welcome to the league.
PART ONE: What is League of Legends?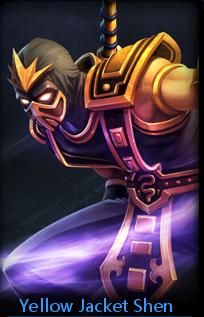 _____League of Legends (abbreviated LoL) is a MOBA game, or a Multiplayer Online Battle Arena. Players are formed into 2 even teams of Champions in either a 3v3 or 5v5 format. There are currently two game types in League of Legends, Classic and Dominion. In both games, the goal is to be the first team to destroy their opponent's Nexus.
_____Classic - To destroy a Nexus in Classic games, each team must work through a series of towers called "Turrets". Turrets are often placed along a path to each base referred to as a "Lane". Along the way, each player gains levels and increases the power of their champion by killing the opposing team's champions and "minions" (small NPCs that constantly spawn and attack the other team) and defeating neutral monsters. Last hitting enemies (by being the one to deliver the literal last hit that kills the target) grants champions gold and allows them to purchase items with in-match gold to improve their champions abilities. These item upgrades can range from simple increases in attack damage, health, and armor to less straightforward effects such as cooldown reduction, increased movement speed, temporarily shutting down towers, and even shielding the champion from a hostile spell.
_____Dominion - To destroy a Nexus in Dominion games, each team must strive to capture and hold as many of the five capture points along a circular map. Points are captured by actively channeling a 'capture point' ability that all champions have or by minions that attack a tower. The team with the majority of controlled points will begin to drain hit points from their opponents' Nexus. Additionally, killing champions will also remove a flat amount of hit points from that champion's Nexus - however at a certain point champion kills cease to remove hit points, meaning that a team must control more points in order to win. Gold and experience are gained at significantly faster rates than in classic to expedite gameplay and emphasis a more combat oriented gameplay. Certain items and Summoner spells are disabled in Dominion, and certain ones are available that do not exist on Summoner's Rift. Riot has even started making some champion spells slightly different on Dominion - but just little tweaks for balance purposes. You can always expect no champion to be capable of plainly different things.
PART TWO: Summoners and Champions
_____A champion is a preselected avatar that the player (known as a summoner) uses to play League of Legends. Each champion has four active abilities and a passive ability. Active abilities must be leveled up, while a passive ability is always present. Additionally, most champions have an "ultimate ability" which can be skilled into at level 6. These ultimate abilities have a substantial effect on the battlefield and can easily make a winning team begin to lose, or cement their position as a leading team. Champions start at level 1 at the beginning of each game and gain experience until they are level 18. Each non-ultimate ability (with a few special exceptions) can be leveled up a maximum of 5 times, while the ultimate ability can be leveled up 3 times.
_____League of Legends has over 100 champions, with their 100th champion being Jayce, the Defender of Tomorrow. Champions must either be purchased in game (for either real world money or in game influence points) or unlocked for the week in order to be used. Each week 10 different champions are 'rotated' onto a roster and become available to all players. Each champion is unique in that they all have different abilities, playstyles, art, and stats. Some champions use a mana system, while others do not and, even stranger, some use their own health as an alternative resource to use their abilities. Because of this, any list of champion archetypes would simply be too long to list, as the playable possibilities are very widespread. Jayce, for example, can be played as either a ranged AD carry or an AD bruiser as he lacks a true ultimate. Instead he is able to switch between ranged and melee at will, each providing three unique skills that opens up a wide variety of game play.
PART THREE: The Maps
_____There are currently four maps in league of legends, each with a distinctly different game play complete with unique items only available on certain maps: Summoner's Rift, The Twisted Treeline, The Crystal Shard, and Howling Abyss:
Summoner's Rift

is the oldest and most commonly played map in League of Legends. Two teams of five compete against each other in a classic game mode. It is the largest map in League of Legends, featuring three lanes that minions follow, a massive jungle full of neutral monsters, the dangerous dragon, and the legendary Baron Nashor. All tournament games are played on this map, as it usually features a medium length game with plenty of opportunity for all aspects of the game. It is also the only map with ranked play and around which champion balance is focused.

Twisted Treeline

is a smaller map used for classic gameplay. Two teams of three compete against each other in a tightly packed arena. The map features Vilemaw – the angry spider, two lanes that minions follow, two altars that provide team buffs when captured, and a very compressed jungle. The map favors a quick and deadly game, expect combat at all levels of game play as the teams are placed in a map that is too close for comfort.

Crystal Scar

is the only dominion game map. Two teams of five fight to capture and hold five altars laid out in a circular formation. Holding more points than the other team or killing them lowers the score of their nexus and the first team whose nexus reaches zero loses. Player versus player combat is the main focus of this game, and both gold and experience constantly trickle into players at a heightened rate.

Howling Abyss

is a winter-themed ARAM (all random, all mid) map. ARAM began as a popular custom, player-created game that is exactly what it sounds like: everyone gets a random champion and is limited to the mid lane. People liked it very much for the chance to play champions that they might never normally play and the situation that forces constant teamfights. In fact it was so popular that riot made it a formal gametype and released this altered map for it. The games are traditionally less stressful and more casual in following with the origin and de-emphasis on many "deeper" game concepts.
PART FOUR: The Players
_____We have a chat room! The name of the chat room is "MTGS" without the parenthesis. This chat room is for general use, matchmaking, and anything related to either Magic the Gathering, MTGSalvation, or League of Legends. It's an unmoderated chat room, but please don't spam it or fill it with crap. This is a social experiment for us. For information about joining, please follow the instructions in the spoilers below:
Note: As of the day of this post, the room appears to me defunct. I will keep this info here in case it makes a comeback.
Open the League of Legends client and log in.
On the bottom right of the client, click the window with two chat boxes.
Click the 'create or join a chat room' button and type in "MTGS". This is not case sensitive.
To automatically join on sign up:
Inside the chatroom, click the gear button in the top right corner next to the minimize and exit buttons.
Find the 'autojoin on startup' button and select it.
In the spoiler below is a picture guide to help you sign up if you having trouble locating the buttons
_____Here's how the player list works; there's a list below in the spoiler. Take a few names and add them to your friends list. People on the list aren't actively looking for new players whenever they're added onto the list, so you're going to have to add a few yourself. It's nothing personal, we just don't have time to go through every single invite and I myself already have a bunch of friends I played with once, became friends with, never interacted with and then forget who they were... which I'm trying to prune out. If you want me to add you to the list, please make sure to leave your summoner name; I won't always read every post in this thread so I may miss your comment. If that happens, send me a PM asking to be put on the list or contact me on the NA server - I'm on the list myself although I have a habit of AFKing with the client up. Oh yea, if you don't tell me the color you want I'm putting you as blue, and if you don't put server I'm putting you in NA since that's where most of us are. You've been warned.
Note: I've restarted the list at the time of this post, because there were a ton of inactive accounts on there. So if you want back on, give me your info again. Sorry.
Again, remember to add a few names if you want to play with them.
Restarted 3/31/2014. Last updated 4/2/2014.
Key:
Format: MTGS Forum Name = Summoner Name
Red - Anonymous
Green - Send a PM before invitation
Blue - Open invitations
Purple - Smurf Account
North American servers:
Feathas = Virium
G L J = Divine Faithborn
Guardman = Guardman
Raver = Recomposer
Ravnos = divineravnos
Soulbanana = Soulbanana8
Treebeard = Spincow
European West Servers:
European East Servers:
Asian / Pacific Island Servers:
OUTSIDE RESOURCES
General information/forums
Official NA Homepage
League of Legends Wiki
LoL Reddit page
Champion Guides & Articles
http://www.lolpro.com/
http://www.solomid.net/
http://www.reignofgaming.net/
Livestream websites
http://www.twitch.tv/directory/game/League%20of%20Legends
http://liveleaguestream.com/
http://www.esportcalendar.com/
(Dedicated to esports - professional games and tournaments)
http://www.guardsmanbob.com/stream/index.php
http://clgaming.net/livestreams
Original Threads
______________________________
Season I
______________________________
Season II
______________________________
Season III
_
Last edited by
Feathas
: Apr 2, 2014
"Virtue, Jacques, is an excellent thing. Both good people and wicked people speak highly of it..."