redthirst
Location:

SC

Join Date:

9/8/2011

Posts:

3,352

Member Details
++ANNOUNCEMENT++
As you're probably aware, there's been a lot of drama over the last few days regarding MTGS and our place in it. We've discussed what we want to do here and, using that information, the Council has decided to the following:
1. The official Clan thread will be moved to MTG Community - our Clan area can be found here. We felt that, after talking to the staff of MTG Community, it would be a better enviroment for our clan to grow in.

2. In a week's time, I will ask the MTGS Clan mod team to move the FoS thread to the archives and remove us from the Clan HQ - this should give us all the time we need to port all relevant content over to our new home.
Anyone who wants to join the Exodus, please follow the link, create an account and feel free to start posting - if you don't - well, it was fun and best of luck.
Also, if you are going to join us, please refrain from creating as much drama as possible on your way out - we can't all be as badass as Dane.
We've got a new home brothers! So pack your **** and let's go!
Welcome all to the
Fires
f Salvation
Who are we?
We're the Fires of Salvation, of course! We're members with one thing in common: we love all things . From the lowest Task Mage to the highest Fire Lord we're passionate about playing with fire.
Why are we here?
We're here to watch the world burn! Well... mostly we're already burning up the Standard Competitive forum, but like all fires, we need to spread...
MEMBERSHIP
Tier -1 (Negative One) - Blaklanner
- This is the Blaklanner tier. Blaklanner didn't send ham Unhinged Mountains so he was demoted. Tier -1 members will be allowed to be ridiculed for arbitrary reasons. The only requirement to becoming or staying a Tier -1 member is that you be Blaklanner. +EDIT+ Due to extenuating circumstances, this Tier has been expanded to include non-Blaklanner members - though it will retain the name to honor the man who first achieved its dizzying heights.
Blaklanner
Aggressive_Fate
Tier 0 - Friends of the Clan
- You may not be as good as us, but you're still better than everybody else.
Dechs Kaison
Russian_Alara
Tier 1 - Probationary Members -
This is what every new member will start as. Probationary Members will be able to post in the Clan thread, vote in Clan polls, join our MtGOnline Clan (PM lorddax for details) and use any FoS sigs/banners that they want. The only requirement to becoming or staying a Probationary Member is that you post up at least once per FoS Clan thread to let us know you're interested and still active.
Wrathberry
Voyaging
RDW?
BigSmeez
Uranium
Keftenk
jyob
Zeymo
dreinal13
AdamM
DonteB84
iube
Timesink
Saoshyant 4329
Hellsing512
os1rus
Lucian
tapped1out
eclipsemonger
Kraken B. Trippin
PirateKingAtomsk
JankyJankster
forw4rd
Pat
iplongno
warwizard87
Johnnydizzer
TemplarOrigin
Goldark
Haplo19
Eggit
Mattymon244
MrGrimReaperz
rujasu
Johnny_Spike
grunbold
Realize
DocLawless
Solemn10
Aggressive_Fate
Mango733
rcwraspy
MattT
Purp
Squircifer
Dodger37
Matt's Lady
Bezerra

Tier 2 - Full Members -
Once you've shown you're committed to the Clan through regular posting and/or contributions to the Clan thread (things like designing a sig/banner or participating in Clan challenges show that you're invested) you'll be moved up to full membership. Tier 2 membership comes with the benefits of Tier 1, plus you'll be invited to join our new Fires f Salvation forum - a place where you can be yourself/let off steam without the worry of being warned/infracted and take part in the
Great FoS Pay-it-Forward Project
!
Tharkun
midnight_V
jdow30
GunnarPB
Self Medicated
Mattsadface
Novajoe
higher zero
bearsman6
Whimsicalbox
Mister Met
chrstphrbrnnn
Neophyte Pyromancer
Valdarith
bits
Tezna
CrazyCatPerson123
toddulent
Artificial Alchemist
Woj
Dromar the Banisher
Yorutenchi
Colonel Nohman
PrimalBurn
TubeHunter
Fax
BlakLanner
Helios
Platypus
Speedbump
TauronNox
Kazekirimaru
Dane
Sioux

Tier 3 - Senior Members -
Some of you have been with us since the beginning or have gone above and beyond and you deserve a little something extra. Tier 3 membership comes with all the benefits of Tier 2 plus access to an extra subforum on the FoS forum. This forum will be able to be posted in and viewed by only Senior Members. Want to know what's going on in there? Constant long-term quality posting will get you noticed and invited to join.
photodyer - Skaldic Master of Fiery Salvation
windstrider - Searing Seneschal of Salvation
lorddax
cweaver
Aesnath
Christen
Calamity
Tier 4 - Clan Council Members -
this is the publicly elected Clan ruling body that will number no less than 10% and no more than 20% of the total number of Clan members.
If you're voted into the Council you'll immediately become Tier 4 no matter what Tier you were before. Tier 4 includes all the benefits of Tier 3 + the ability to post/vote in the threads in the Clan Council section of our FoS Forum. Any member Tier 2+ will be able to view the threads in that section, but only Tier 4 will have the ability to post.
zemanjaski
redthirst - Clan Representative
hamfactorial
yarpus
Khaospawn
dpaine88
Lauphiette Kincey
Want to join?
It's easy - just post in this thread that you want to join and what attracted you to our bunch in the first place – that's it! There will be a probationary period where we'll make sure you're a good fit here (don't worry, we're not too picky) and then you're in.
The board is just as relaxed. Want to talk about decks you're brewing? Cool. Tournament reports? Awesome. Your kids starting school? That's fine. Just saw the most ballin' movie? No spoilers. Basically, talk about whatever.
Though, you should note that it is considered propper to follow the guidlines set forth by FoS member Dane when posting:
Posts worthy of FoS shall contain no less than three of the following, preferably more:

- References to masturbation, and the cessation thereof. A count of the number of days since commencement of said cessation is worth bonus points.

- References to Firefly. Spoilers are frowned upon.

- Complaints about Vexing Devil, and the proponents of said card, who insist it is the greatest expenditure of red mana since Lightning Bolt.

- Off hand reference to male genitalia. ANY reference to male genitalia will suffice.

- Dick fencing, while a reference to male genitalia, is entirely in its own category, and may be used alongside general references to get your quota of three per post.

- Telling redthirst he's pretty. (He isn't, but he likes hearing that he is.)

- Any well thought out, documented, and supported argument for a given card/neat trick in MtG. "Because it's working super well at my backwater LGS's FNM" is not appropriate support.

I miss anything? (red is totally pretty, btw.)
++The Embernomicon - Stuff All Proper Red Mages Should Know++
The Begining:
[Primer] Aggro Red Deck Variants
and
Cont.
Previous FoS Threads:
The Proto Thread -
Time for Another Talk
One Small Ember to Spark the [Fires of Salvation]
Wisdom from the Ancients:
How I Learned to Stop Worrying and Love the Hypergeometric Distribution
The Fire of Salvation Within Us
Red Mage Musings
Red Mage Musings II
Red Mage Musings III
zeman's Blog
zeman's Stream
Dick Competition Pageantry
Propper Dick Slapping Etiquette
An Air-Tight Case for Why Vexing Devil Sucks
Picking Your Aggro Deck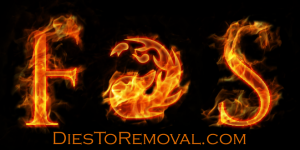 "Of course you should fight fire with fire. You should fight everything with fire."
—Jaya Ballard, task mage
redthirst is redthirst, fifth Horseman of the Apocalypse. He was the leader of the Fires of Salvation, the only clan I'm aware of to get modded off the forums so hard they made their own forums.

Degenerate? Sure. Loudmouth? You bet. Law abiding? No ****ing way.

Great guy to have around? Hell yes.