GigaGuess
World Project Leader
Over 9000
Location:

Over there...plotting your DOOM!

Join Date:

4/3/2008

Posts:

21,705

Member Details

Planar Chaos!
Where Magic Rp'ing meets Lovecraftian lore. A haven for all who lurk in the Colosseum, and these absolutely adorable cats, looking for a home. When you look into their glowing red eyes, you can't help but fall in love with them. Wanna discuss your latest quest? Look for input or constructive criticism? Want to adopt one of these compleat kittens? Bring it here. Standard rules apply.
Off the top of my head...
Absolutely, positively NO FLAMING! None. Nada. Zip. Zero.

No advertising.

This is a clan, and spamminess can happen, but please keep it to a minimum, or Yukora will have my ouchie bits as a hood ornament.

If you have a question about your Colosseum area, please post it there, mostly because you have a better chance of it getting answered there.

All I ask for admission is that you have some sort of active profile in The Colloseum. After that, just post your interest.

If you ask to be friended, added, or whatever, and I don't, it is not a sleight or an insult. I have the attention span of a gnat, and the memory of a peanut. Throw rocks at me in PM-land, and I'll remedy the situation.
Other than that, have fun!
Members
Landil
Nezumi
Charm_Master3125
ErickC
Keifru
Id_Ego
Archaic Guildmage
eddy34567
Avatar of Kokusho
Avatar of Jugan
Niadar
Stonerhilm
videojuegos
SeraphPrime
MakoRandy
RedDwarfian
Nai
Silent_Storm
SylverAngel
DalkonCledwin
Alacar Leoricar
Avatar of Lag
Mindrot
genyusguy

Friends
PurpleD
qfx
Faerie Lord
Boros
Howler13
WUBRGspellsMagic
Sepiriel
Magic Mage
Ti'rin
DarkKnightCavalier
Caex Kothar
Keeperofzion
????????
Fenris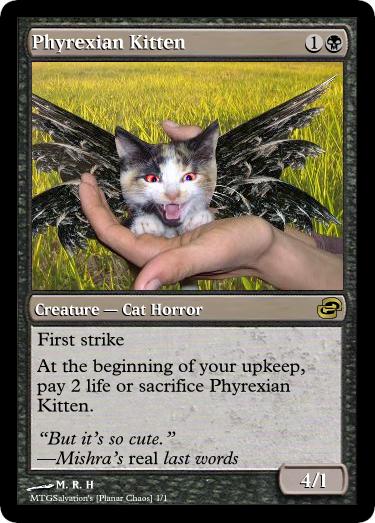 "GRUUL SMASH!"

"No, Gruul will not smash. Gruul will submit to arrest under article 47b-4 of the ravnican code of justice."